Through wandering spaces and organic booths, Zooco Estudio harmonizes spatial perceptions in this shared space for kids and adults, offering the functionality of a co-working space and nursery in one!
Big and Tiny, a brand born out of the need to cater to the changing demands and dynamics of a family, offers a forward-thinking solution – an indoor playscape for kids with an integrative workspace for adults. This Silverlake, California project takes after its predecessor in Santa Monica and brings the same delight to its users.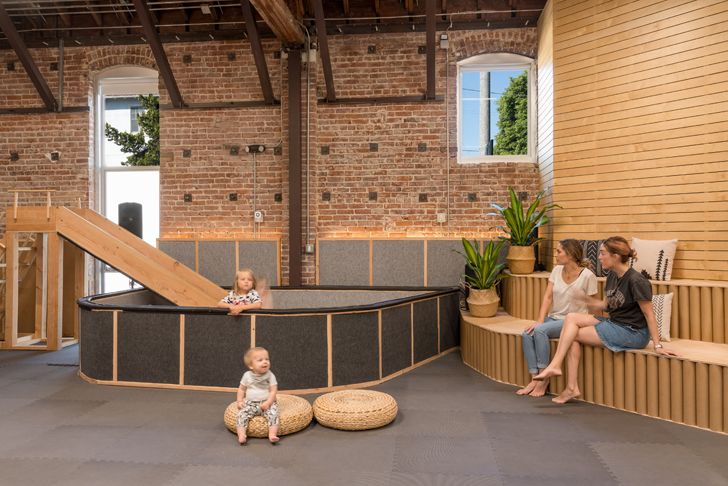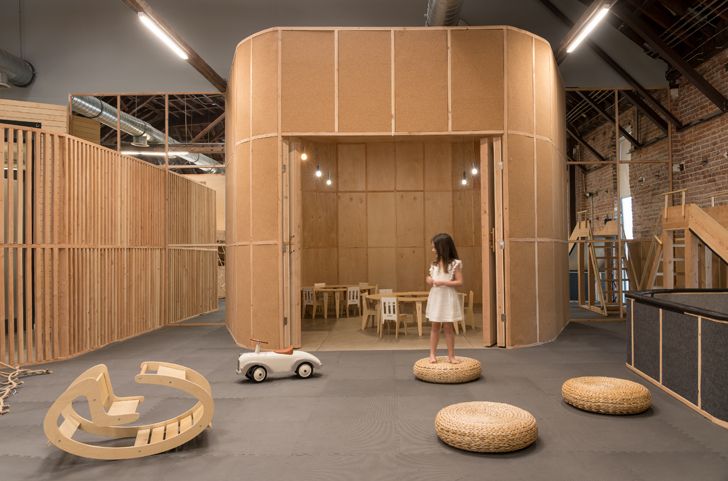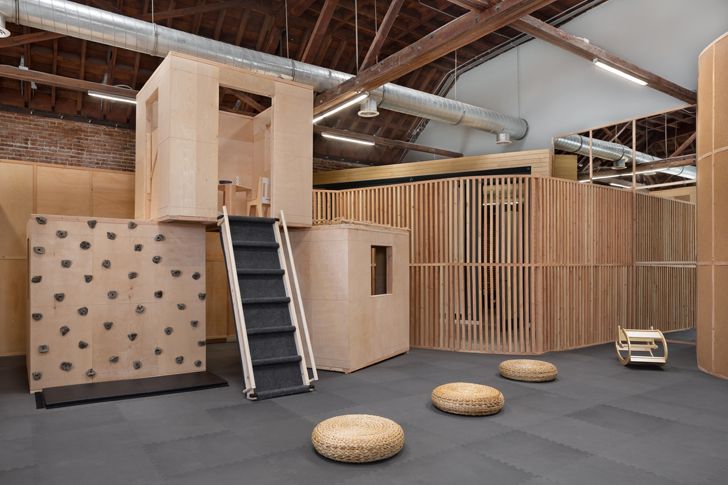 Covering an area of 5027 sq. ft., the playground sits in a 22ft high refurbished factory building. The visible wooden trusses in the roof cover the entire span, freeing the space below and exempting the inner volume from structural elements.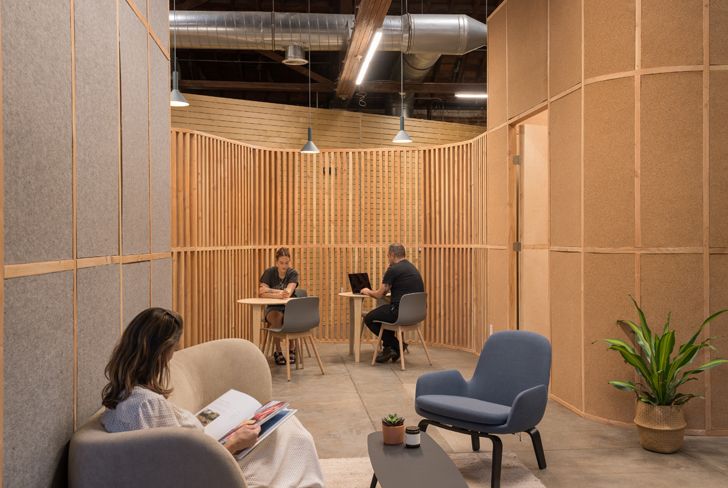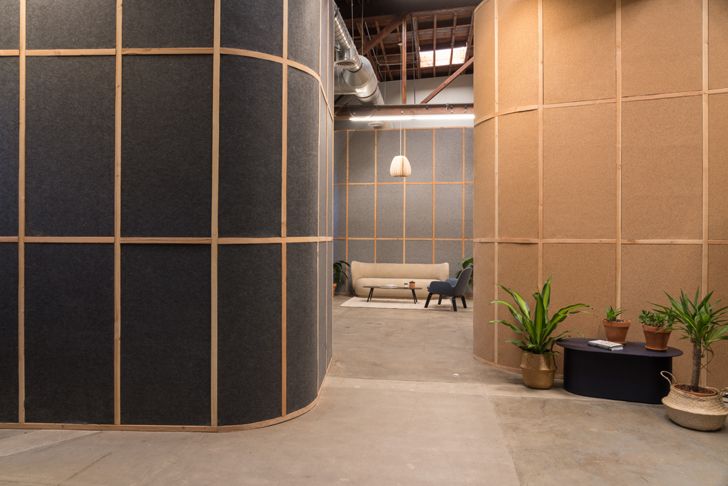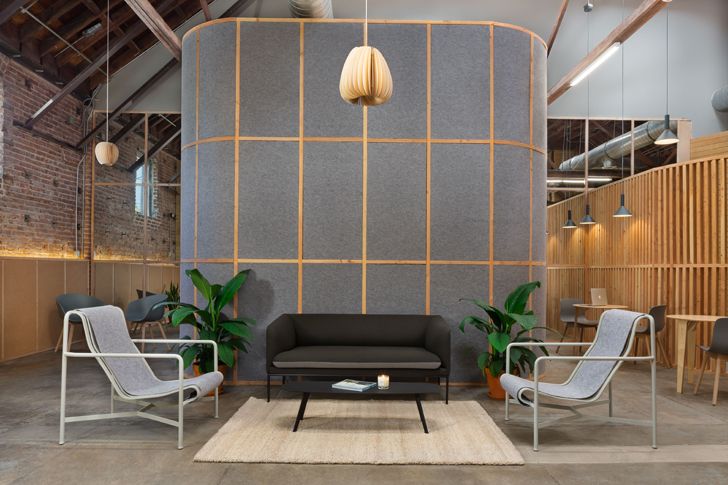 The interior space marks two zones – the adult area and the children's area, separated by a curved, acoustic wall that forms the spine of the space. A playful addition that is not visually harsh, the wall choreographs movement and creates partial privacy. Its winding turns create spatial tension, allowing interior spaces to compose cosy, social squares for both age groups.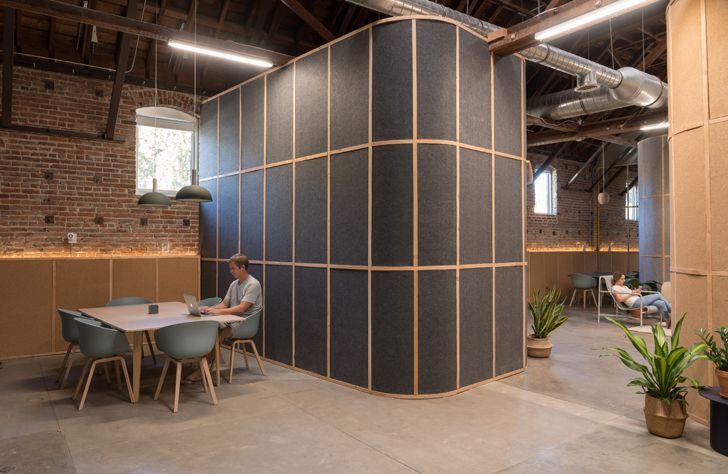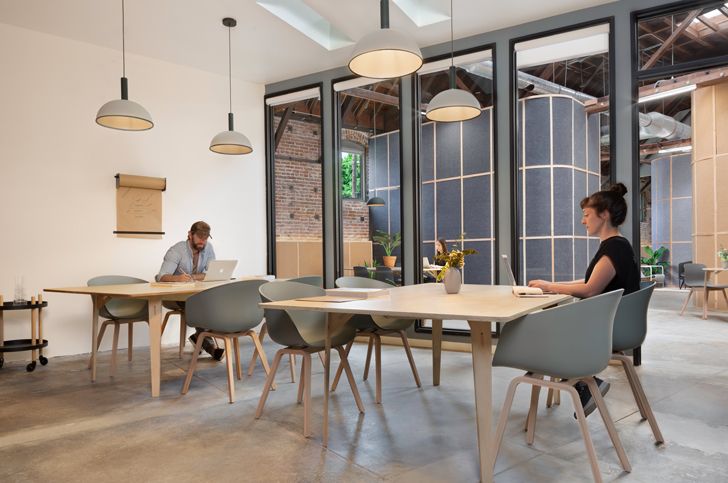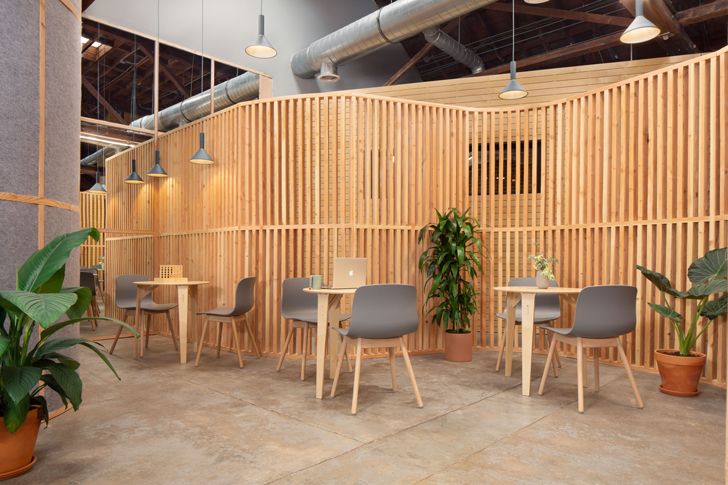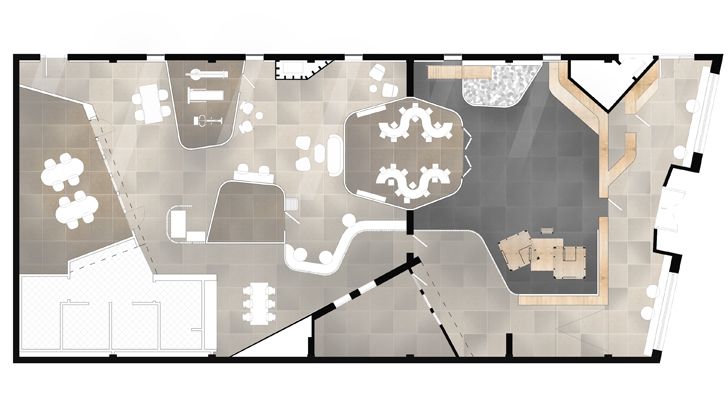 Ordered around these social squares, enclosed and partially open booths, connected structurally to each other, offer private uses. While the zones accommodate two separate booths each, they share one booth. At the rear end, closed volumes of different heights organize the maintenance, bathrooms, kitchens, and meeting rooms.
Wood, mirror, cork, felt, and cardboard dominate the material palette. A constructive module of cork and felt exterior, sized 2ft x 4ft, runs on the wall in bands, covering the entire building perimeter as well. The module switches to lattices (wooden studs of 2in x 4in) depending on its placement and the use of adjacent spaces. The studs craft an interesting visual connect while mirrors magnify the spaces, making them look seemingly larger. Cork also structures the reception counter and the exhibition shelves.
The cohesive neutral scheme is minimal at best, composing a backdrop for colourful activities to come to life.
Fact File:
Project Name: Big and Tiny
Typology: Commercial Design
Design Firm: Zooco Estudio 
Design Team: Miguel Crespo Picot, Javier Guzmán Benito, Sixto Martín Martínez
Collaborators: Jorge Alonso, María Larriba.
Area: 5027 sq. ft.
Location: Silverlake, California
Photography Credits: Pixel Lab