Designer Saranin Artemy has a penchant for designing colourful and vibrant spaces that can be silent and eloquent at the same time. Their latest offering is the restaurant Belka in Perm, the northern Ural city of Russia…
A rectangular layout enclosed with stained glass windows at one end and linearly arranged load bearing columns lining the space centrally has a floor spread of approx.203-square-metres. At first glance, the restaurant appears like a labyrinth of little settings interspersed by a delicate banister railing, its central columns adroitly camouflaged in the setup.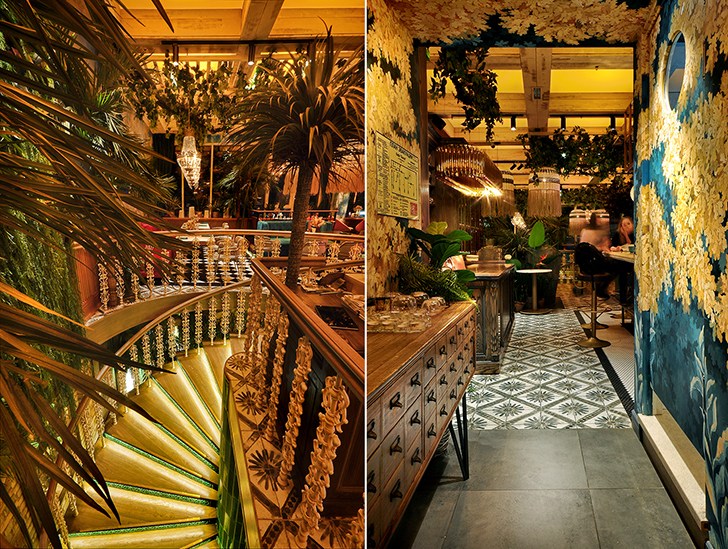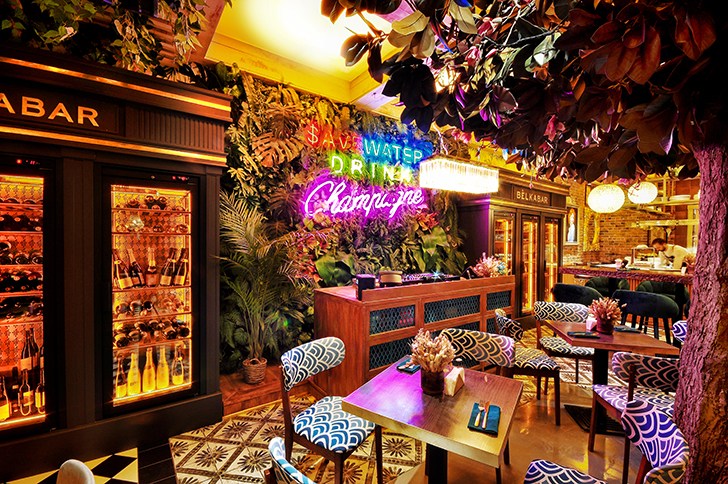 Every angle seems saturated with instagrammable possibilities. One sees an interesting intimacy of colour blocking with black-and-white. Velvety blocks of colour romance black-and-white seashell patterns on the upholstered chairs as black-and-white checkered and patterned flooring offsets the scenario, complemented by large celebratory chandeliers and lots of greenery in the ceiling. One's gaze shifts from one picturesque setting to another, looking for coincidences, combinations, shifting colors and emotions.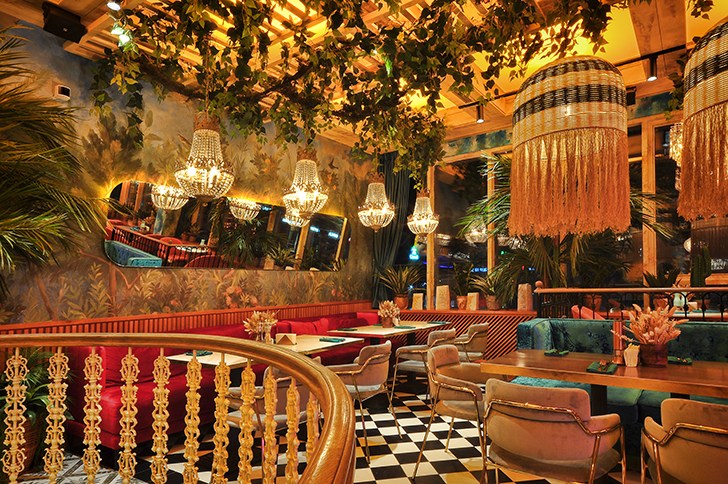 As if on cue, spaces are zoned into little narratives like a bar story with a chef table, a bar table, a communal table with an aquarium, a compact stage for DJ parties, a catwalk landing near the windows that resembles the atmosphere of summer under a light ceiling and the like.
Each narrative is distinguished by its flooring – concrete, mosaic, golden glass mosaic, ceramics, and an imitation of a wood floor. Correspondingly, the walls are themed too – grunge, natural frescoes, old, dilapidated resemblances, and the like, immersed in elaborate details. Stone sinks, wicker chandeliers, wine cabinets, furniture, many murals, and decorations complete these interior vistas.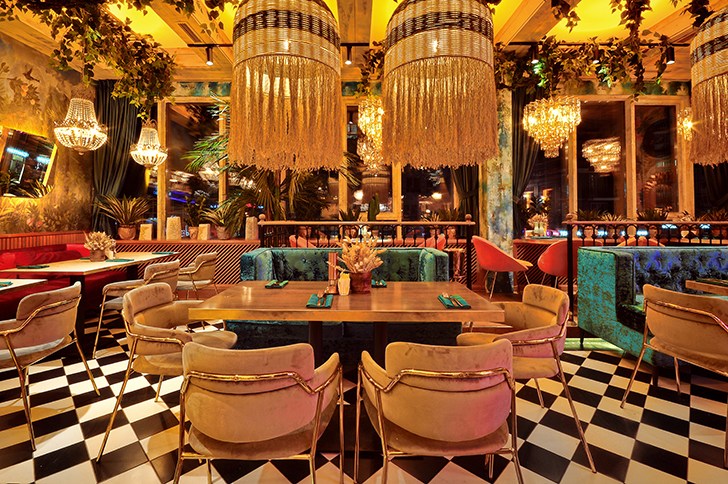 Coffered ceilings host a scenic range of lighting, which makes it possible to illuminate the restaurant with general street lighting during the day. But as soon as the evening comes, everything turns to stage of the colour of sunset, enveloped in a golden hue.
A plethora of plants add a biophilic aspect to the design, making it more welcoming and relaxed, a comfort zone that one can sink into and forget the outside world.
Fact File:
Project name: BELKA REST
Typology: Hospitality Design
Design Studio: ALLARTSDESIGN 
Principal Designer: Saranin Artemy
Area: 203 sq. m.
Location: Perm region, Russia Federation
Photography credits: Saranin Artemy