Sanjay Puri Architects design yet another climate sensitive building rising to the multiple challenges of the plot and the expected deliverables…
Located in the old business district of Chennai in South India, this office building stands out for its robust presence, its green pockets waiting to add to its allure.  From an angular profile, the building appears as a stack of long and wide cuboids (akin to flat pipes) punctured by fenestrations that in turn appear more like a secret code, augmenting its sculptural aesthetic.
The plan works on an optimised narrow plinth and a wide cantilevered structure above. This effectively mitigates the narrow access from an arterial city road and the non-existent road frontage of the plot as it lies sandwiched between existing buildings on all sides.  The plan also works in favour of the total area of 8000 sq. m. that needed to be built on the 4098 sq. m. plot based upon the client's requirements and the permissible construction area, along with a height restriction of 27m.
Consequently, the ground floor is commodious and allows easy vehicular circulation within the site. It also houses community spaces including a cafeteria, gymnasium, and an entrance lobby that form the soul of a working environment.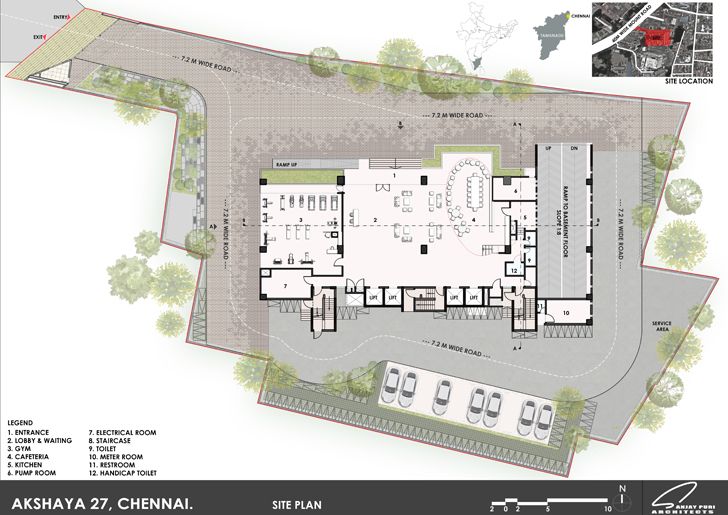 The offices divisible into four at each level of the six-storeys vary in size from 165 to 270 sq. m. and cantilever out at alternate floors; thus, stepping back and forth to create linear north facing terraces at every floor. The open terraces on every floor along with a roof top landscaped garden provide outdoor spaces for the office occupants.
Almost every parameter was a challenge to overcome…

Ar. Sanjay Puri
The service cores form the southern side of the building becoming a buffer to reduce heat gain in response to the hot climate prevalent in Chennai, where temperatures are more than 35°C for most of the year with the sun always in the southern hemisphere. Solar panels at the roof top harness the ample solar energy available in this location providing energy for the lighting of all the public areas, supplementing the energy efficiency of the building.
Fact File:
Client: Akshaya Group
Design firm: Sanjay Puri Architects
Principal architect: Sanjay Puri
Project architects: Kapil Merchant, Pooja Sampat
Built area: 8000 sqm
Location: Chennai, India
Photography credits: BRS Sreenag, Sreenag Pictures
Text credits: Courtesy V2com