The University Residence Resa San Mamés at the new Bilbao Terminus explodes in colour, immersing the user in a cornucopia of vibrancy.
Creative consultancy Masquespacio teams up with Resa, of the Greystar Group, a company specializing in student accommodations, by developing a brand manual that establishes the essence of Resa's residences and conveys the sentiment through its visual strategy.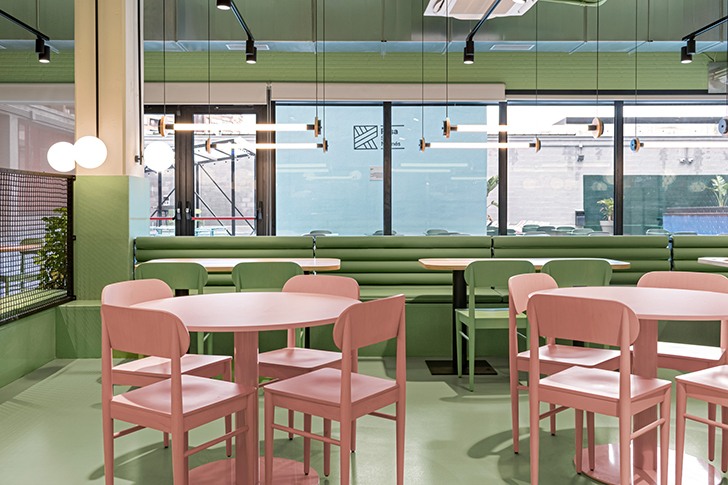 This 1850 sq. m. venue – the second in the series for Resa, takes the proposal a step further, structuring the spatial layout and interiors into a 3D space, resulting in a stunning composition that uses the colour blocking technique to breathe life into youth-oriented spaces.
Driven by the idea of a community space where students can share experiences, the project welcomes an unreserved layout where different zones fraternize yet stay distinct. A large expanse of white connects the blocks, its neutrality juxtaposing the bright and the bold – just like a palate cleanser, allowing the successive vividity of the shades to assume power. Unrestricted, the colours bleed onto the floor and ceiling, embracing the volume within while changing its perception. Colour-coordinated, geometric furniture ups the ante, fashioning a strong, seamless visual impact.
The restaurant, amphitheatre, and common areas, amongst others, engage with this technique. However, the study rooms break away from the norm to include flexible glass walls. These cater to privacy while also serving as instantaneous event spaces. The terrace pursues the colour blocking concept outdoors.
The project employs creative solutions bearing in mind the limited budget. With concrete floors and brick walls already in place, the studio's involvement right from the early construction stage helps save on additional materials. Presenting a contemporary industrial aesthetic, the university residence adds a stimulating punch to the everyday.
Fact File:
Client: Resa
Design Firm: Masquespacio 
Principal Designers: Ana Milena Hernández Palacios and Christophe Penasse
Surface Area: 1850 sq. m.
Location: Bilbao, España
Photography credits: Masquespacio
Support India Art n Design
Thanks to wide-spread patronage, we have been sharing high-quality content related to the art, design, and architecture community, for the last 10 years. We have ensured that our content always remains free of charge.
To help us continue to share our resources for free, we seek your support.
You have always helped us push the envelope. Please continue to hold our hands.
Purpose of Payment: Supporting India Art n Design (a unit of Pink Daffodils)
Alternately, if you wish to share an amount of your choice,
click here