Christened as the "Guru of Grand Gesture", designer Michelle Nussbaumer infuses her family holiday home in San Miguel with her characteristic maximalist flamboyance and her world views…
Plans are always in Michelle's head. Executed over an 11-year restoration and on site, the widespread 23000 sq. ft. estate that she chanced upon walking the streets of Mexico, stands transformed from the partial remains of a 17th century Hacienda into a timeless abode "inspired by the furthest reaches of the globe". Storerooms, barns, chapel, and various workshops that existed as part of the remains are now reinvented into a modern setting incorporating bathrooms, kitchen, living spaces with electricity within three-foot rockwalls. She has added in a pool and pool house, outdoor salas, a barn, and various guest cottages, all restored and refurbished using the same techniques that were used 200 years ago, to complete the picture.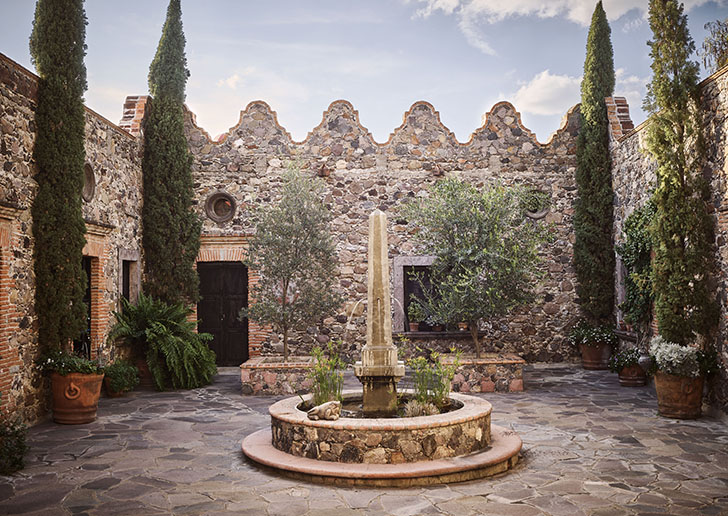 Michelle informs, "We used antique textiles woven in Mexico, antique Indian block prints, and my own Michelle Nussbaumer textile line, for a worldly mix. I did all of the landscaping as it had been void of any plant life or water for many, many years. I incorporated rockwalls, stone paths, and architectural details within the landscaping to bring the property to life".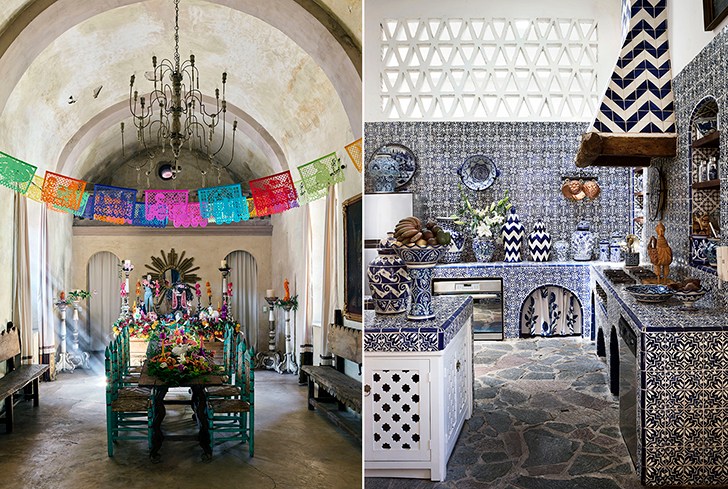 Every detail was extensively researched and kept in an authentic scope as to what the original property would have looked like and then contemporised to personal lifestyle choices. All the while, comfort and function were paramount. Serveral of the fireplaces and arches throughout the property have origins in islamic architecture which traveled through Morocco to Spain to Mexico. The art work and furnishings within the house are a melange of Italian, Spanish baroque, Mexican Colonial antiques… and the art work ranges from Mexican Colonial to well-known contemporary Mexican artists.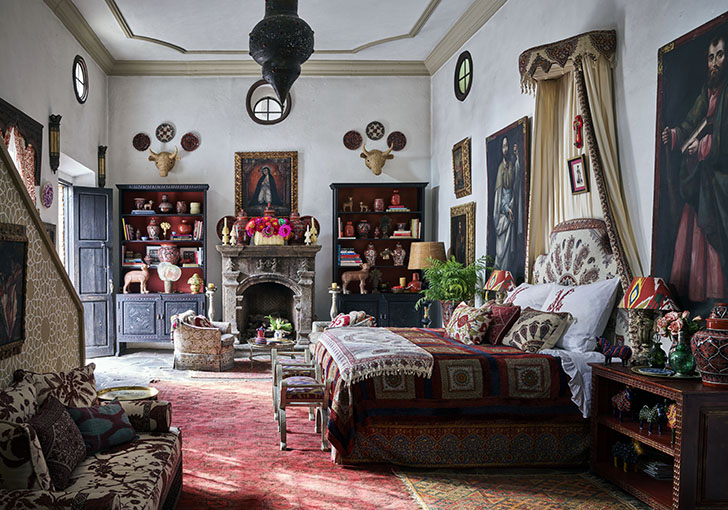 The undoubted highlight of the home is the kitchen that Michelle has put together inspired by 17th and 18th century handcrafted blue-and-white talavera tiles from one of the grande cathedrals of Puebla, Mexico.
Turning old-world inspiration into modern, soulful interiors for youthful spirits, Michelle's holiday home upholds her signature style, which defines a menagerie of pieces that together create a one-of-a-kind experience as unique as the individuals they're designed for!
Fact File:
Name of Designer: Michelle Nussbaumer
Principal Designer: Michelle Nussbaumer
Area of Project: 23000 sq. ft.
Location: San Miguel de Allende, Mexico
Photography credits: Douglas Friedman