[ad_1]
By Ar. Vinita Wagh
Photography:  Darshan Savla; courtesy the designer
Read Time: 2 mins
Mumbai's restaurant scene is ever-changing. And no, it's not just the food that is trending. Interior designer Saniya Kantawala curates 'The Terrace' to be the next Instagram magnet.
The restaurant embodies a chic vibe – clean and comfy, following a 'less is more' mantra that particularly appeals to millennials and the gen-x. Designed with a thoughtful aesthetic that is sure to capture moments in a picture, the space exudes a visual appeal that stems from the nuanced choice of colour, material and signage. The result is a dining experience that invites customers and sparks interest on social media. 
The design employs a practical and enduring approach, with the 2200 sq. ft. indoor space structured into zones that offer a variety of seating options: from high community chairs to circular booth seating.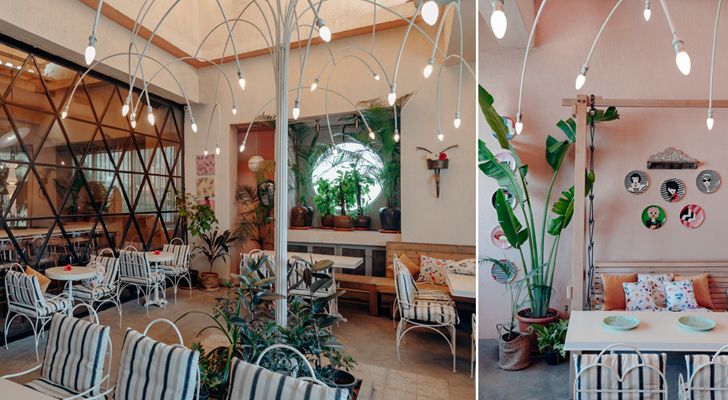 .
.
.
The outspread, open floor plan simultaneously offers space and privacy, a requisite for flattering photos. Dramatic jewel-shaped lights, and the combination of fabrics, mirrors, brass and the colour pink bind the space, reinforcing the millennial spirit that dictates the evolution of today's restaurant industry. 
The bar features a glass façade and a neon sign that reads 'Here comes the sun' – an eye-catching showpiece suggesting that happiness lies here. Quirky displays of pop art reflect the beauty of imperfections, another nod to millennial culture. 
.
.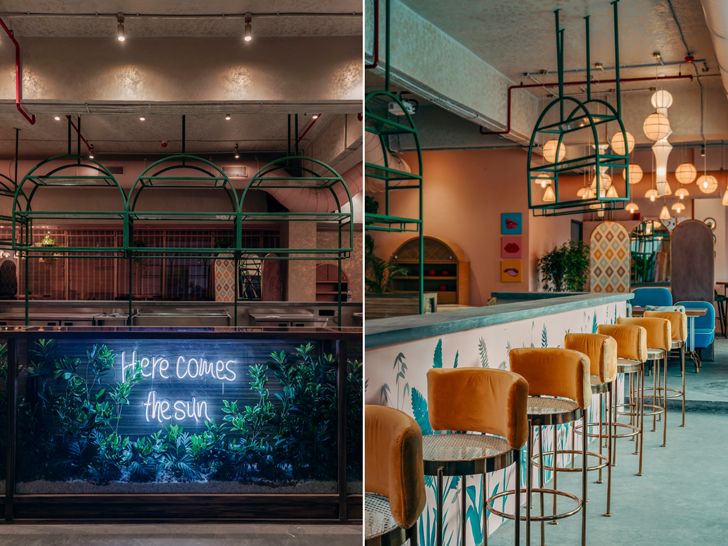 .
Flooded with natural light, the interiors heighten the experience, overall redefining the process of conceptualizing a restaurant space. Complementing the indoors, the 600 sq. ft. terrace garden centres around a light installation and plants, both staple elements that soften the ambiance. Accentuating the space are quirky wall art and a swing, once again deeming the space photo worthy.
Creating unforgettable memories is what all restaurants aspire to achieve – eclecticism, novelty and comfort steering the 'viral' quotient. Unsurprisingly, this restaurant finds its place at the intersection of all three.
Fact File: 
Design Firm: Saniya Kantawala Design
Principal Designer: Saniya Kantawala
Design Team: Ritu Parekh and Simran Kanugo 
Civil and Carpentry: Vadhayar Contracting
Plumbing, Electrical, Flooring, Furniture: Wadher Interior
Paints: Sanoj Gupta
Bar Art and Wallpaper: ZA Works 
Art: Sarah Kantawala 
Area in sq. ft: Indoor Area: 2200 sq. ft | Outdoor Area: 600 sq. ft 
Location: Mumbai


[ad_2]
Support India Art n Design
Thanks to wide-spread patronage, we have been sharing high-quality content related to the art, design, and architecture community, for the last 10 years. We have ensured that our content always remains free of charge.
To help us continue to share our resources for free, we seek your support.
You have always helped us push the envelope. Please continue to hold our hands.
Purpose of Payment: Supporting India Art n Design (a unit of Pink Daffodils)
Alternately, if you wish to share an amount of your choice,
click here