Studio Dot's continual endeavour for human-centric design and functional spaces starts at their very own doorstep, their 2000 sq. ft. studio in Delhi's Paschim Vihar.
The founders, Ar. Anmol Arora, and Ar. Shubhit Khurana, envisioned a firm where infinite ideas and innovation form the cornerstone of the design process. Thus, formed Studio Dot – 'dot' representing the beginning, the end, and the infinite. The firm's ideals of simplicity, functionality, sustainability, and aesthetic elegance converge in the design of their studio, a workspace that puts the user first, and promises collaboration, efficiency and well-being.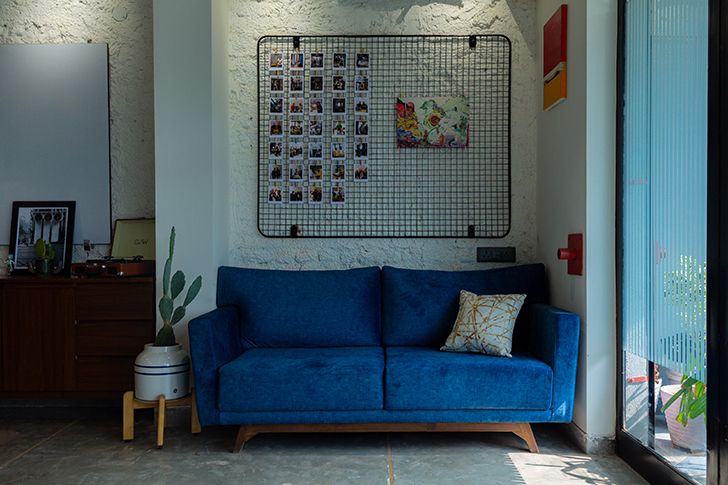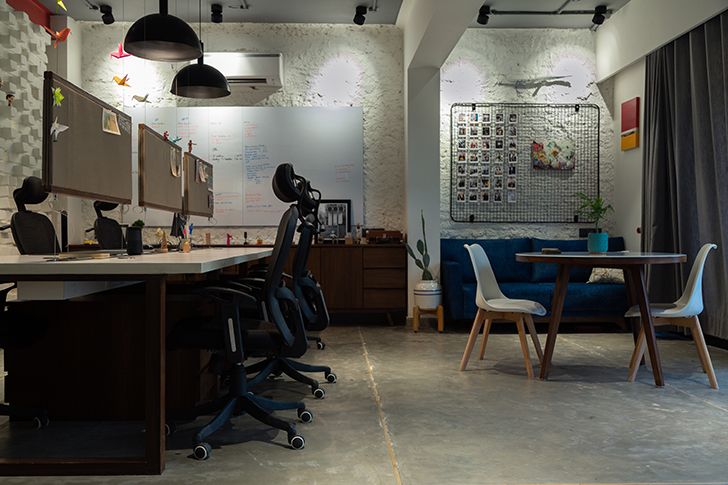 Designed as an open-office workspace within a shell of load-bearing walls and MS girders, the studio also houses two cabins, a casual meeting space and a material library. While one half of the floor plate features a collaborative work zone, the remaining functions organise themselves around a central corridor that flanks other side.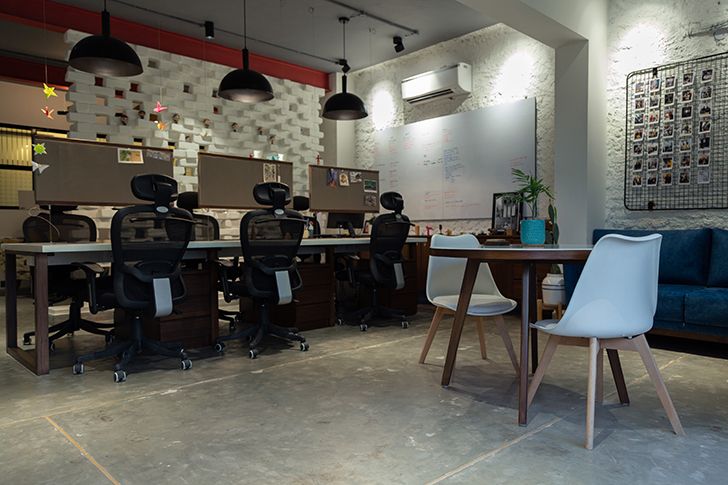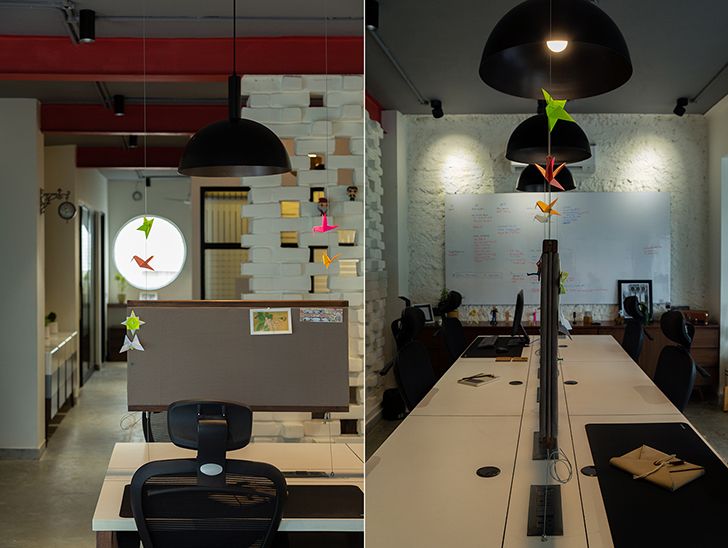 The current arrangement seats 10 employees, the composition factoring in future growth opportunities. Bathed in white and the occasional splash of colour, the space puts on display furniture, art pieces and products, placing even the employee in the limelight. The studio's East-facing orientation captures the beautiful morning sun, the expansive glazing allowing natural light to trickle in. The conference room even stretches the window into a skylight and the central corridor culminates in a striking circular window! The highlight – a brick 'jaali' wall, separates the waiting area and the workspace, its perforation pattern providing partial privacy, its biggest challenge – planning and execution.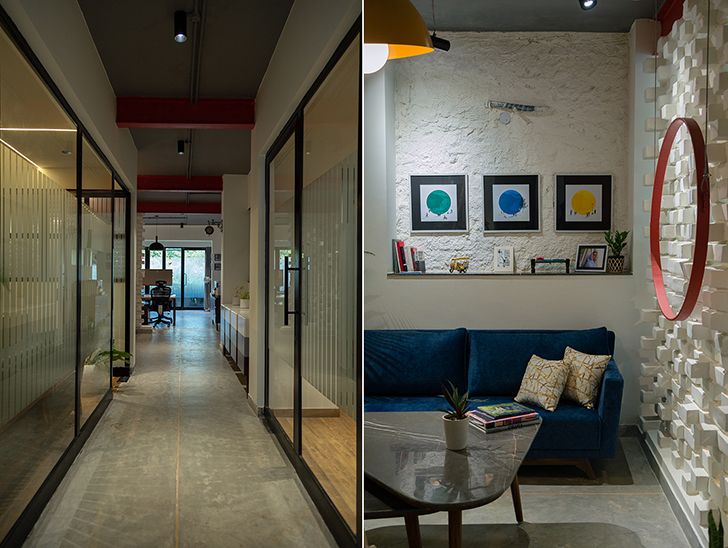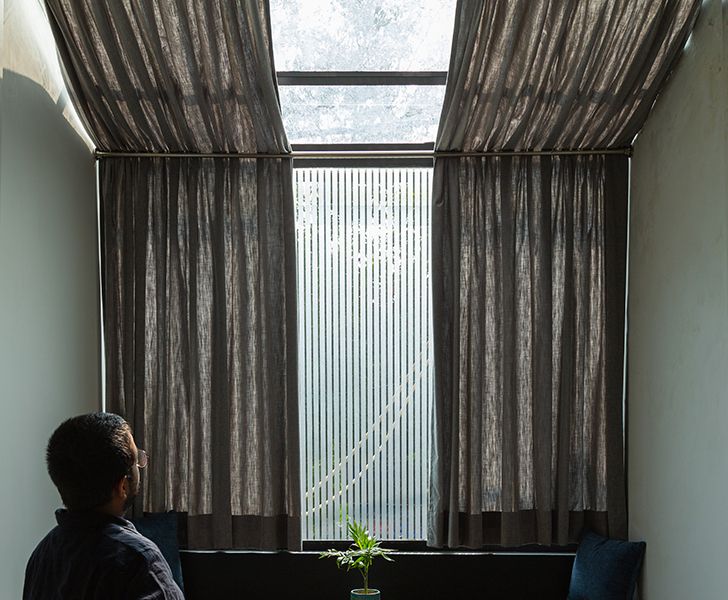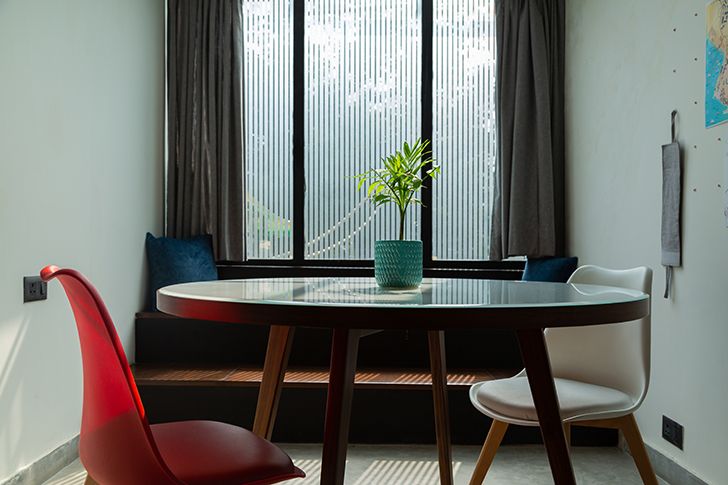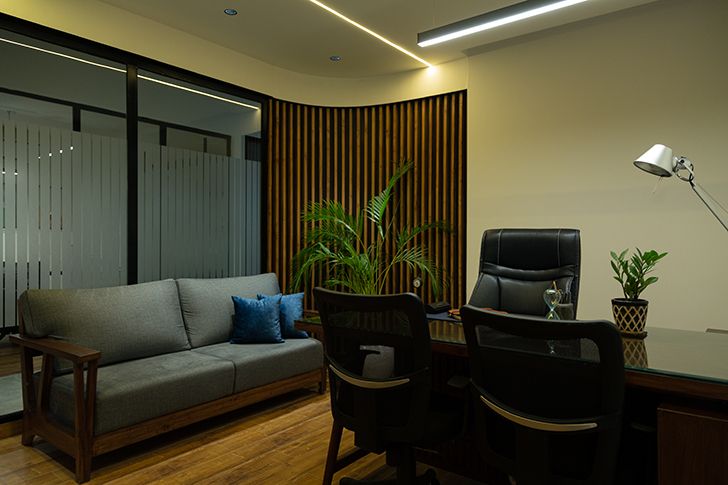 The exposed ceiling of the workspace and surface-mounted lights render an industrial aesthetic while wood, greens, concrete, brick, and rough plaster quietly add texture and raw undertones to the interior. In contrast, the two cabins display a more formal character. Overall, the clean minimalism offers respite from cognitive and idea overload.
Bringing in comfort-inducing design elements into the mix – couches, cushions, plants and quirky art, the studio practices the human-centric principles it preaches.
Fact File:
Design Firm: Studio Dot 
Principal Designers/Architects: Ar. Anmol Arora and Ar. Shubhit Khurana
Built-up Area of project: 2250 sq. ft.
Carpet Area of project: 2000 sq. ft.
Location: Delhi
Photography credits: Maneet Gogia 
Support India Art n Design
Thanks to wide-spread patronage, we have been sharing high-quality content related to the art, design, and architecture community, for the last 10 years. We have ensured that our content always remains free of charge.
To help us continue to share our resources for free, we seek your support.
You have always helped us push the envelope. Please continue to hold our hands.
Purpose of Payment: Supporting India Art n Design (a unit of Pink Daffodils)
Alternately, if you wish to share an amount of your choice,
click here