Behind its simplistic demeanour lies hidden a brilliant design – HOUSE (Human's Optional USE) by H&P Architects heralds a noteworthy attempt to change the status quo.
This 750 sq. m. unit marks the first of many, designed to be adapted in vulnerable contexts and low-income settings – rural areas, flooded regions, mountainous terrains, or resettlement areas. The unit offers a multifunctional space for housing, education, healthcare, and community. The design flexibility also translates to its construction, building materials, interior space planning, and configuration of the encompassing cluster.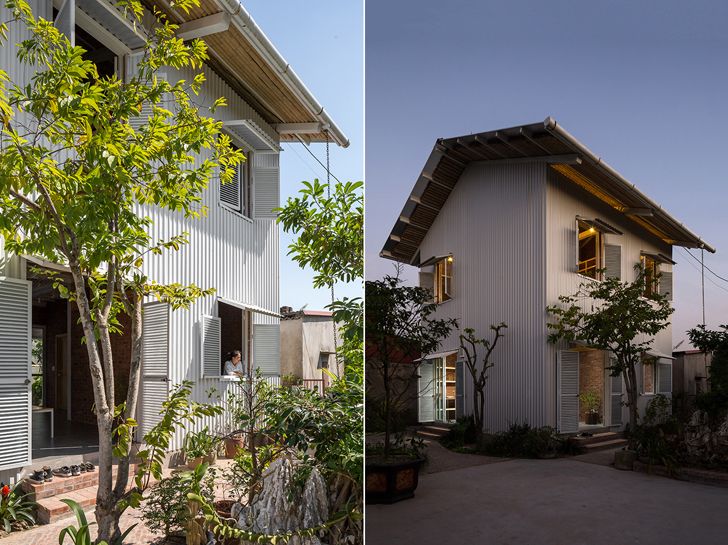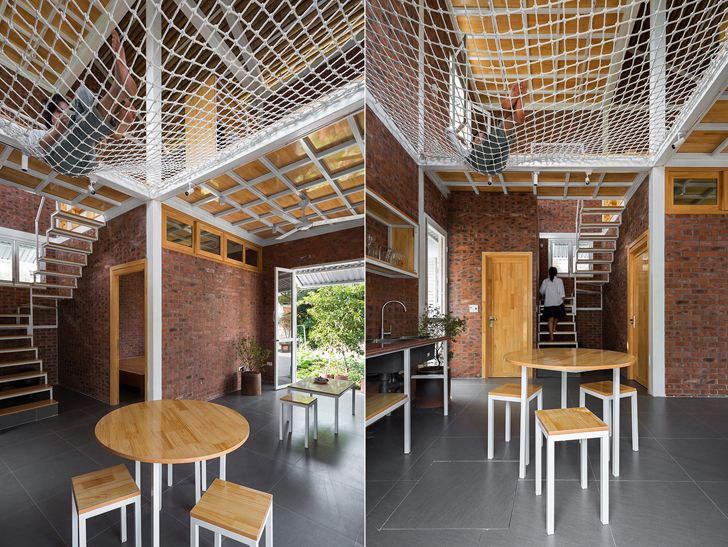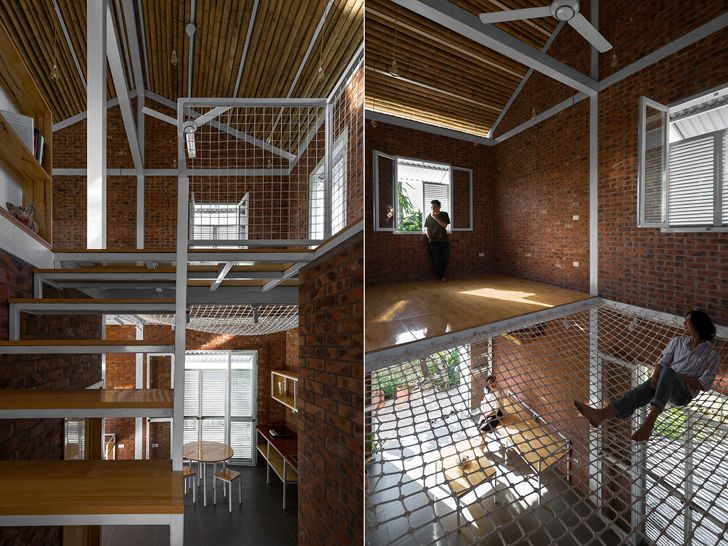 A reinforcing steel frame and 2-layer covering form the shell of the structure. A 15×15-cm steel tube constitutes the frame, including the pillars, beams, and pitched roof. Assembled through multipoint joints to facilitate the addition of floors, the frame helps the unit adapt to the context – it lifts the foundation pillars to recreate stilts on a mountainous terrain and alternately, spreads the foundation onto barrels for a floating house in water regions.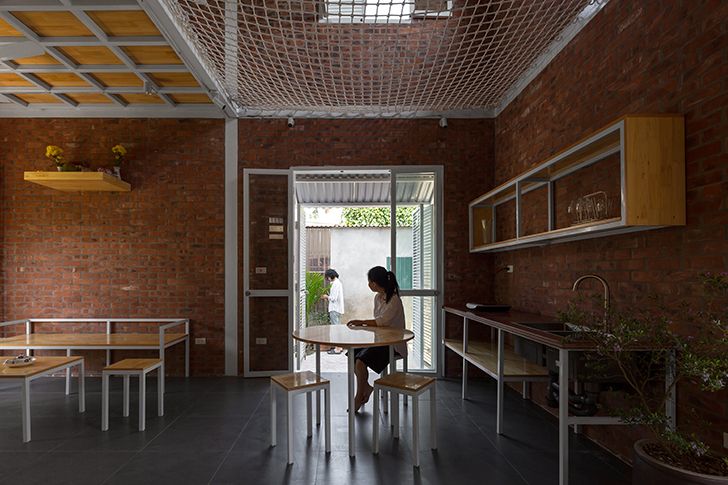 The project effectuates not just ecological balance, but also economic stability for populations living in vulnerable geographic regions.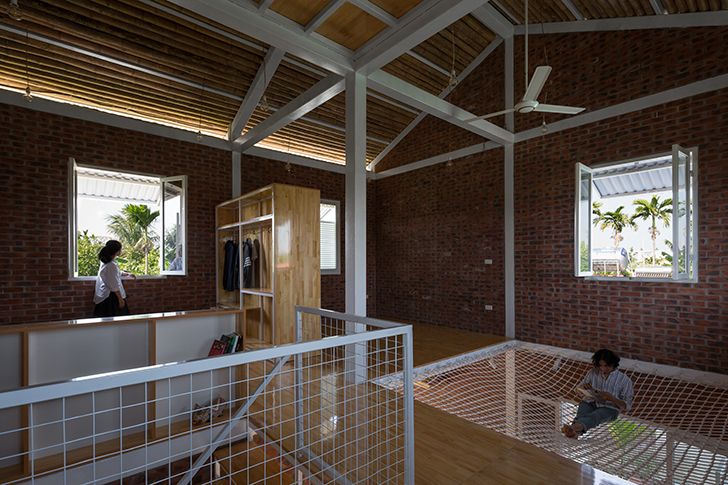 The walls, roofs and doors compose the 2-layer covering, their material subject to availability in different regions. Individual designs appropriate compacted bricks, unburnt bricks, waste bricks, steel tube, corrugated iron, and foil. The conditions and needs of individual families determine the interior partitioning, furniture and finishing. The project, completed in stages from bottom to top, organises itself around the voids within, while their cluster configurations provide organisational flexibility for private yards, community units and open spaces.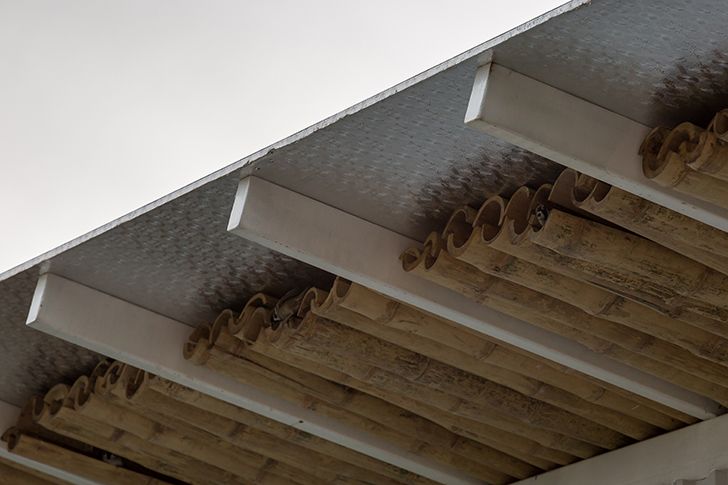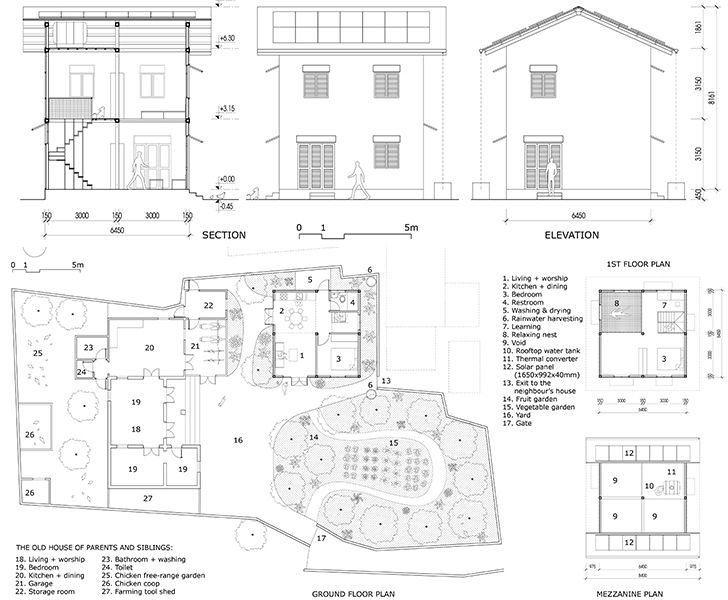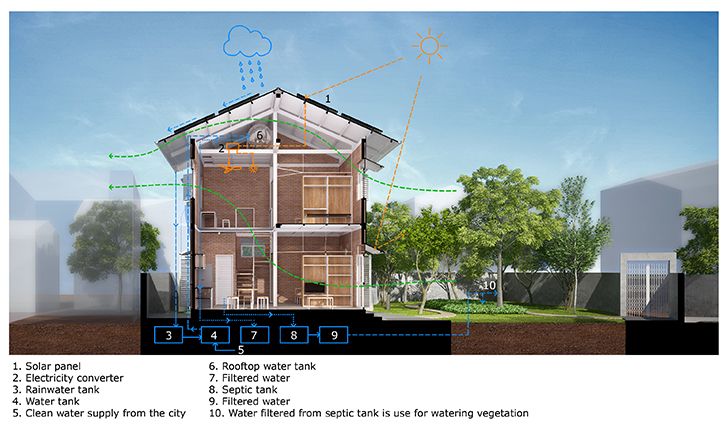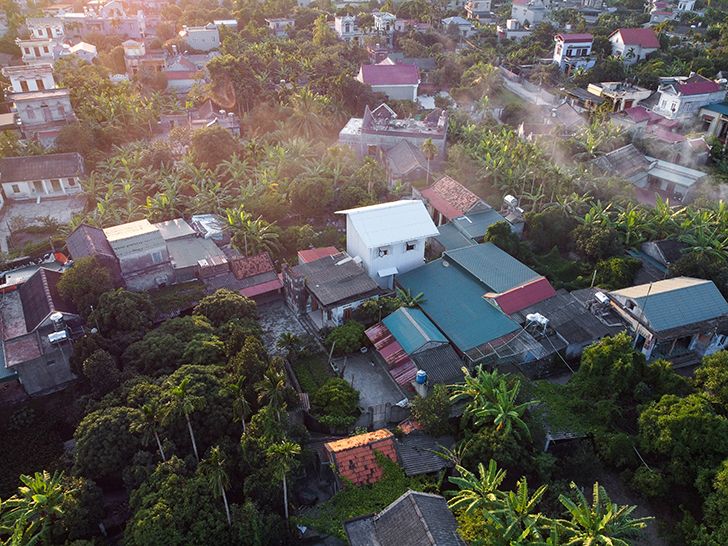 The unit also seeks to reduce its impact on the environment, giving priority to renewable energy generation and reuse of domestic water. Solar panels on the roof generate electricity, storing and trading the excess. Additionally, the roof sprinkler system cleans and cools the roof during hot summers.
With a goal to create jobs, the construction process calls for community participation wherein users actively divide spaces as per their needs while being the producers of materials and renewable energy. As such, the project effectuates not just ecological balance, but also economic stability for populations living in vulnerable geographic regions.
Fact File:
Architect: H and P Architects
Team: Doan Thanh Ha,Tran Ngoc Phuong, Han Minh Tu, Nguyen Hai Hue, Tran Van Duong, Luong Thi Ngoc Lan
Construction area: 42 sq. m. (6m45 X 6m45)
Total floor area: 75 sq. m. (for 4 people)
Manufacturers: Viglacera brick, bamboo, steel
Location:  Hai Duong, Vietnam
Photography credits: Le Minh Hoang 
Support India Art n Design
Thanks to wide-spread patronage, we have been sharing high-quality content related to the art, design, and architecture community, for the last 10 years. We have ensured that our content always remains free of charge.
To help us continue to share our resources for free, we seek your support.
You have always helped us push the envelope. Please continue to hold our hands.
Purpose of Payment: Supporting India Art n Design (a unit of Pink Daffodils)
Alternately, if you wish to share an amount of your choice,
click here