Salankar Pashine and Associates weave a design narrative that effortlessly blends functionality with aesthetics in this home cum office in Nagpur…
Accommodating the homeowners' requirement of a 5-bedroom house, the architects opt for vertical development, where the residence is relegated to the upper floors, and the office occupies the lower ones – each with a separate entry. The floor plan of a partial basement, ground plus three storeys thus house the servants' quarters, staff office, security room and parking in the basement, a conference room ideal for meetings and large formal gatherings on the ground floor and the residential spaces further up with the entrance opening into an expansive living room on the first floor.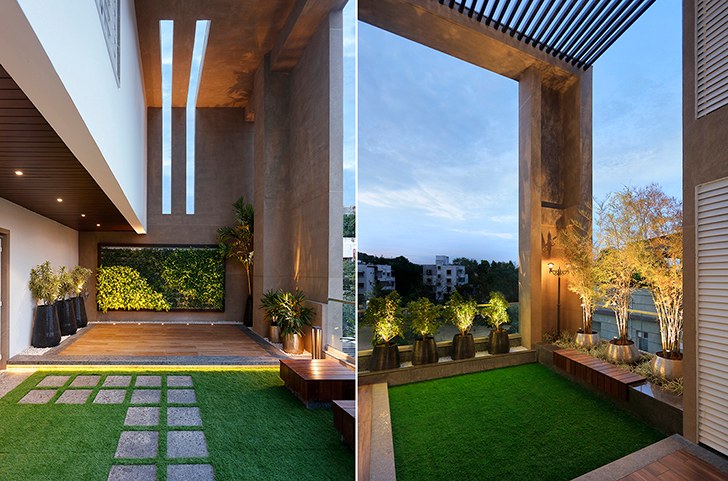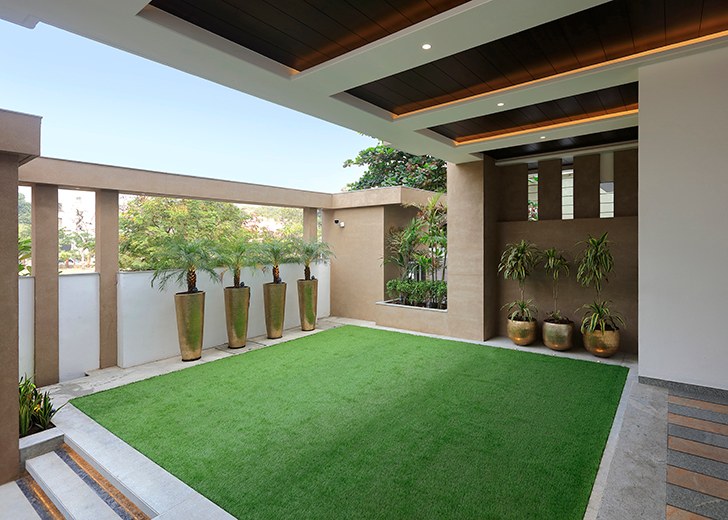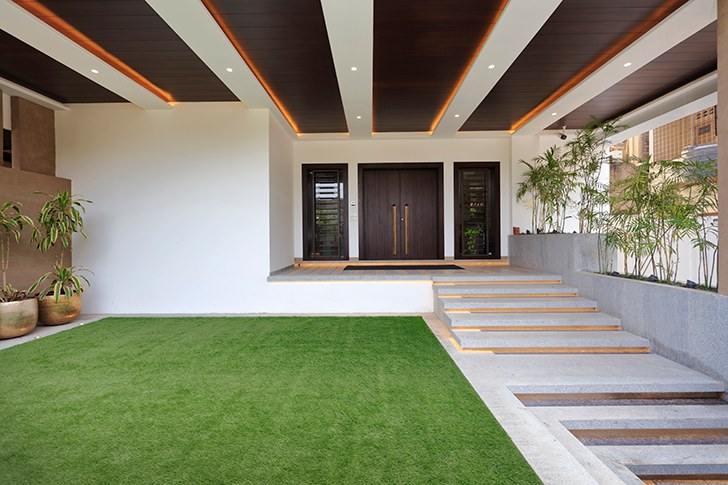 A bold, asymmetrical façade with large windows, a distinctive roof, and a large well-defined entrance partially concealed by the compound wall anoint the built form. Visible from the street are the outdoor extensions on the upper floors, peppered with potted plants and voluminous openings that are capped with MS pergolas that filter in sunlight. On cue, the interiors following symmetry in most arrangements and host an open-plan layout yielding a sense of spaciousness within. In fact, controlled light and ventilation are the crucial design elements that define this home.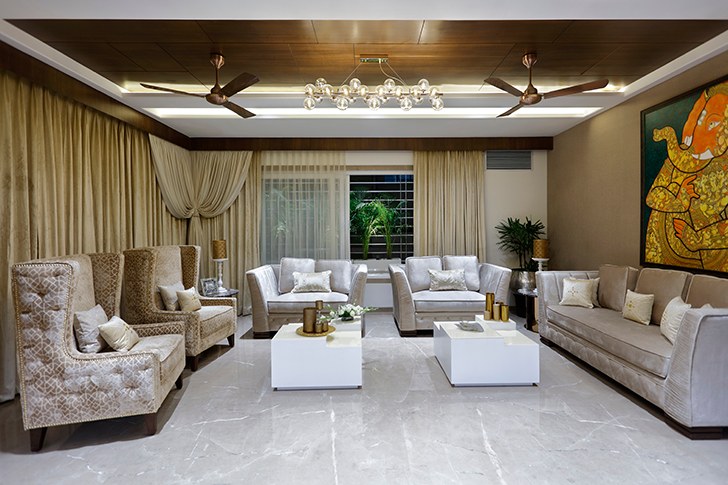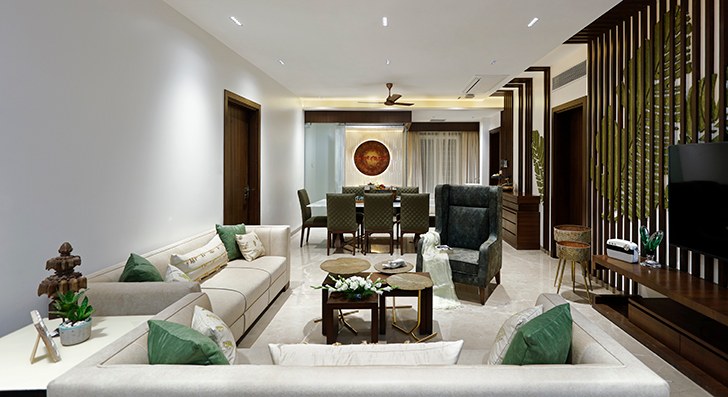 A tasteful selection of furniture, light fittings and works of art, plush soft furnishings, inclusion of customised elements and clean finishes, render the interiors with understated opulence. Colours are smartly integrated into each space through decor and surface treatments, in accordance with the colour scheme dominating that particular room, largely following a minimalist approach. The use of wood is consistent and incorporated in diverse ways throughout the interiors, in tandem with the neutral interior envelope. Cove and accent lighting complete the picture, lending the spaces a calm, almost meditative aura. Additionally, Variable Refrigerant Volume system (VRV) with cassette ACs. help maintain individual zone control over each room or floor.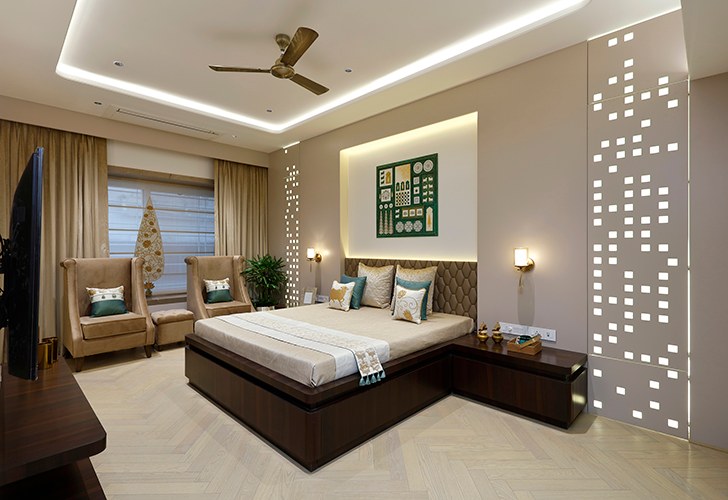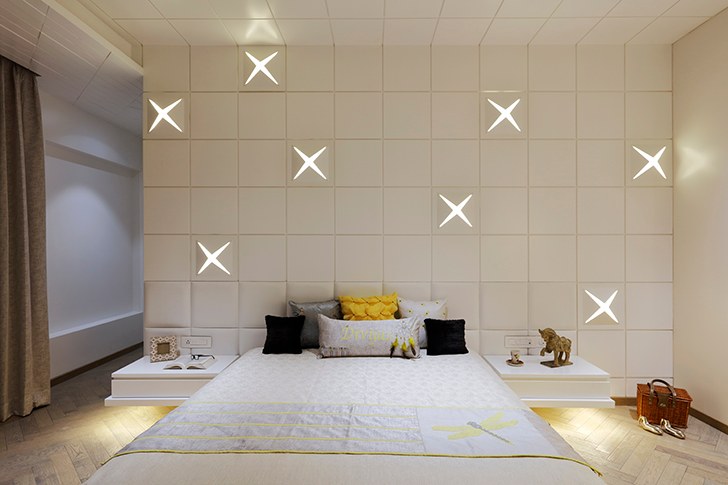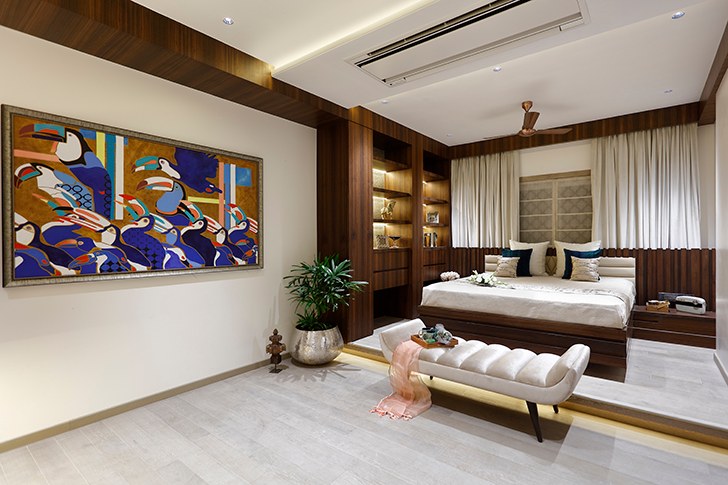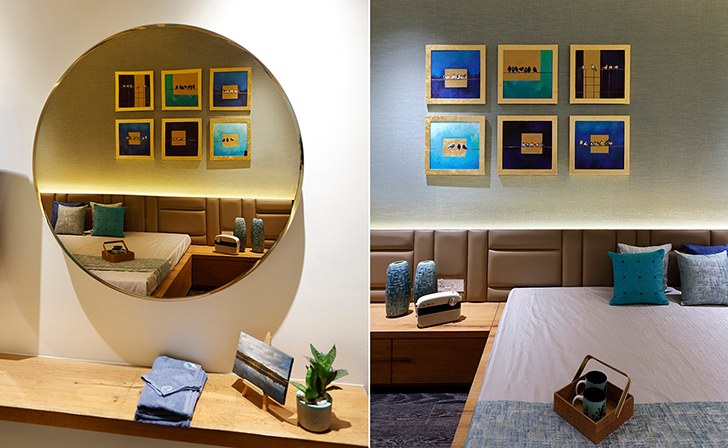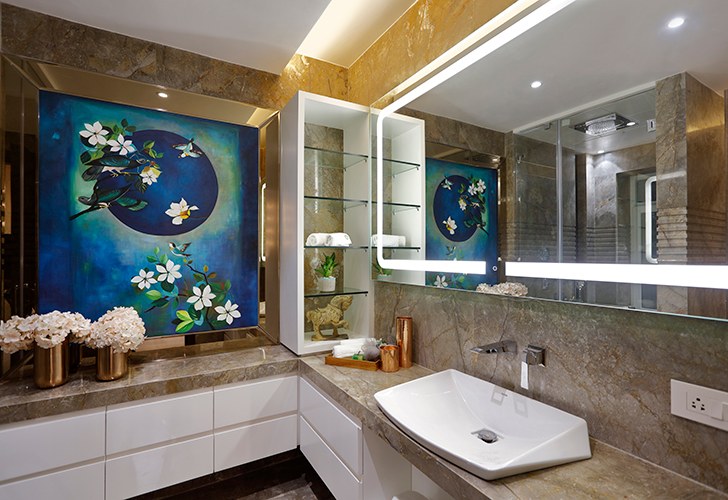 The architects, in essence, focus on efficient planning to offer ease of use and access while creating spaces that can instil a sense of comfort and be visually pleasing, making it a cosy haven for the homeowners.
Fact File:
Typology: Residential Architecture + Interior Design
Design Firm: Salankar Pashine and Associates
Principal Designers/Architects: Anurag Pashine and Pallavi Pashine.
Design Team: V.Y Salankar, Anurag Pashine, Pallavi Pashine, Atul Mehekare, Deepa Bharadkar, and Juhi Doshi
Built-up Area of project: 15,000 sq. ft.
Carpet Area of project: 8800 sq. ft.
Location: Nagpur, Maharashtra
Photography credits:  Ashish Bhonde