Masquespacio employs an unusual dual-colour palette of lavender and earth green to craft out a refreshing ambience for spectacle brand, Breathe in Columbia…
Breathe's new store in Bogotá, Columbia is characterised by a focussed L-shaped display area of spectacle frames, ingenuously mounted on glass shelves fitted on to a perforated backdrop. This not only facilitates a change in display at will, but can also accommodate a change in produce, if at all.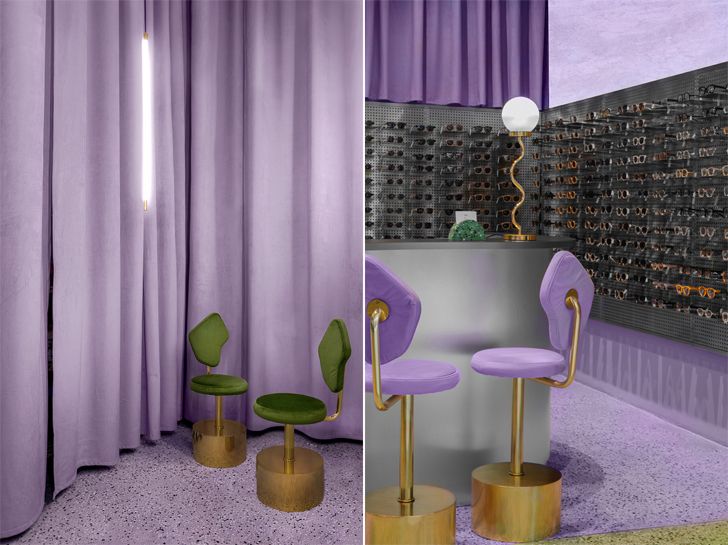 The central area of the store is highlighted by an organically shaped service desk that sets off the curvilinear tone of the furniture, lighting, and ancillary display. The latter arrests attention as random organic cut-outs mounted against perforated sheets and fitted partially with hooks and partially with mirrors. This tends to effectively break the monotone of the spectacle frames display, creating an element of intrigue; the mirrors adding a reflective surface in addition to functionally catering to the clientele.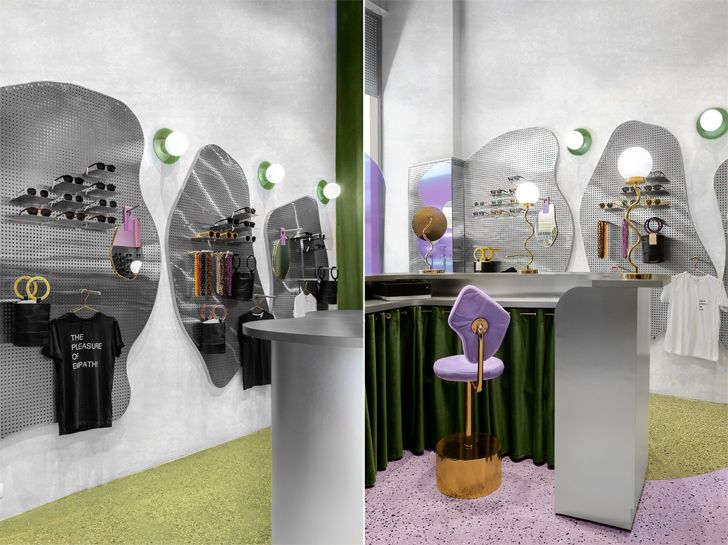 The store is cleverly sectioned off into an administrative and more private back office by a floor-to-ceiling green curtain that juxtaposes the lavender curtain and matching paint on the remaining walls.  The flooring is interestingly dressed in the dual hues too, constituting a carefully tailored interior envelope.  This unusual palette is further set off by gleaming brass that finds place in the bespoke light fittings and chair bases, the scheme boldly interjected by the grey of the organic service desk and the perforated backdrops.
Whilst the organic forms command the design vocabulary of the compact store, its strikingly inviting décor sets off its invitational vibe.
Masquespacio is an award-winning creative consultancy known for its interior and identity design prowess. The studio is also the Winner 2020 of the Young Talent of The Year by Elle Deco International.
Fact File:
Typology: Retail Design
Client: Breathe  
Design Firm: Masquespacio 
Principal Designers: Ana Milena Hernández Palacios and Christophe Penasse.
Area: 30 sq. m.
Location: Bogotá, Colombia
Photography Credits: Mateo Soto