As we prepare for the upcoming festive season, Founder & CEO, Urban Zen, Rohit Suraj counsels us on the many facets of lighting and how the right lumen can transform a living space from beautiful to mesmerising…
Whether the effect is soft and subtle or all-out dazzling, illumination is as integral to a space as is its décor. We designers have an arsenal of tools at our disposal when it comes to crafting a perfect lighting design scheme. Assessing the uses, sizes and natural light levels in each room, a flawless lighting plan can be curated to meet even the most demanding of requirements. Therefore, one of the key aspects to a good lighting scheme is to allow the personality of the owner to shine through it and add zing to the space they inhabit.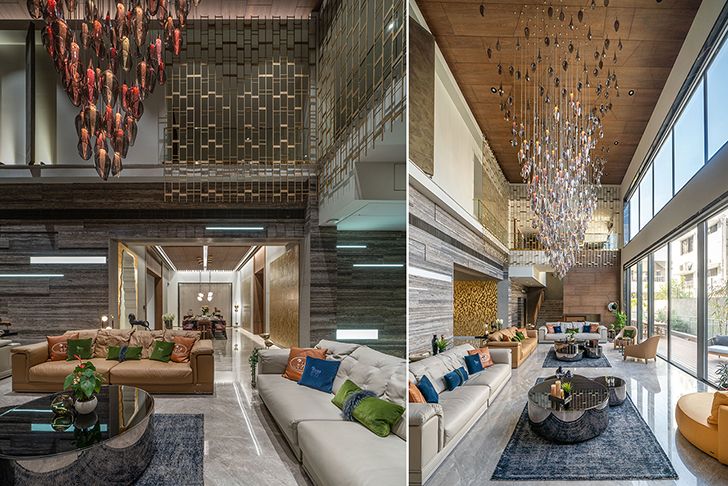 Each space is unique. It has its bespoke requirements. For instance, a utility room is well served with glare-free compact fluorescent, whereas a study room requires particular attention to task lighting. Let us examine some spaces and their optimum lighting solutions:
An open plan layout comprising living, dining and kitchen needs to have several different circuits of lighting that include a mix of LED spots and low-level floor washers, LED under-cupboard task lights, and mains voltage lamp light to create depth and texture in the space.
The cover image is example of a glossy dining arrangement that depicts a marble tabletop balanced on the top of a honeycomb structured design and brass-finished lounge-style seating. The use of wood as represented with the flushed wooden ceiling lights and suspended artisanal wood adds a touch of whimsy – a perfect complement to the linear timber segment wall cladding; the schematic high on sophistication; yet, instilling a sense of space and harmony.
The goal of ambient lighting is to supply even light to an overall area. This is most frequently accomplished with recessed lighting or a gorgeous chandelier. 'Overlapping Volumes' is an extremely ambitious residential project that we are working on that has abundant examples of lighting designs and trends. The living room has a stunning chandelier, which is in many ways a piece of art. Each pendant is formed of two parts, a hand-blown crystal-clear drop with soda effect inside and a hand-blown crystal-clear cap with the silver nano-coating finish. The light sources are programmed to exude different coloured fans, rays or drapes, imitating the fascinating phenomenon that originates in polar areas and is very rare in our latitudes.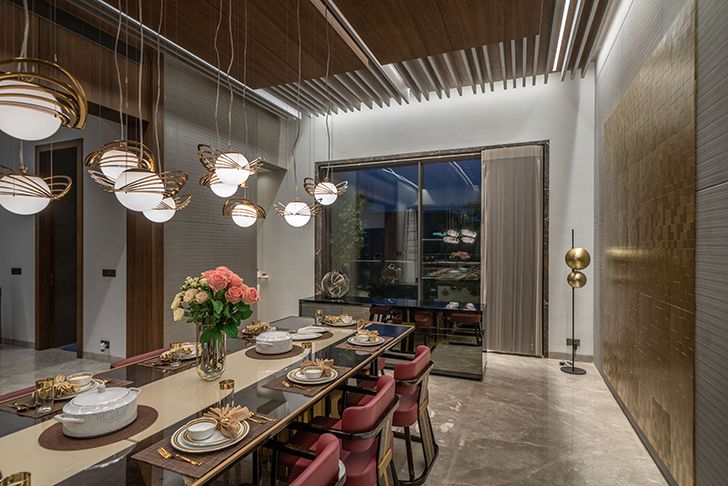 So, basically, one's lighting preferences should ideally be addressed during the initial design phase of a new build or renovation project since there is much more to lighting than just deciding how many downlights to put in each room. Based on the utility and the extent of utility, as well as the kind of ambience that one would like the space to have, one first addresses the placement of light fitting. Post this, one needs to decide on the kind of light fitting – wall scones or up lighting can be used to create a softer ambience and avoid potentially harsh downlighting that can cast unappealing shadows. And this is just one example.
In the above picture, one sees a combination of lights. The cove lighting of the staircase highlights the character of the centrepiece. The wall lights fuse beauty and geometry and work together with the overall schema to amplify the depth of the staircase and ceiling.
Whilst I have sketchily touched upon a few spaces and the impact of lighting, there is a lot more to lighting. What I principally would like to convey is that the main factors that need to be kept in mind while deciding the lighting scheme for a residential interior lies in detail. The more the clarity in the plan and proposed ambience, the better the lighting will be. Having an extensive idea about finishes, furniture layout, joinery details, and an understanding of how the house will flow, helps get the ideal lighting design in place.
The author, Rohit Suraj, Urban Zen's Founder and CEO is a TedX Speaker and has been awarded as one of the Top 50 Architects and Interior designers of 2020. A passionate proponent of independent thinking and creative change, his design stories instill fascination, elevate the human spirit, and initiate conversations. Apart from several national and international awards over the years, Rohit has designed and executed a vast spectrum of projects of varying scales and profiles.  He can be contacted on ceo@urbanzen.in
Text credits: Rohit Suraj
Photography: Courtesy of Urban Zen
Support India Art n Design
Thanks to wide-spread patronage, we have been sharing high-quality content related to the art, design, and architecture community, for the last 10 years. We have ensured that our content always remains free of charge.
To help us continue to share our resources for free, we seek your support.
You have always helped us push the envelope. Please continue to hold our hands.
Purpose of Payment: Supporting India Art n Design (a unit of Pink Daffodils)
Alternately, if you wish to share an amount of your choice,
click here