La Sastrería's culinary fantasy gives a peek into Valencia's flamboyant Canyamelar – Cabanyal neighbourhood and the scintillating ocean beyond – all in 200 sq. m. and using a single predominant material – the humble tile!
Creative studio Masquespacio brings their trademark energetic and peppy vibe to this resto bar – enchanting and psychedelic, all at once. Offering a new culinary and sensorial experience, La Sastrería fulfils the dream of young entrepreneurs, chef Sergio Giraldo and bartender Cristóbal Bouchet, to launch their own seafood restaurant in collaboration with Grupo Gastroadictos.
Organised into three parts, the restaurant not only references the architectural character of the maritime neighbourhood and the lifestyles of the locals, but also gives a special nod to Sergio's food and Cristóbal's spirits.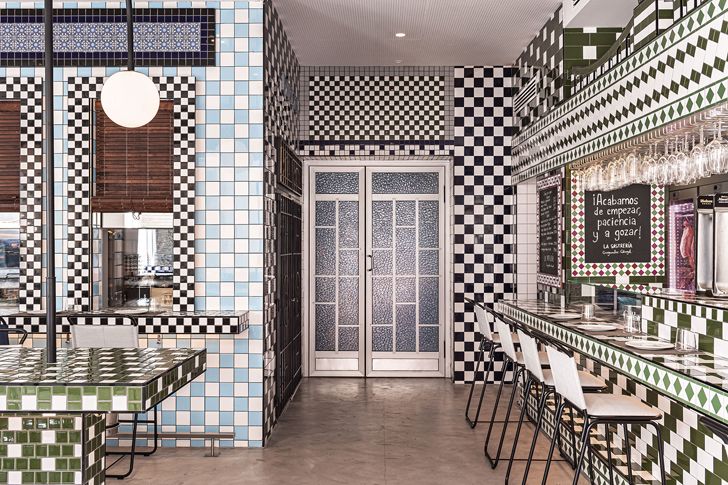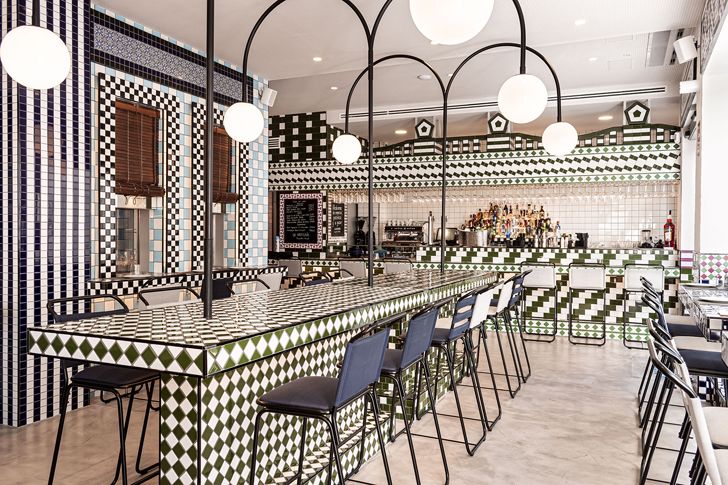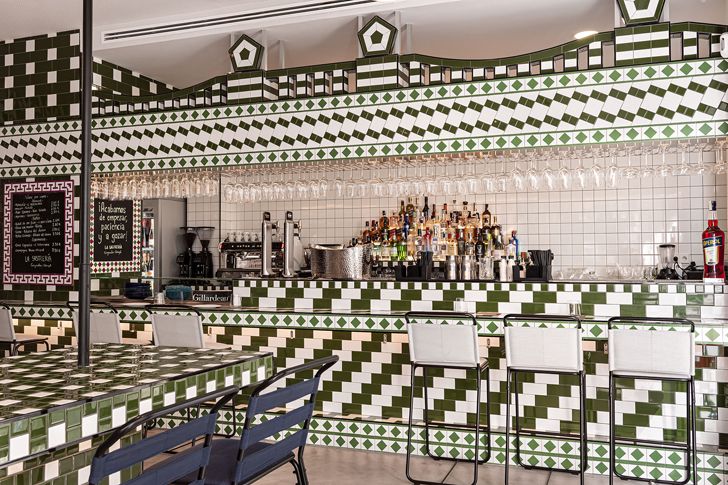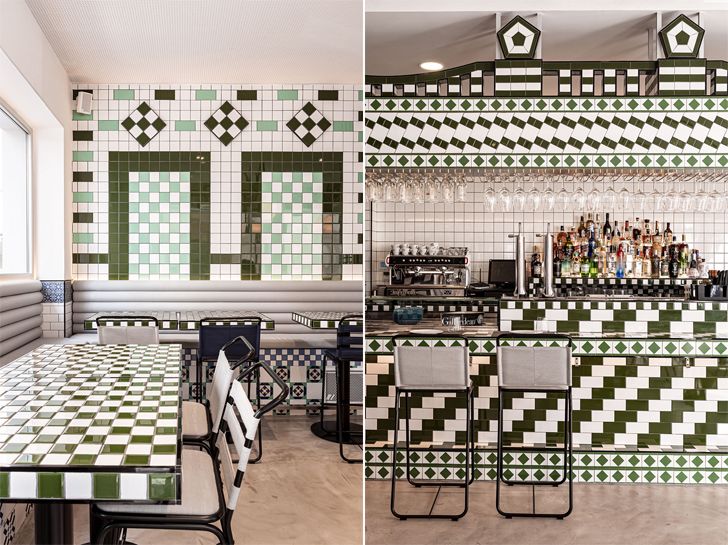 The bar reimagines the communal character through its spatial layout, recalling warmer days, when neighbours bring out their plastic chairs onto the street to chitchat and breathe in the fresh air. Its patterned front, clad in custom-made printed tiles of white and green, stands in prominence, bursting with ornaments and singular figures – just like the neighbourhood facades. Behind the bar, the spirits take centre stage.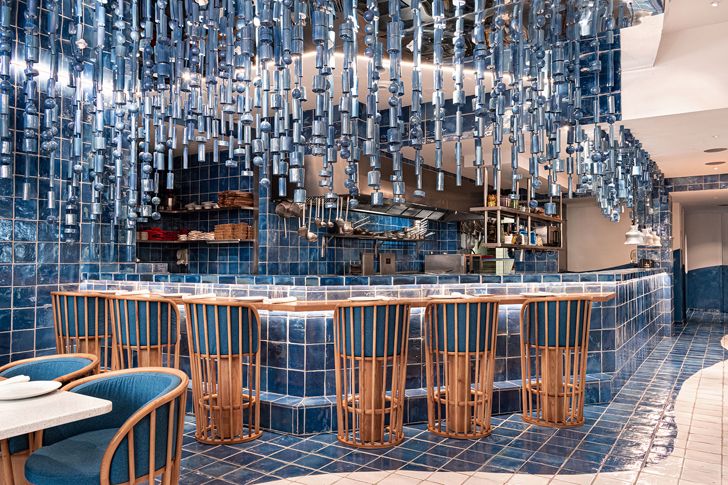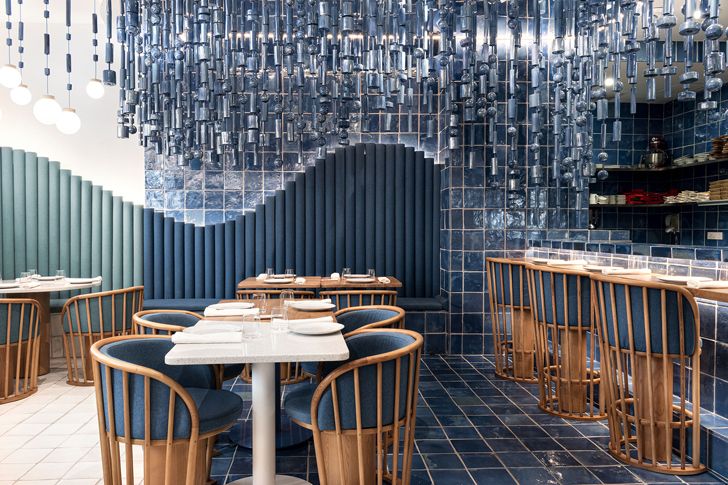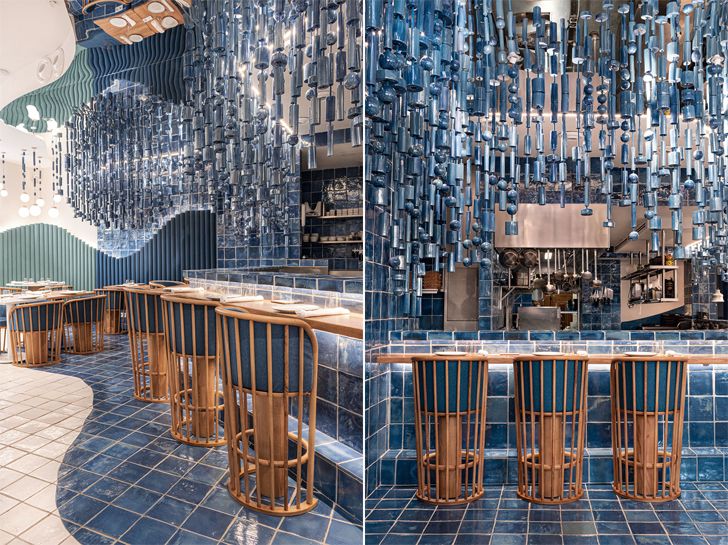 The main restaurant transports one deep inside the sea, under the water's surface. Rendered white, green, and blue in contrast, this space composes a huge wave overhead that grows towards the kitchen, seemingly submerging the whole restaurant in its incredible vigour. The sculpture, made of hand-made ceramic pieces possesses a rhythmical, undulating quality that complements the silhouette of the backdrop. Blue and white artisan ceramic flooring suggests the division between land and sea, while the chairs reference fishing boats. All elements reinforce the delight of the kitchen, where Sergio's food embodies the traditional and is yet reinvented, taking cues from the neighbourhood and products from the sea.
And lastly, behind the kitchen, storage spaces are designed as a fish market.
The resto bar stands out in the neighbourhood rooted as it is in local flavours, delectable cuisine and thematic ambience that glorifies the humble tile in two distinct ways – custom-designed and printed for the bar and handmade clay and ceramic for the restaurant.
Fact File:
Client: La Sastrería
Design Firm: Masquespacio 
Surface Area: 200 sq. m.
Location: Valencia
Photography: Masquespacio