Tucked in the quiet Canadian countryside on the banks of Lake Huron, SAOTA designs a summer home that soaks in the beauty of the natural surrounds.
The lakeside retreat dons a contemporary aesthetic, a far cry from conservative country cabins typical in remote towns. Sensitive of the context, the design embraces the best of sustainability and technology, and is yet gracefully bold.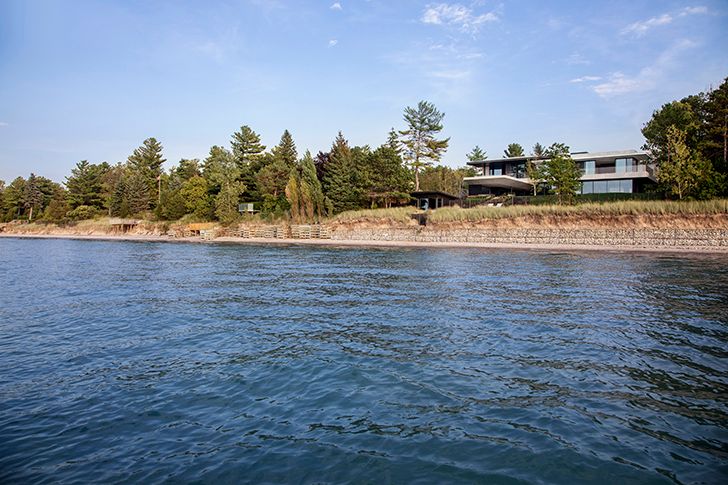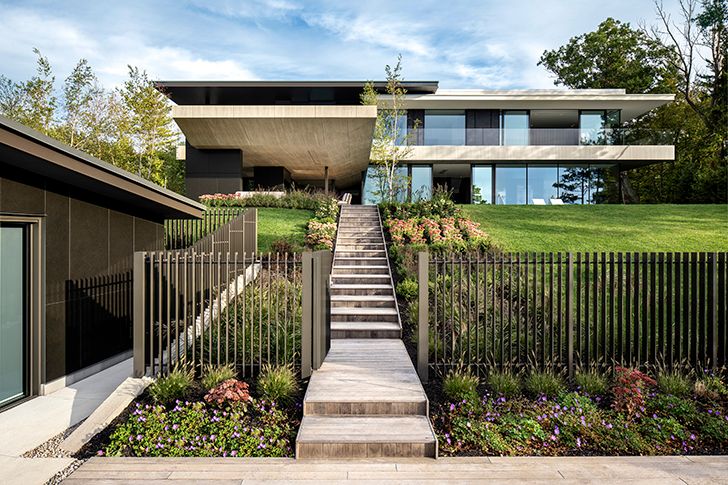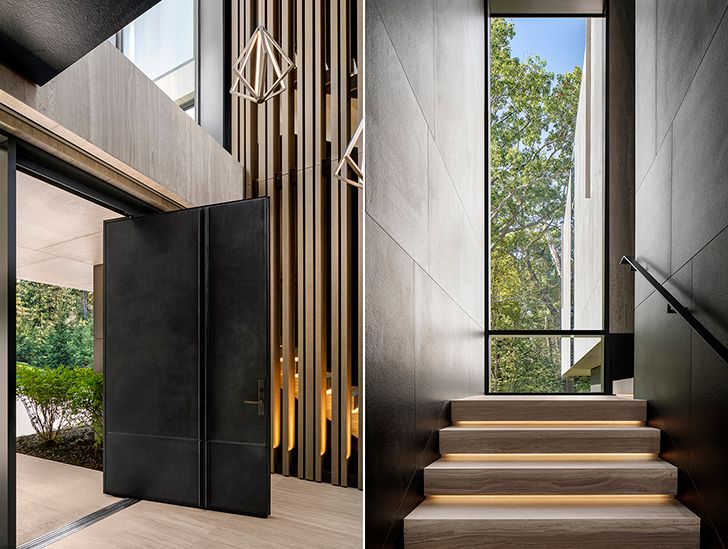 The site occupies the transitional space between the lake and the forest, rising 3.5m from the road and steeply dropping to the water to create a grassy embankment, a bluff. Recessed from the street and concealed by the surrounding fir trees, the house builds suspense, appearing at first glance to float effortlessly between the trees. In turn screening views of the lake, the house extends this visual anticipation that finds solace only once inside its unusually large pivot door.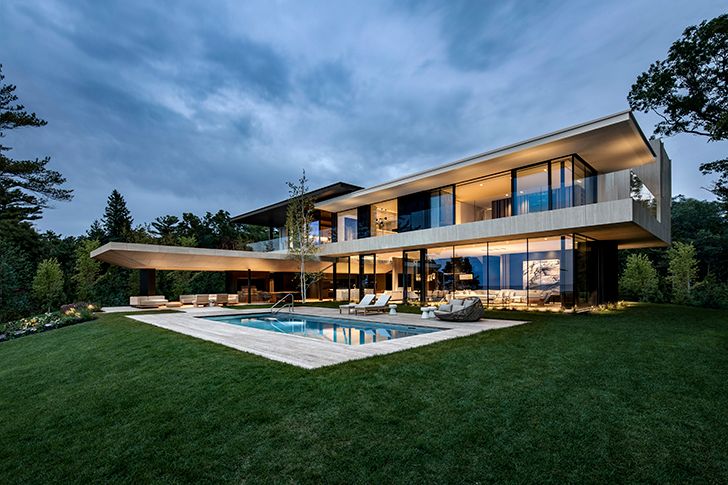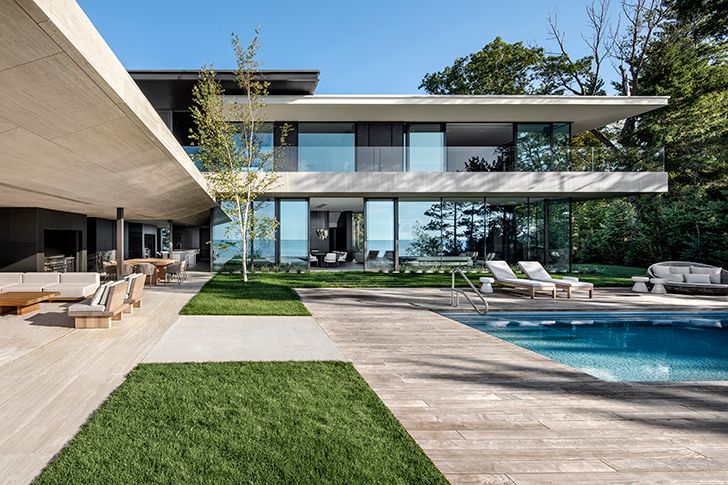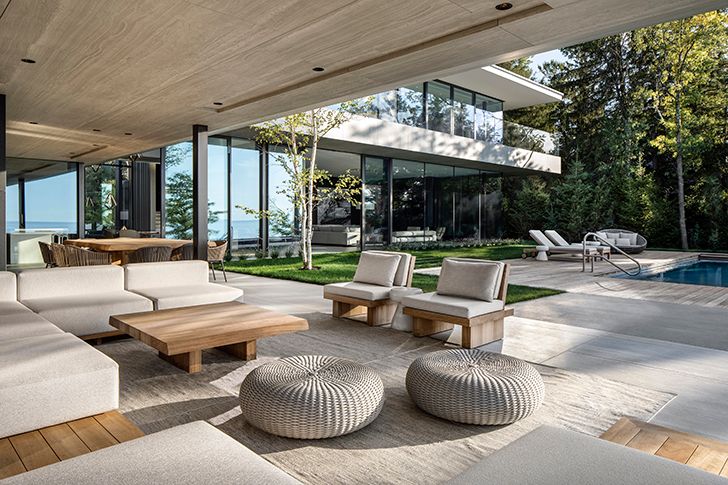 The built volumes organize into a series of stacked rectangular boxes – one anchoring the ground, maximizing the lakeside views, and the other suspended overhead. The solid façade at the entrance, dissolves into a two-storey wall of glass as it wraps arounds the rear, towards the lake. Fluid spaces characterize the simple layout, offering a varied and articulated spatial experience. The dramatic triple-volume central atrium accommodates the living, bringing in natural light and revealing the view – contrasting directly with the kitchen and other spaces that embody more contained dimensions. Alternately, the upper-level projects backwards over the garage. Towards the lake, a covered outdoor entertainment area flanks the pool, while a staircase descends the bluff to a refurbished guest cabin.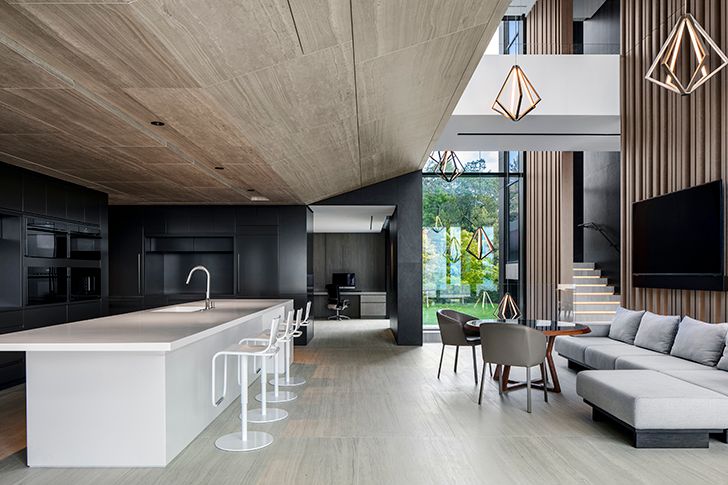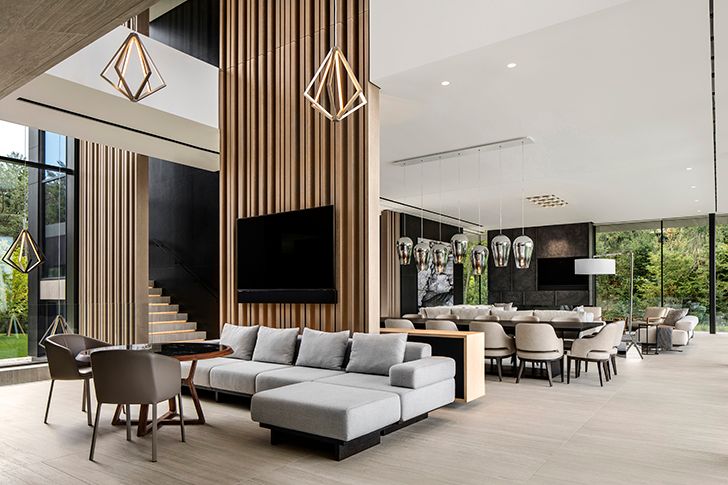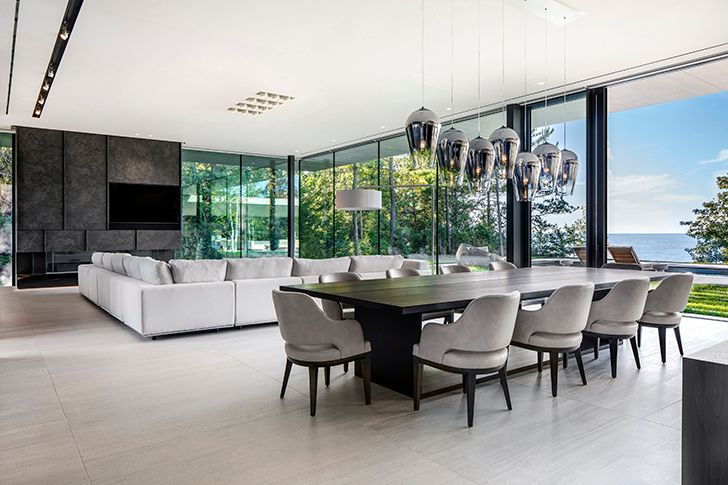 The lower level accommodates the building service infrastructure – a commercial-grade automation system. A 15kw solar array generates power while an underground stormwater and sewage system reinforce the existing municipal infrastructure. Robust, hard-wearing finishes cater to Canada's extreme climate, the ceramic panelled system contributing its fair share to the sustainability, energy efficiency and overall longevity of the project.
With this project, SAOTA shifts the 'summer lake house' modus operandi.
Fact File:
Project Name: Lake Huron
Lead Designers: SAOTA
SAOTA Project Team: Mark Bullivant, Johan Basson & Paulina Paz
Architect of Record: Matter Architectural Studio Inc.
Interior Designer: ARRCC
Project Location: Ontario, Canada
Photography credits: Adam Letch