Eindhoven's new Montgomery overpass gets a luminous upgrade – a striking, futuristic addition that commemorates Netherland's 'City of Light'.
Designer Frank Tjepkema from Tjep. reveals the Zwerm, a permanent interactive light installation commissioned by the municipality of Eindhoven and developed in collaboration with construction company Heijmans and lighting specialist Signify. The installation is in equal parts a result of co-creation with local residents. The initial aspiration to create a light sculpture on two narrow strips inside the overpass has culminated in a landmark design that is both innovative and futuristic.
Dutch for 'swarm', Zwerm abstractly depicts a flock of birds, crediting its ideation to the elusive yet coordinated flight patterns of starlings. Its 700 steel elements and 1400 individually controlled LED lights animate the public space, rendering it akin to a living organism. Visually connecting the upper and lower streams of traffic along the overpass, this continuous, ribbon-like twisting artwork spans 21m across and over 200m in length. Fastened on the passage at only 4 points, Zwerm gives the impression of floating in air. Its elements reciprocate the movement of traffic, highly synchronized just like circulation forms in nature – from ant colonies, swarms of bees and shoals of fish to even flocks of birds. Circulation density and weather conditions too affect the behaviour and colour of the elements; thus, making it responsive and interactive.
In contrast to static art installations, Zwerm's continually responsive, kinetic movements render a captivating and immersive visual experience.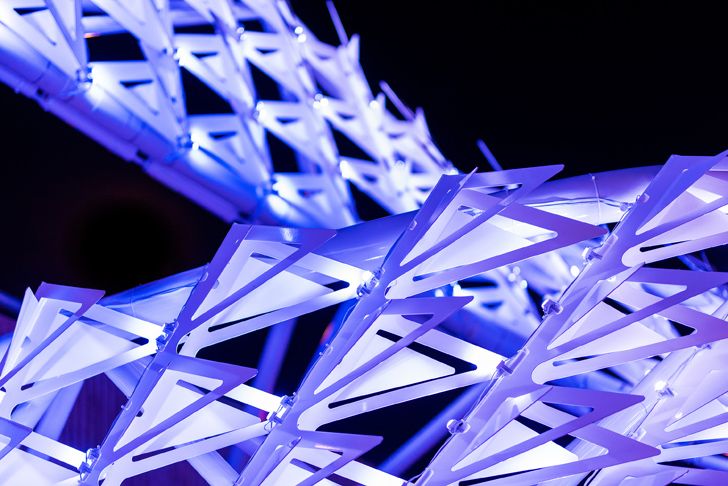 User engagement layers another dimension to this fusion of art and technology, reconciling the work of art with the otherwise passive audience, changing people's perception of the urban landscape. The installation piques curiosity, as it allows users to leave behind their imprints, even if momentarily.
Photography Courtesy of Tjep