Architect Jean Verville frees living spaces from reality as he calls upon sensory perceptions to transgress the limits of three-dimensional form.
Exploring a world where architecture, theatrics, and playfulness come together, the eponymous firm designs this 147 sq.m. narrow, three-level house-cum-studio in Montreal, to blend the everyday realities of work and family. The design narrative builds upon the creative universes of the artiste clients, their personalities, and particular needs, unfolding a scenographic promenade across all floors.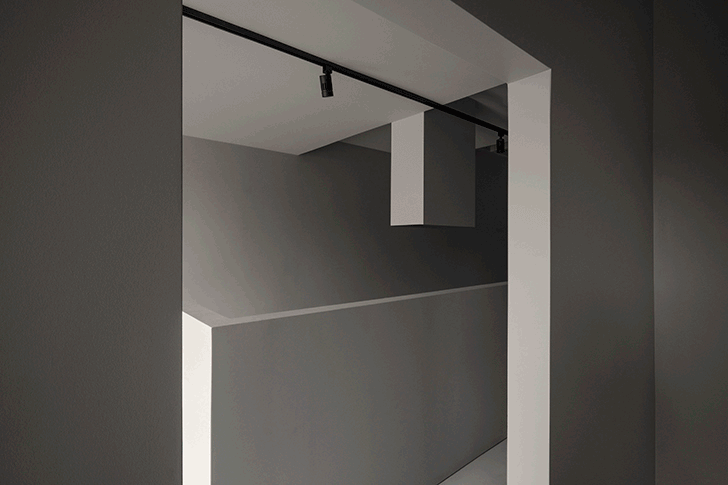 The spatial planning conceals the domestic and creative functions in a succession of ordered volumes. The selective subtraction of floor areas frees the core to accommodate a new vertical progression – ten scenic pauses, represented by versatile and multifunctional platforms. An openwork steel structure extending over 12m in height, pierces the central space and abolishes the original hierarchy in dynamic segmentation. The platforms juxtapose this structure's perforated surfaces, drawing fluid thresholds while creating visual porosity. Throughout, the monochromy of greige tones unites the whole into a monolithic entity.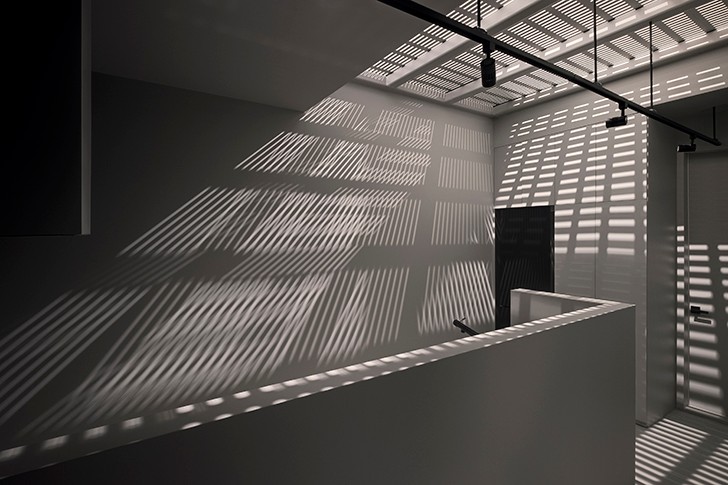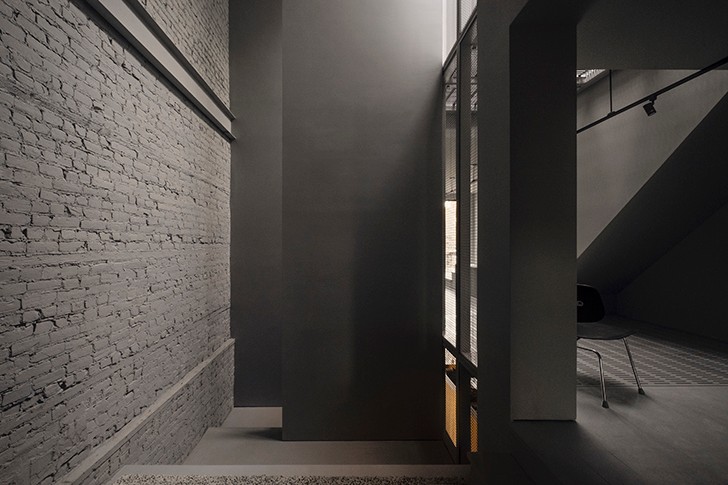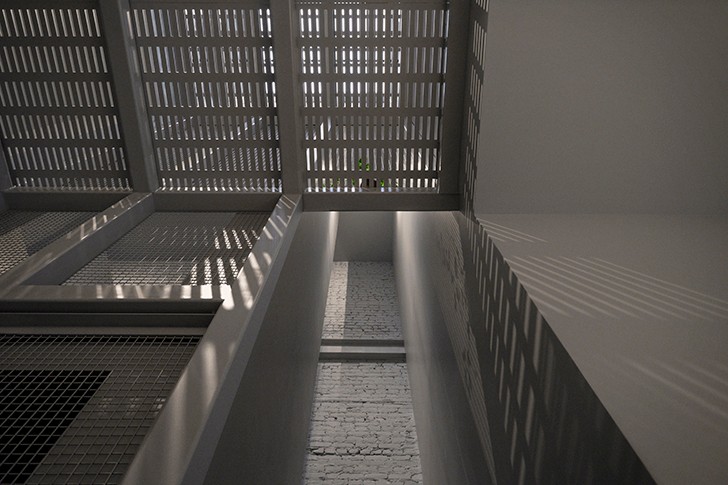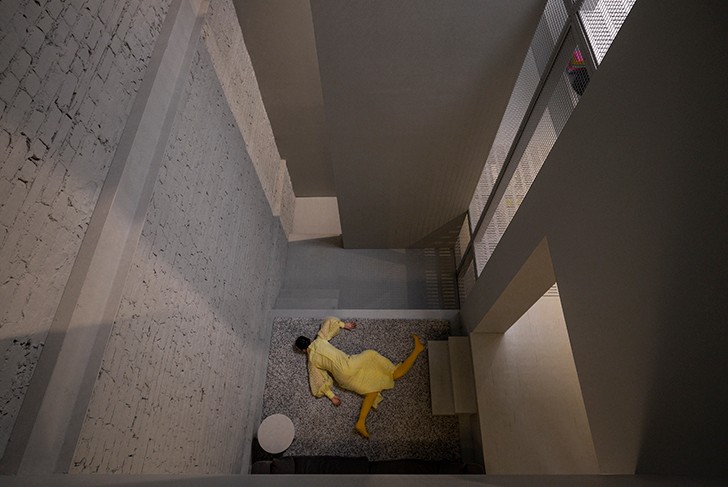 Through whimsical staging, creature allegories and digital manipulation, the project raises questions about the illusory banality of habitable spaces.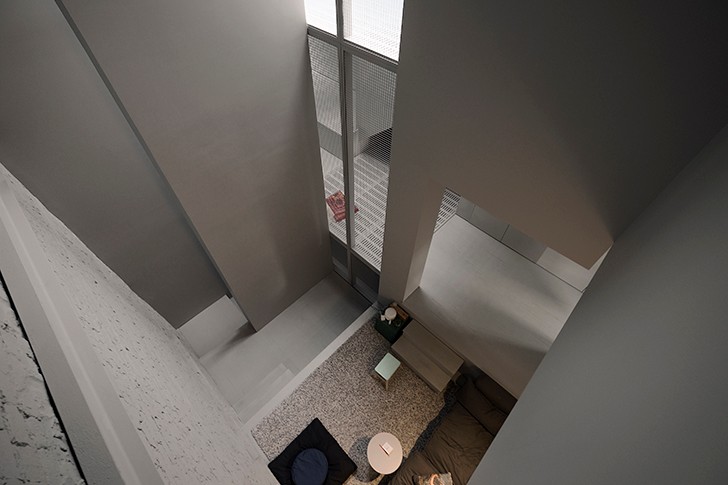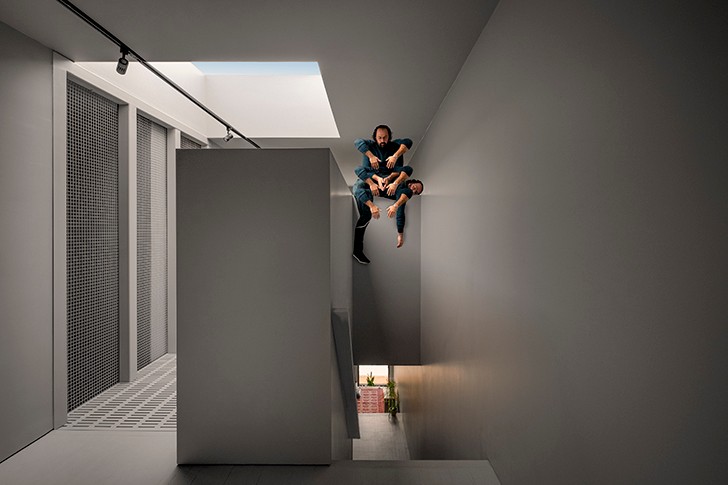 To meet functional requirements, yet minimise the need for furniture, the spatial organization engages unusual interactions, facilitating appropriation of the sub-spaces it shapes. Fragmented by metal screens, low walls and punctuated meandering, the scenic pauses offer new points of view in space and new perspectives on the presence of others.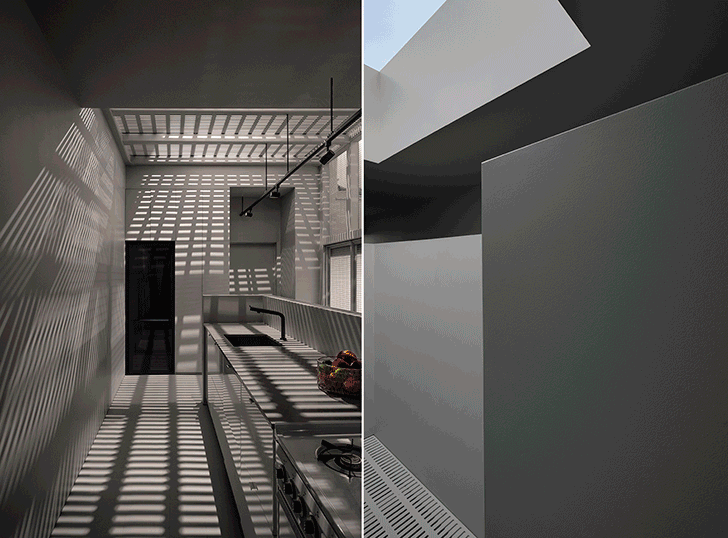 The imposing metal assemblage, which also consolidates the project's structural integrity, culminates in a 2.5 x 2.5m skylight, allowing diffused natural light to percolate indoors. The light, filtered by the metal surfaces and walls, multiplies the projections of shadows cast. It marks the space with graphic lines, opposing their presence with the spatial boundaries, and offering a continual dance of geometric shadows that play on the monochrome canvas.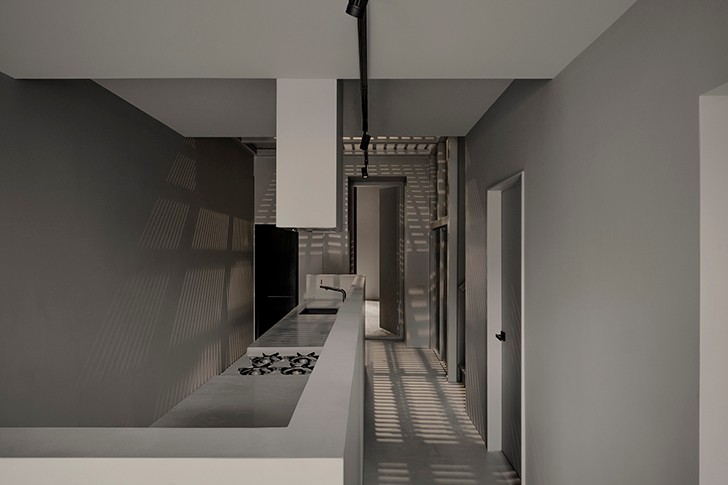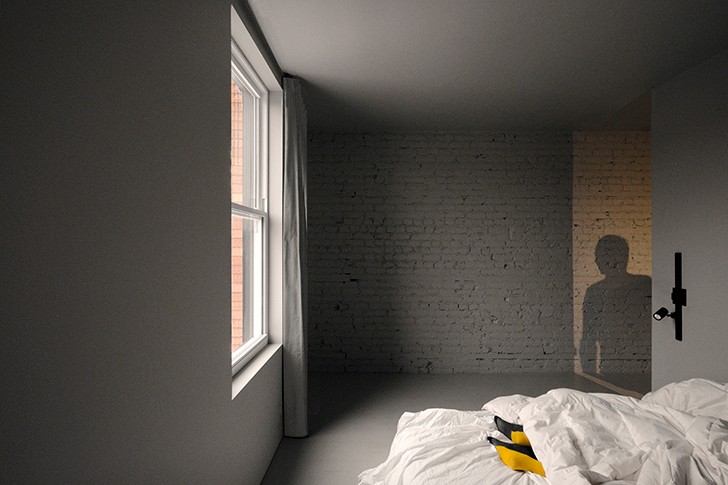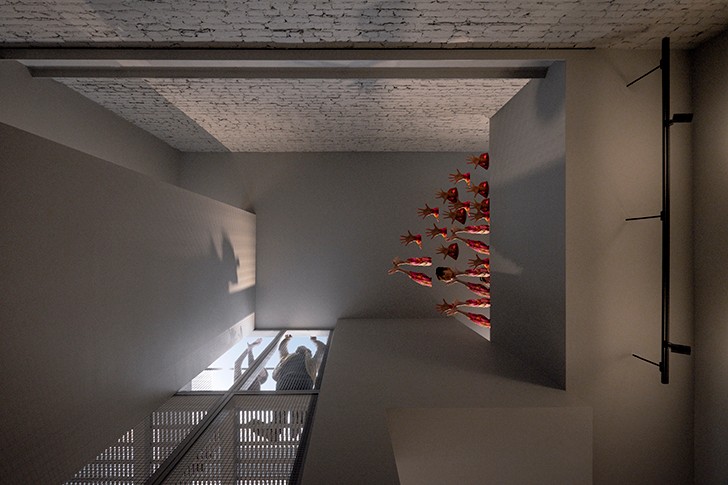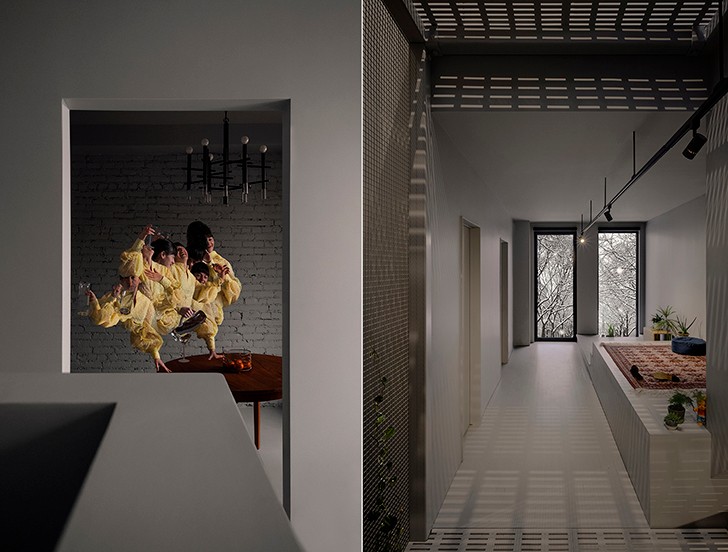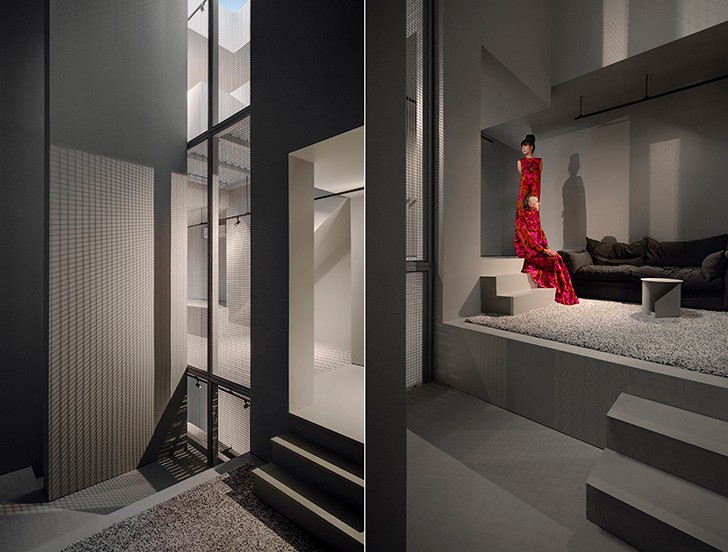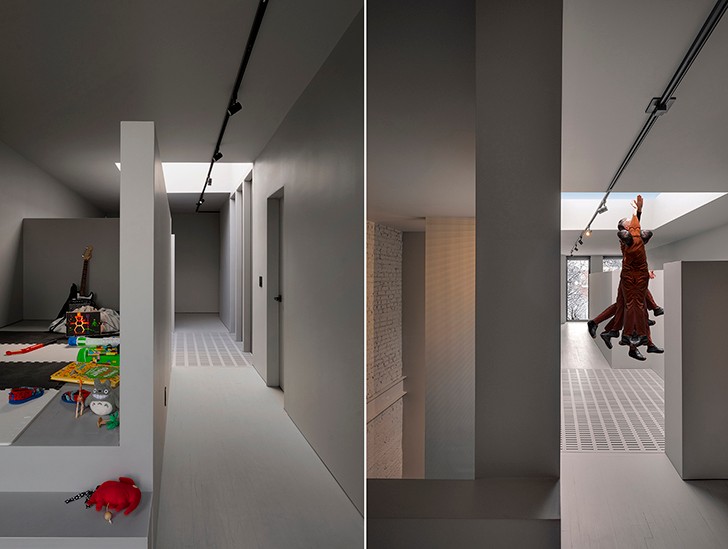 Both refined and expressive, the proposal constitutes an assemblage, partitioning volume, and light to envelop the place in a mysterious, theatrical aura.
Fact File:
Design Studio Jean Verville architectes
Lead Architect: Jean Verville, architect Ph.D. art
Design Team: Mani Soleymanlou and Sophie Cadieux (actors, playwriters, and directors)
Tania Paula Garza Rico, architect (studio director)
France Goneau (artistic advisor)
Rémi St-Pierre, architect (technical director), and Samuel Landry, Camille Asselin, Alexandre Meloche, Clara Tardif, Alex Lamontagne and Bahia Burias.
Number of housings: 2
Number of floors: 3 – Area:  147 sq. m.
The house – Levels: 3 -Area: 115 sq. m.
Number of bedrooms: 4
The studio – Level: 1 – Area: 32 sq. m.
Location: Montreal, Canada
Photography credits: Special collaboration Studio Jean Verville Architectes + Félix Michaud Photography
Support India Art n Design
Thanks to wide-spread patronage, we have been sharing high-quality content related to the art, design, and architecture community, for the last 10 years. We have ensured that our content always remains free of charge.
To help us continue to share our resources for free, we seek your support.
You have always helped us push the envelope. Please continue to hold our hands.
Purpose of Payment: Supporting India Art n Design (a unit of Pink Daffodils)
Alternately, if you wish to share an amount of your choice,
click here