Interior designer Ajay Arya designs a luxurious home in Kolkata, carefully weaving in the lifestyle choices of the homemakers into a beautiful abode, without pretense… without ostentation…
True luxury is bred; not adopted. Using this as a premise that best describes the Agarwals, owners of one of India's leading plywood companies, Ajay Arya of A Square Designs plays heavily on restraint and underlying grandeur to cater to their refined tastes, dotting the design narrative with impactful elements that hold the eye and communicate with the senses.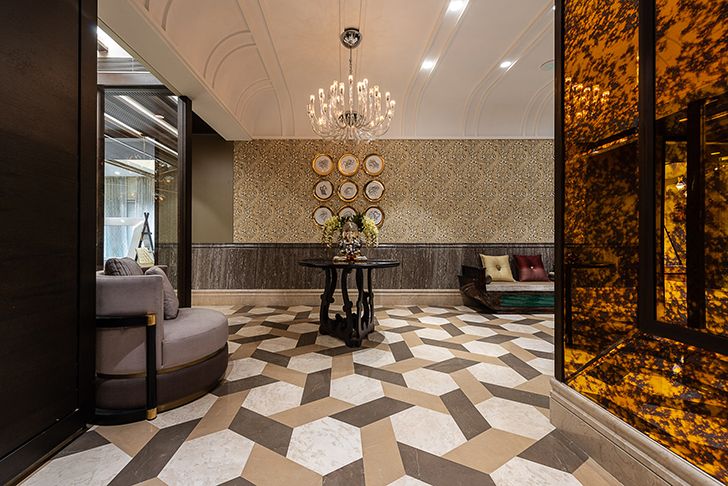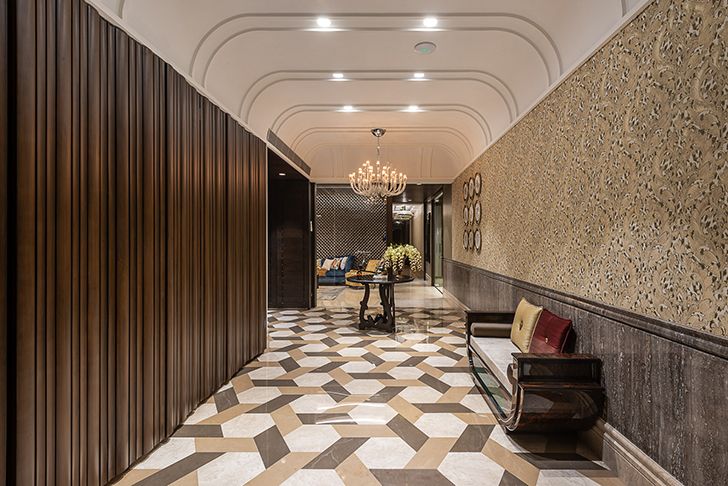 Located in Kolkata's upscale Alipore area in a residential tower with sprawling, one-unit-per-floor apartments admeasuring 5,500 square feet, the original 5BHK apartment stands transformed into a 3BHK residence with a lounge, a playroom cum study, a utility area, and staff quarters. In this process, the master bedroom is made expansive to underscore the desired luxe feel.
The lift lobby sets the tone with its Roberto Cavalli wallpaper, its custom designed Italian marble geometrical flooring pattern, beautiful chandelier and round table complemented by wooden panelling that camouflages storage, demonstrating that practical considerations are as important as the aesthetic.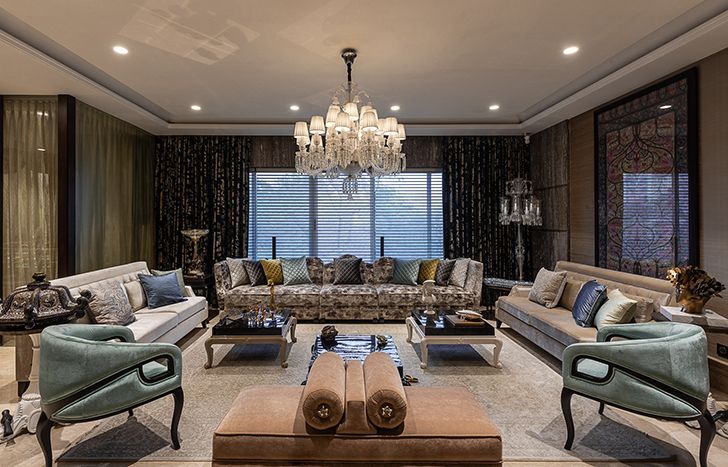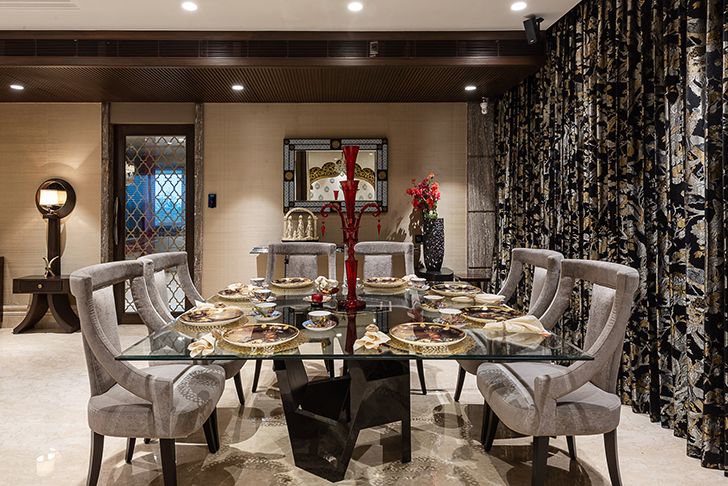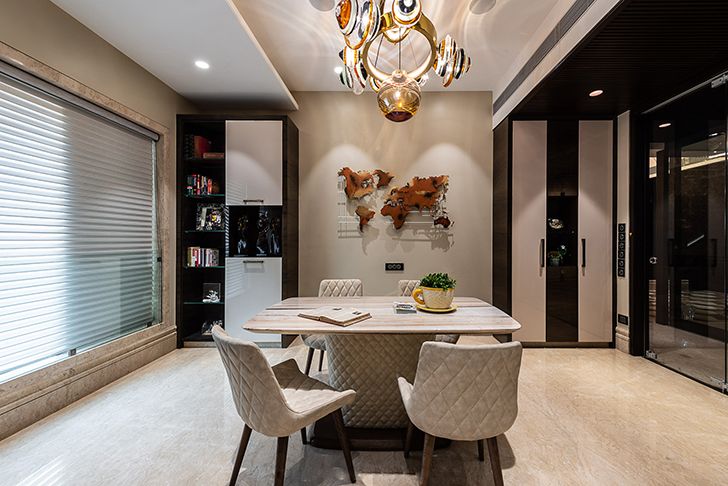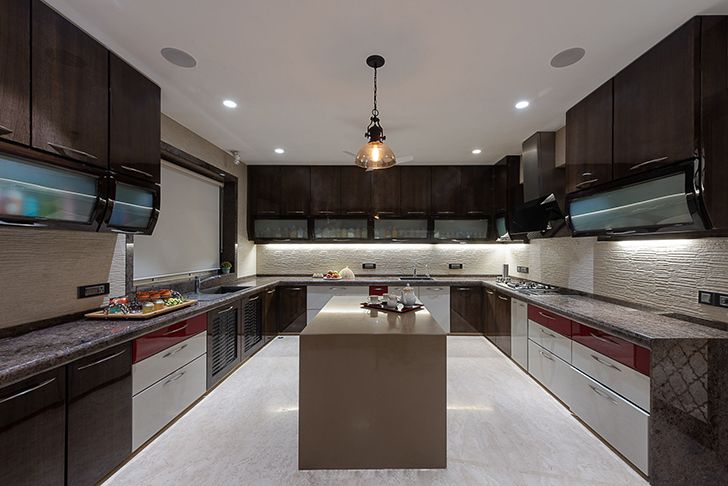 The interior shell is muted in cream, and overlaid with subtle, albeit striking, elements from high-end Indian and European brands (painstakingly vetted by the designer) and bespoke furniture (custom-made by Kolkata-based Ochre at Home) to create an environment that is visually rich and luxurious, but never flashy. While materials such as marble, timber, silk, mother of pearl and crystal, among others, articulate grandeur, brands such as Roberto Cavalli, Versace Home, Sarita Handa, Klove and Hands add finesse to the compositions.
The living room is treated as a singular space, conveying the sense of modern regality, and features a suite of long, comfortable sofas, accompanied by chairs, a pouffe and a trio of coffee tables in the centre, resting on a hand-knotted silk carpet and beautifully illumined by a Bohemian crystal chandelier overhead. Spatial pauses by way of beautiful drapery, a framed Pashmina ornamented with hand embroidery and upholstery that plays with neutrals and pastels, ensure adequate visual engagement.
The vocabulary of understated luxury continues into the eight-seater dining room, almost spartan pooja area, and highly functional kitchen with its granite and marble shelving, marine ply shutters, old-school butt hinges, scratch-resistant clear lacquer and bent glass faces of the overhead storage units adding a stylish touch. A deck near the dining area offers a restful pocket designed by Rita Singh, complete with greens, a water body, and a sculpture by Sanatan Dinda.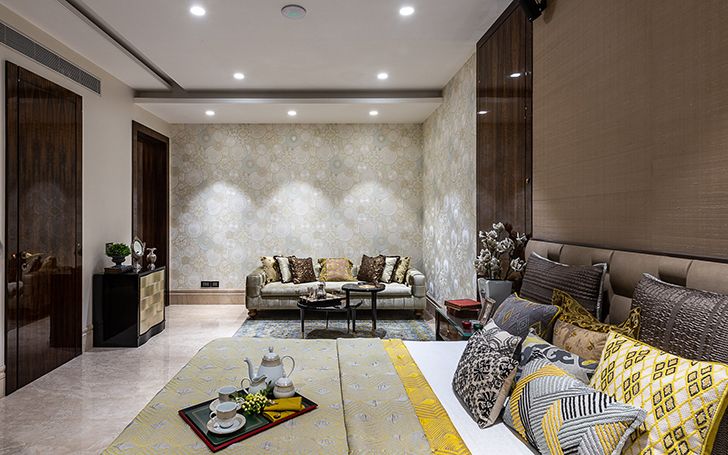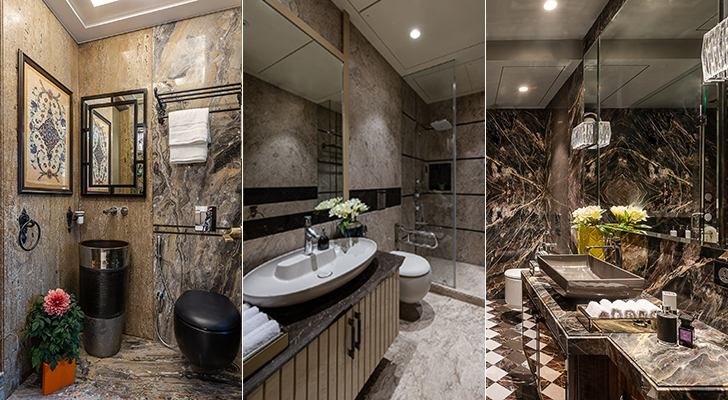 The private spaces are expressions in elegance and serenity. The master bedroom uses high-end elements from Versace Home in its décor, whilst the most striking feature of its ensuite bathroom is the vintage-style chequered flooring evocative of Italian villas, rendered with White Brazilian, Pietra Grey and Viola marbles.
The child's room has nuances of American Classic furniture, enlivened with gay, hand-painted stripes on the headboard and side tables with wardrobe shutters featuring cheery fabric sandwiched in glass.  The den, where the family congregates, juxtaposes comfort and style, with deep, commodious sofas, recliners and a chaise longue arranged against a wall bearing a 3D wooden design. Overhead, a rafter-like detail with concealed lighting lends a strong directionality to the scheme.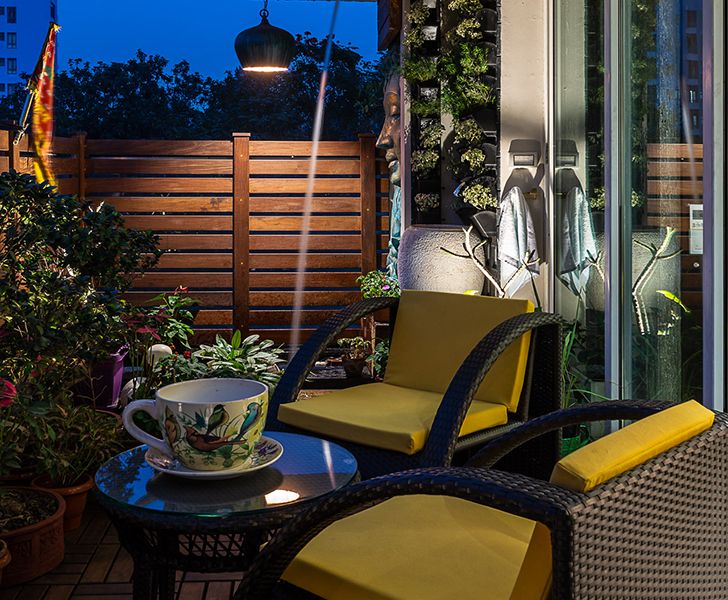 This apartment exemplifies that an interior design style that is removed from the prevalent straight-lined 'contemporary' aesthetic need not be automatically tagged as ostentatious or fussy — for between these two can be found a beautiful hybrid that marries old-world grace with new-age sensibilities.
Fact File
Name: Agarwal Residence
Location: Alipore, Kolkata
Area: 5,500 sq. ft.
Design firm: A Square Designs
Principal designer: Ajay Arya
Furniture: Ochre at Home
Photography Credits: Photographix India
Text Credits: Team A Square Designs