Modern, luxurious, and elegant, this office in Gurugram strikes all the right notes to ensure functional spaces, warm vibes, and a healthy working environment.
Situated in a larger commercial complex in Gurugram, the 1000 sq. ft. office, designed by Envisage, serves as a Nepal-based cement production company's satellite seat in India. The design reinforces the company's brand image while addressing the context's cosmopolitan profile and international work culture. This sentiment translates into a minimal, flexible workspace that plays up materiality and comfort.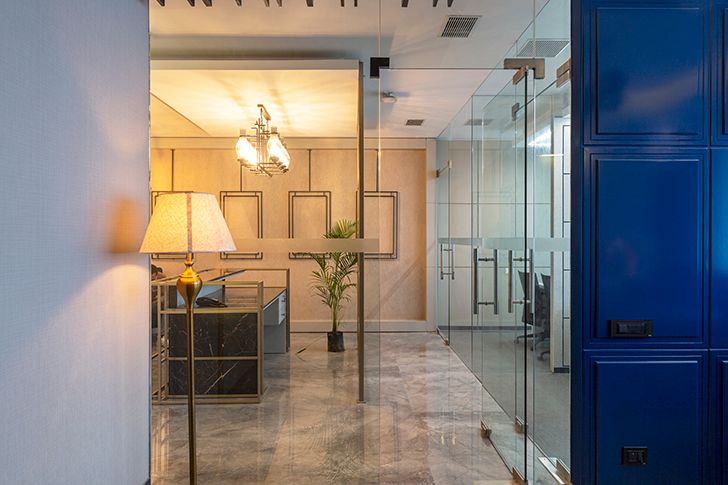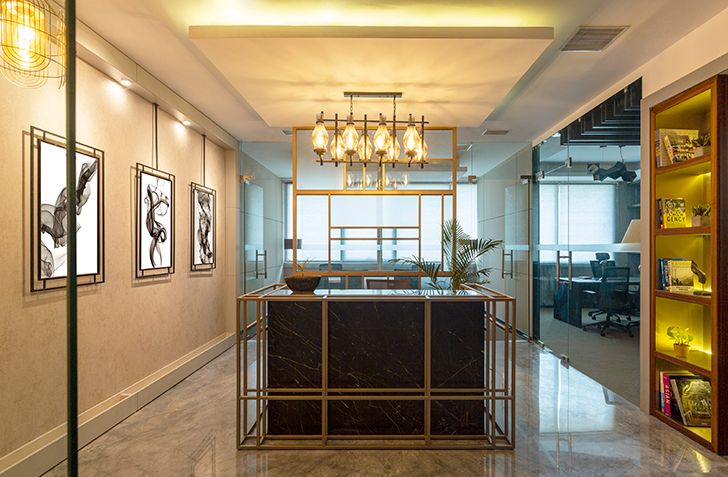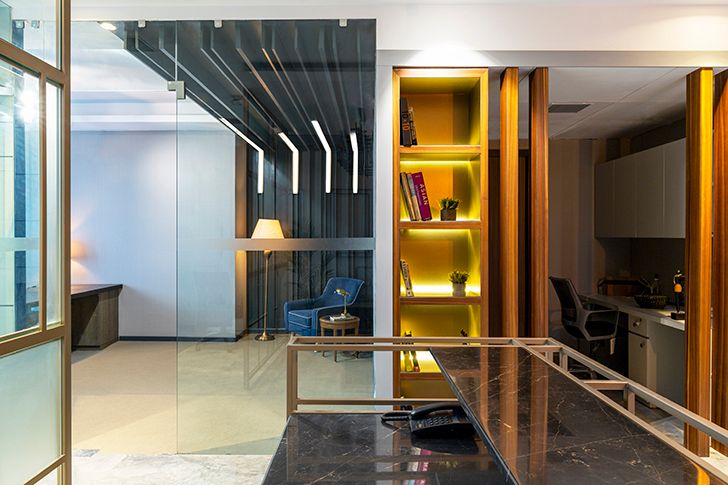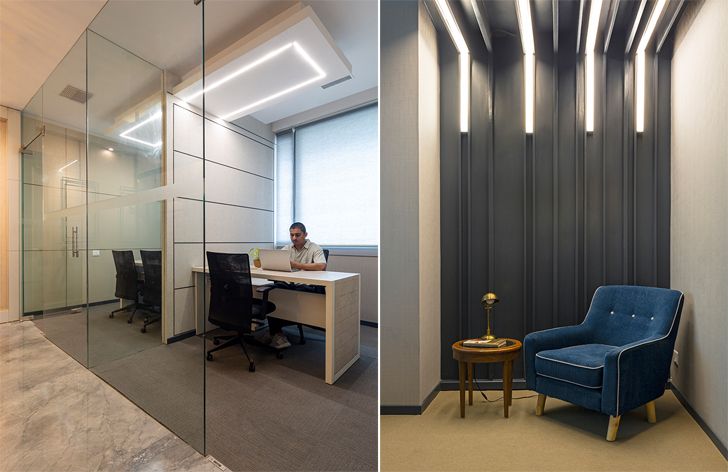 The design of Office 819 as it is addressed, also encompasses the changing notion of a workspace – more agile, more collaborative, where spatial flexibility aligns with employee preferences and working styles. A space to host people, conduct meetings and carry out daily affairs, the compact spaces are organised in a clean layout, a reception at the front, workstations, two executive cabins and one master cabin at the rear. Soaked in natural light, the executive cabins feature a simple aesthetic with minimal ornamentation. Modular, glass partitions offer privacy and oodles of spaciousness. The master cabin doubles as a conference room owing to its larger area.
The design of the office encompasses the changing notion of a workspace – more agile, more collaborative.
The urban Art Deco style characterises the spaces, its trendier, contemporary derivative imparting a simple and muted aesthetic. Accents of gold coupled with rich textures of fabric, marble, wood, and metal elevate exuberance while the metallic backdrop and the pendant lights with metal embellishments extend warmth. Unequivocally, the marble flooring adds to the luxe quotient, evoking a business lounge-like feel – a nod to their brand image. Challenged by local market dynamics vis-à-vis supporting global trends and sourcing material, the firm has custom-designed the marble reception desk and seating inhouse.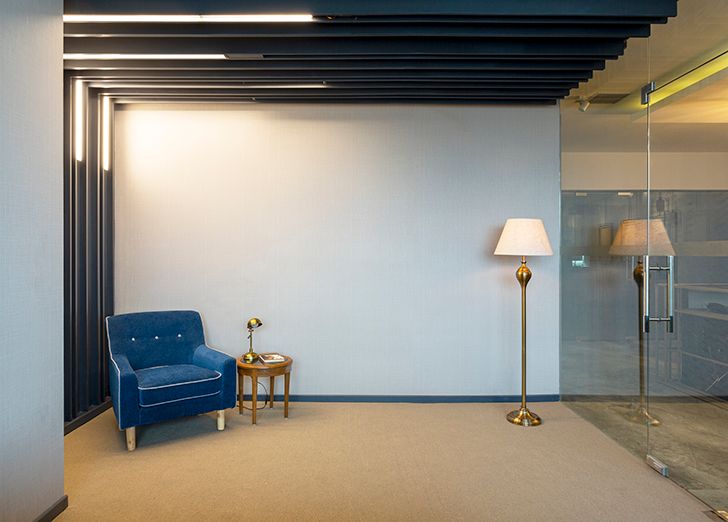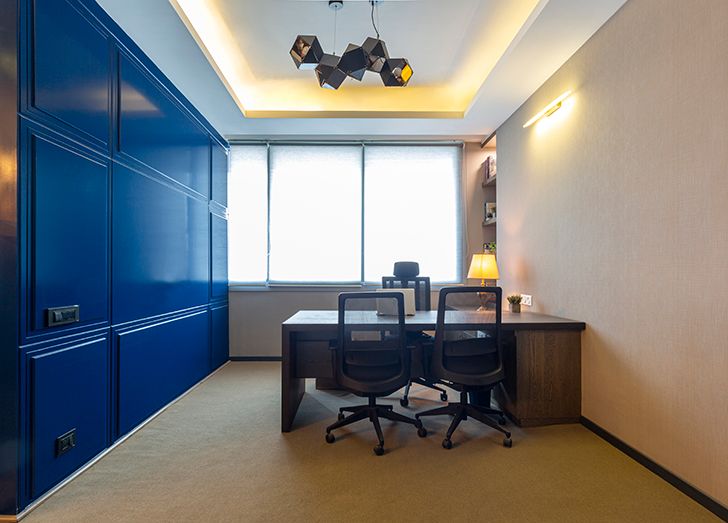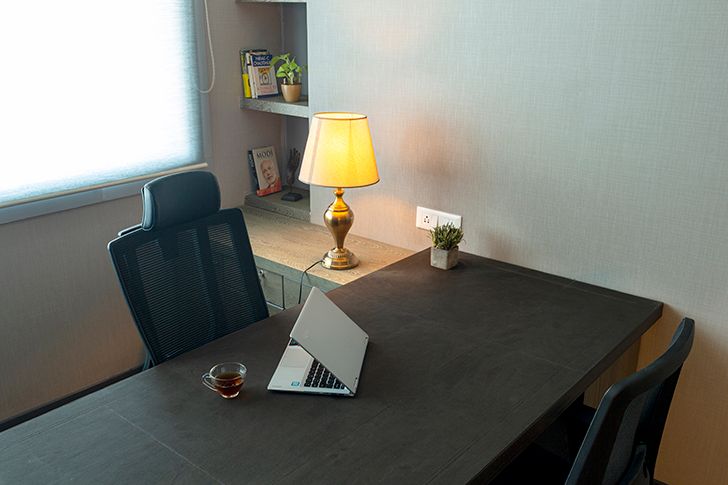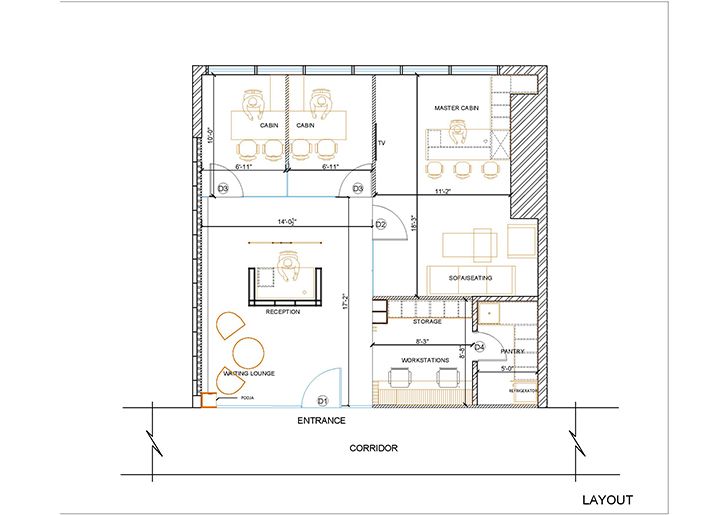 Unassuming and adaptive, this office space delicately stands out as a progressivist in cognitive, emotional, and physical wellbeing amidst stressful organisational structures.
Fact File:
Client: Mr.Khemka
Design Firm: Envisage
Design Head and Partner: Meena Murthy Kakkar
Business Head and Partner: Vishal Kakkar
Team: Meena Murthy Kakkar, Vishal Kakkar, Akanksha & Pankaj
Carpet Area: 1000 sq. ft.
Location: Gurugram
Photography credits: Suryan and Dang