A checkerboard of red and ivory grey, this 11 sq. m. tailor shop in Vadodara, Gujarat stands as a reminder that small spaces too, can pack a punch.
Crafted by Manoj Patel Design Studio, the retail shop takes on the role of a vibrant clothing store. This modern reinterpretation centres on the growing popularity of professional tailor shops and weaving techniques, characterizing the small space with a unique treatment.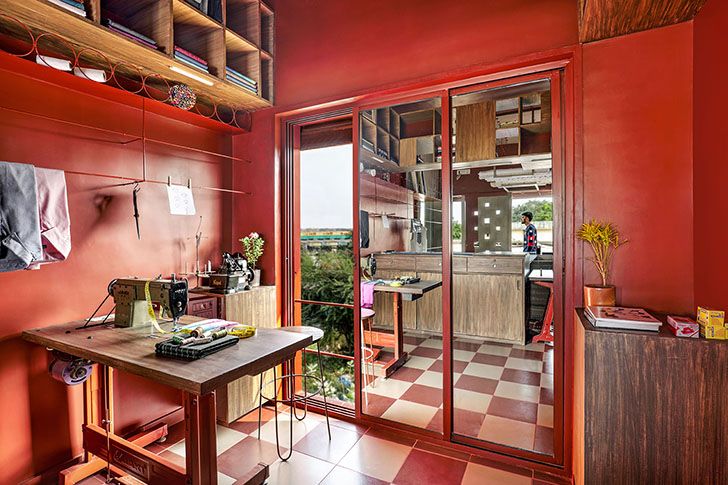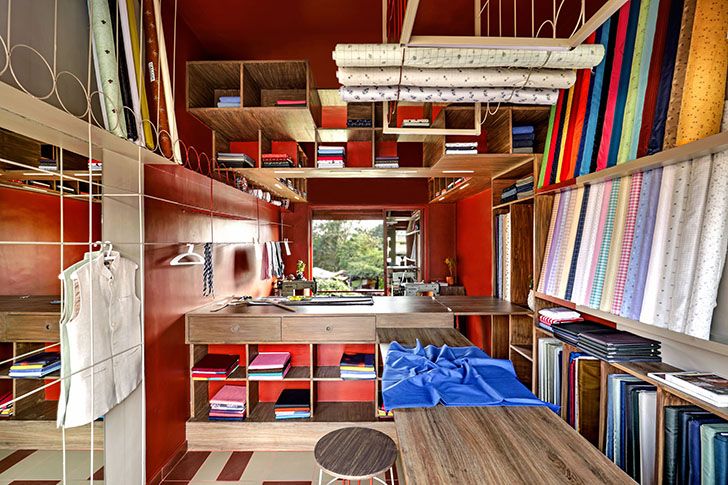 The spatial layout organizes itself into two sections – the working area for the tailor and the material and fabric selection area for the customers. The limited space between these two sections influences the flooring pattern as well as the furniture layout, their visual play negotiating perspective, and scale.
The efficient use of vertical surfaces for storage saves square footage while allowing maximum visibility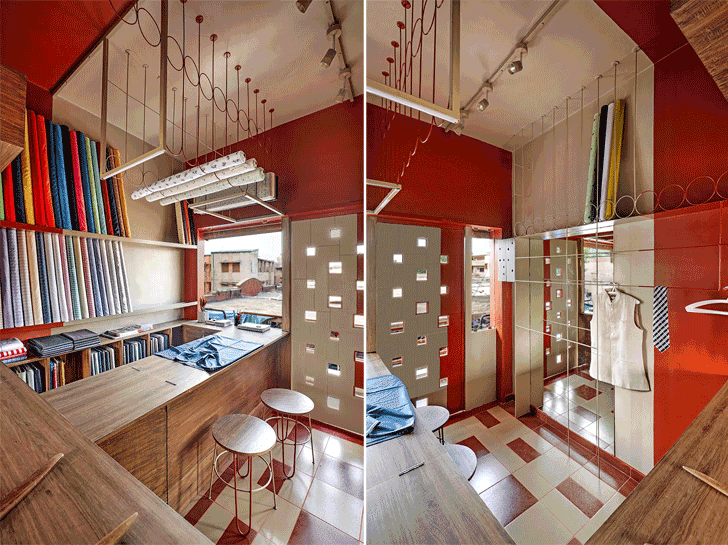 Storage comprises an integral part of the store's functionality. Represented in bespoke ways across multiple surfaces and even hung from the ceiling, the barrier free storage offers an exhibitory display. The efficient use of vertical surfaces for storage saves square footage while allowing maximum visibility. Positioned above eye level, the solid and void boxes create a connecting frame all around. Even when empty, these boxes impart an artistic look. Metal overhangs create a simple yet bold framework for fabric rolls and accessories.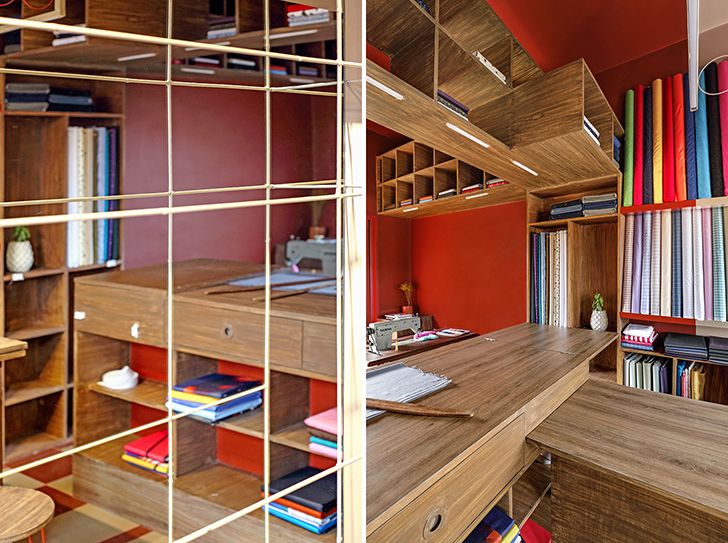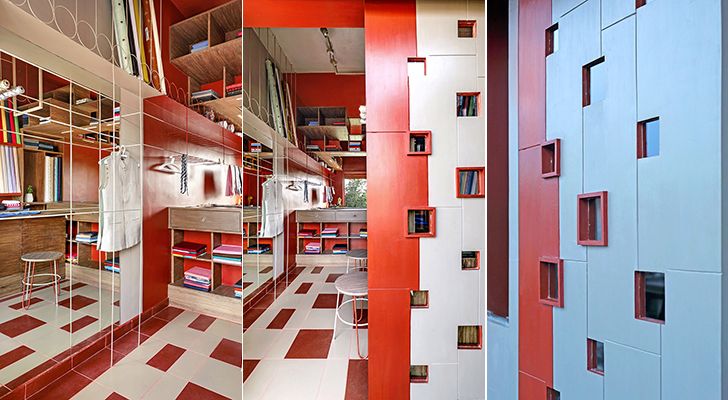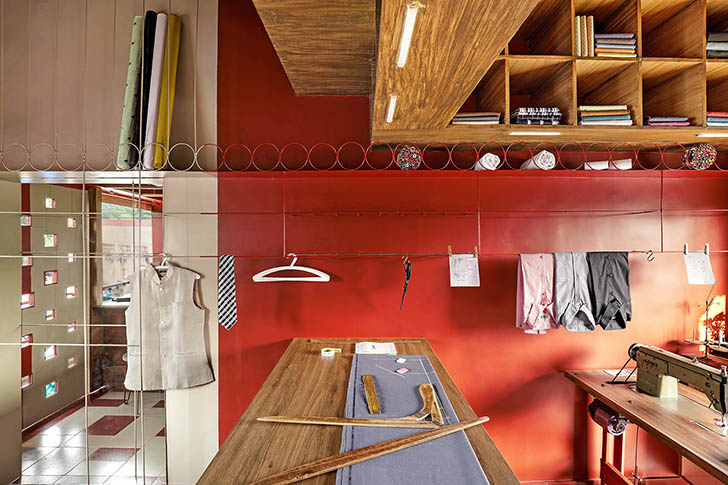 Mirrors, a necessity for the profession, also give the illusion of an enlarged space. Marking the entrance area and the sliding doors at the rear, mirrors reflect light and exaggerate movement. The contrasting material palette maps out graphics on the inside, each viewpoint presenting a new composition. Additionally, it also translates onto the perforated screen at the entryway; the square-framed handle thus merges into its design.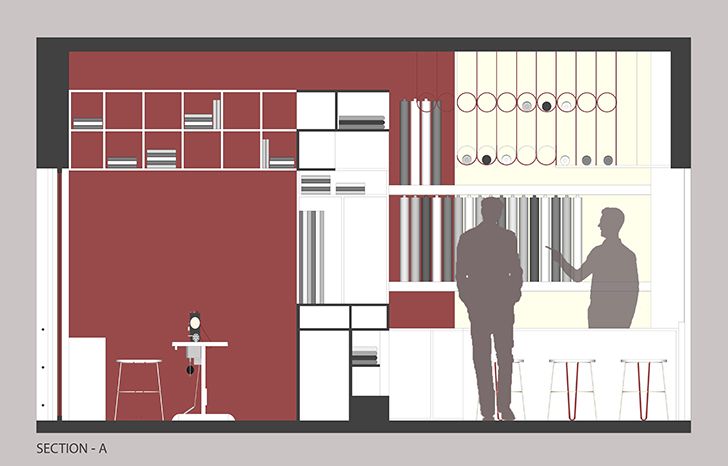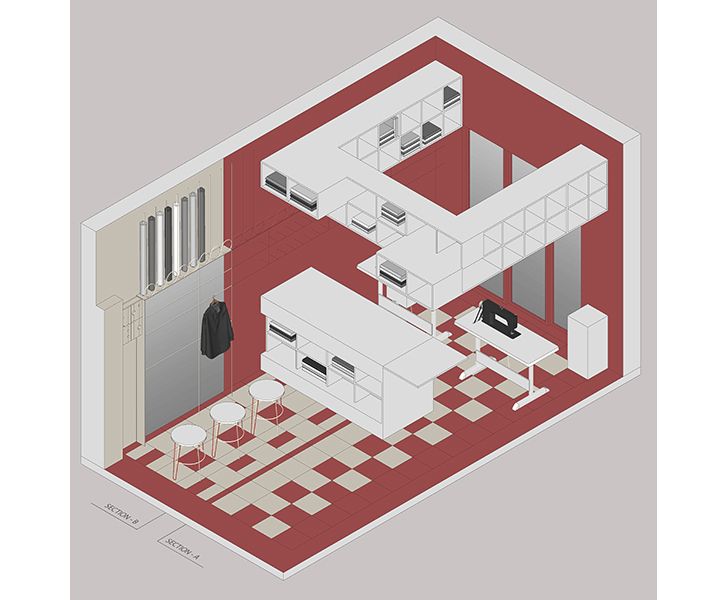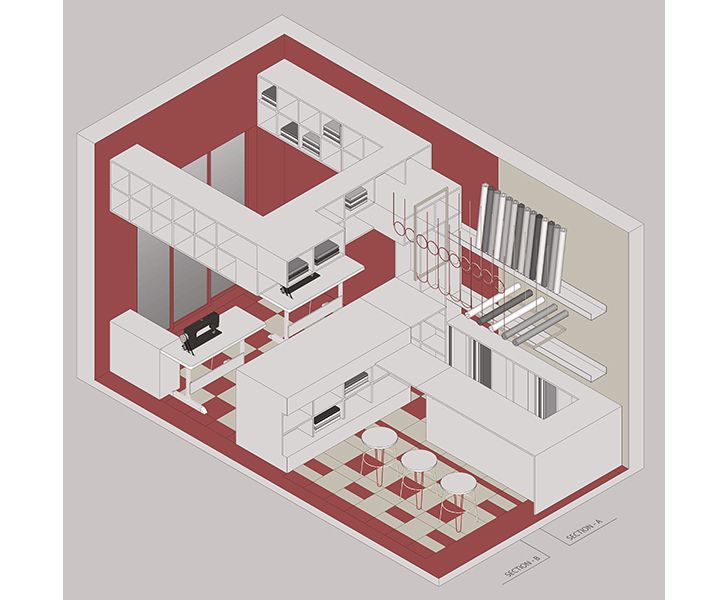 As such, the vibrant theme seeps into every inch of the space, rendering an impactful first impression.
Fact File:
Typology: Commercial Design
Design Firm: Manoj Patel Design Studio
Principal Architect/ Designer: Manoj Patel
Design Team: Ar. Manoj Patel, Purna, Aishwarya, Urvesh, Darshan.
Site Area: 125 sq. ft. / 11 sq. m.
Location: Vadodara; Gujarat, India.
Photography credits: Tejas Shah
Support India Art n Design
Thanks to wide-spread patronage, we have been sharing high-quality content related to the art, design, and architecture community, for the last 10 years. We have ensured that our content always remains free of charge.
To help us continue to share our resources for free, we seek your support.
You have always helped us push the envelope. Please continue to hold our hands.
Purpose of Payment: Supporting India Art n Design (a unit of Pink Daffodils)
Alternately, if you wish to share an amount of your choice,
click here