[ad_1]
Compiled by TeamIAnD
Photography: Arvind Hoon; courtesy the architect
Read Time: 2 mins
Noida's Sutra is a gastropub with a narrative! Chromed Design Studio carefully weaves this experiential space using a few dollops of intrigue, a pinch of quirk and a liberal helping of heterogenous charm…
'Eating out' has multiple connotations: while some seek ambience, some good food, others seek to appease their unconventional food choices, and yet others look for an experience – that 'something different'!
'Sutra' is one such diner that attempts to score on all the above fronts. 
.
.
Referencing the tale of a fictional explorer – 'Mariposa Jose', one encounters a façade of exposed red brick reminiscent of a historic structure complete with a chimney; the edifice depicting seemingly subsequent interventions in wood and metal.  A grand stone staircase guides diners inside; the staircase walls adorned with masquerading masks and butterflies, crystal chandelier and pink neon lights with an eerie sign that builds up the drama requesting quiet… sshhh…
.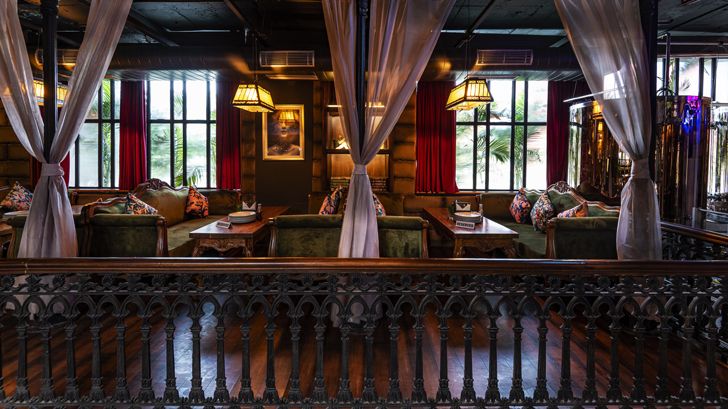 .
A rustic wooden door marks the final entry into the interiors, amidst a wave of excitement and intrigue. In a rush of adrenaline, one steps into an absolutely opposite, unexpected, avant-garde interior – persuasive and vibrant amidst a triple-height central courtyard with a glass roof and huge antique chandeliers suspended from the ceiling. 
.
.
Diverse seating beckons: A long driftwood community table with casual seating; classic sofas with plush green velvet upholstery; intimate groupings of two's and four's; an alfresco area distinguished by wooden pergolas, pebble flooring and cabanas; and an urban amphitheatre. The interior is framed by cast-iron columns and old stone masonry clad walls with curtains and railing that formulate a schema in continuation with the theme. 
.
But the highlight is the imposing bar, set on a raised platform, with its cast-iron railing forged against the tiled bar front, conferring a vintage feel. An installation of foliage and pendant lights screened inside a cast-iron cage makes an arresting backdrop to the bar; whilst the ceiling is framed by a cast-iron jaali flanked by four intricately detailed columns.
.
Striving to bridge the gap between contemporary and traditional dining styles, the architect attempts to elevate the spatial drama by juxtaposing a seamlessly interactive avant-garde journey sculpted by an eclectic fusion of various design styles. Ample natural light cuts through the volume during the day; and by night, whimsical lighting accentuates its vintage aura.
Fact File:
Client: Sandeep Jaglan
Design Firm: Chromed Design Studio
Principal Designer/Architect: Ar. Abhigyan Neogi
Built-up Area: 19000 sq. ft
Carpet Area:  19000 sq. ft
Location: Sector 18, Noida


[ad_2]
Support India Art n Design
Thanks to wide-spread patronage, we have been sharing high-quality content related to the art, design, and architecture community, for the last 10 years. We have ensured that our content always remains free of charge.
To help us continue to share our resources for free, we seek your support.
You have always helped us push the envelope. Please continue to hold our hands.
Purpose of Payment: Supporting India Art n Design (a unit of Pink Daffodils)
Alternately, if you wish to share an amount of your choice,
click here