Ippolito Fleitz Group designs La Visione, an Italian restaurant cum co-working space as the show-window of Object Carpet – a carpet supplier in Denkendorf…
Indirect marketing finds many a diverse application with people ideating on new ways to promote their ware.  The Object Carpet company from Denkendorf proposed the idea of a co-working space cum Italian restaurant as a ruse to get people to engage with their carpets.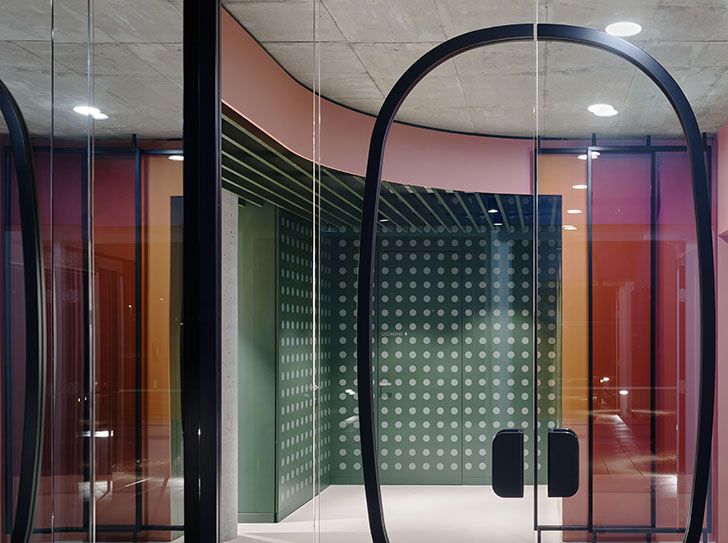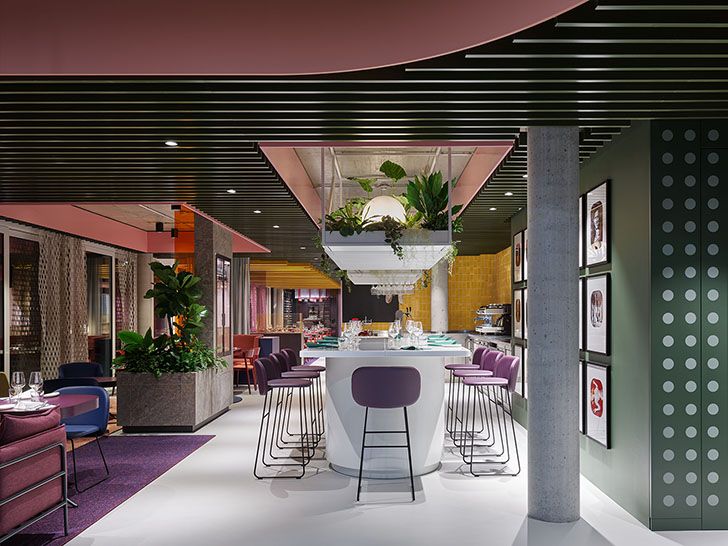 Since the venue is located at the centre of 'Object Campus – City of Visions' as the carpet supplier would like to christen it, it is designed to create synergies by celebrating cross-disciplinary nuances: the romance of textiles and the allure of an ambience with the tantalising aroma of food – the underlying notion being that of design.
The rather oblong footprint of the restaurant that transforms as a co-working space or even a party arena depending on its call-to-function, sections into three zones: a lounge, a dining area and a vinoteca (Spanish for wine cabinet). Only none of them really behave in the way you might expect. In the first space, a counter that is not actually a counter, as it brings the charm of the kitchen to the bar, effectively dissolves all divisions between guest and server. Not only do the different roles have fluid boundaries, but also different functions: this is a co-working space at lunchtime, an aperitif lounge in the evening and where the party starts, when there is something to celebrate.
An atmosphere of easy camaraderie prevails as colour, pattern, and texture in the form of textile wall collages of damask and hessian enter into tantalising dialogue with carpet and cord. At the same time, a window into the kitchen opens a direct visual connection to the chef, allowing the food to speak for itself.
What stands out in the milieu is the beautiful, almost theatrical blend of colours in the ambience.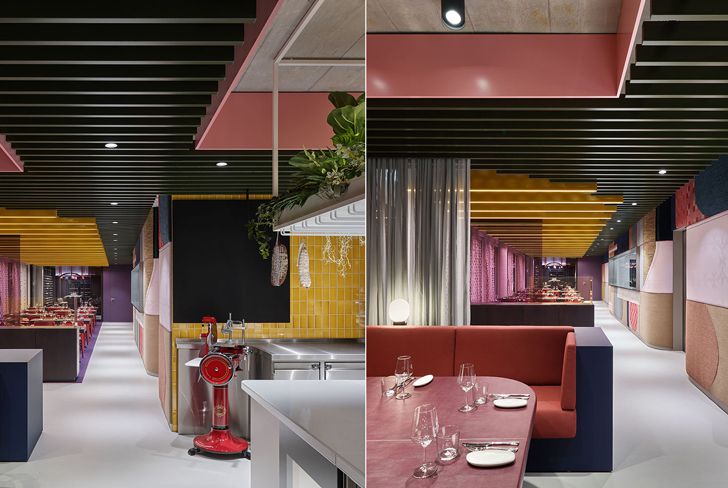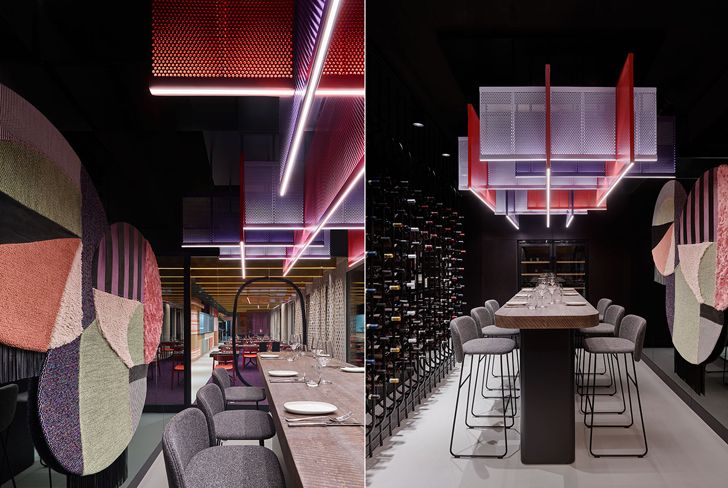 The ceiling sports an interesting pattern juxtaposing plain with fluted forms as a geometry of colour spurs interest and intrigue.  On the walls, portraits by Michel Comte throw open a window to the world, where framed personalities from art, fashion and music tell a free-spirited narrative of memory. Just like the namesake of Marie-Curie-Strasse, the street in which La Visione stands – and probably the only element of the design concept that is not a deliberate move on the part of the identity architects.
Fact File:
Project name: La Visione
Typology: Hospitality
Design Firm: Ippolito Fleitz Group
Location: Denkendorf, Germany
Photography Credits: Zooey Braun