"Luxury is important, but comfort is key." With a brief as simple, the architects at Studio Crypt design a warm cocoon of understated luxury for a retiring couple in Gurugram…
Spread across a splendid 6000 square feet, 'Markat' meaning emerald, is a serene home. It skillfully incorporates indigenous art forms as a part of its architecture and spatial layout depicting an understated style statement.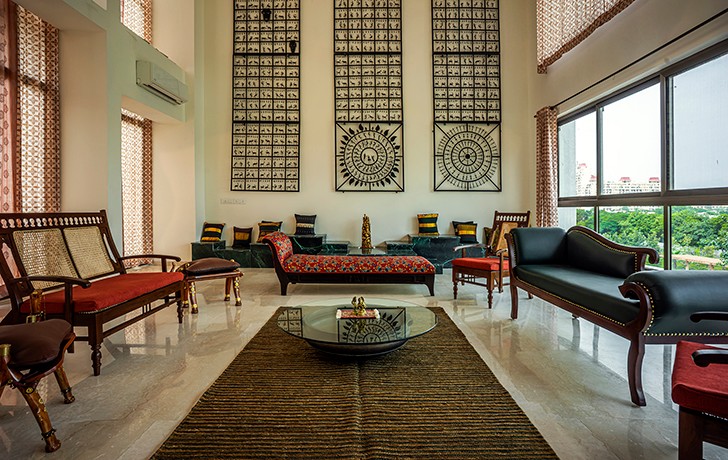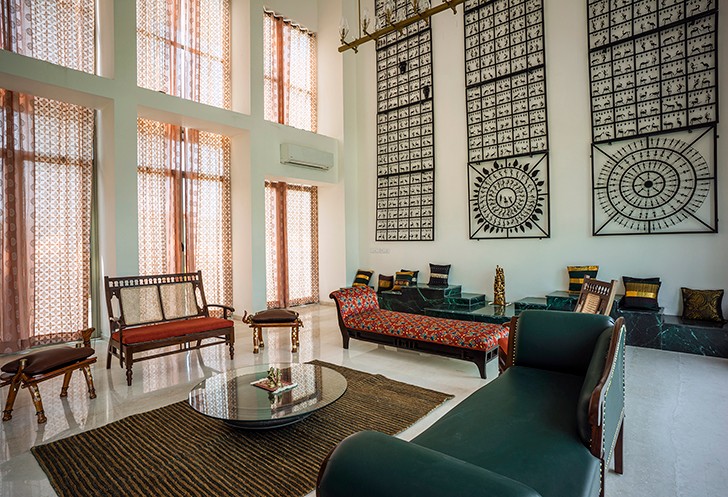 Each embellishment relates to an anecdote, a personal narrative. Of the two floors, the lower floor comprises public gathering and guest areas, both formal and informal, overlooking the shaded pool deck; and the kitchen, facilitated by an expansive utility pantry. The upper floor hosts private chambers and sunlit balconies.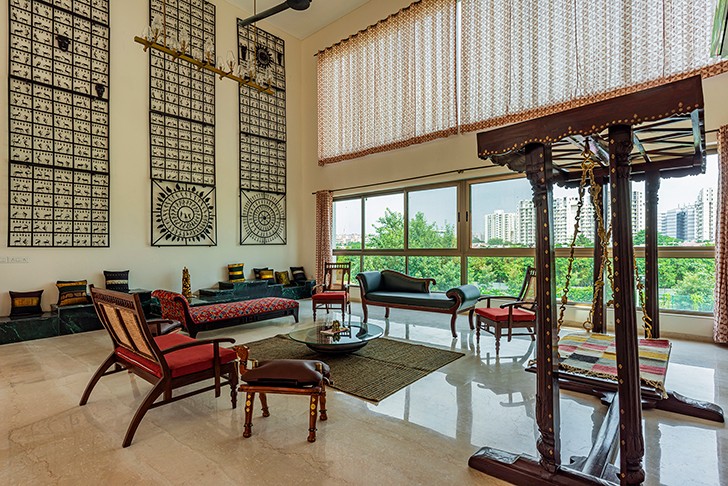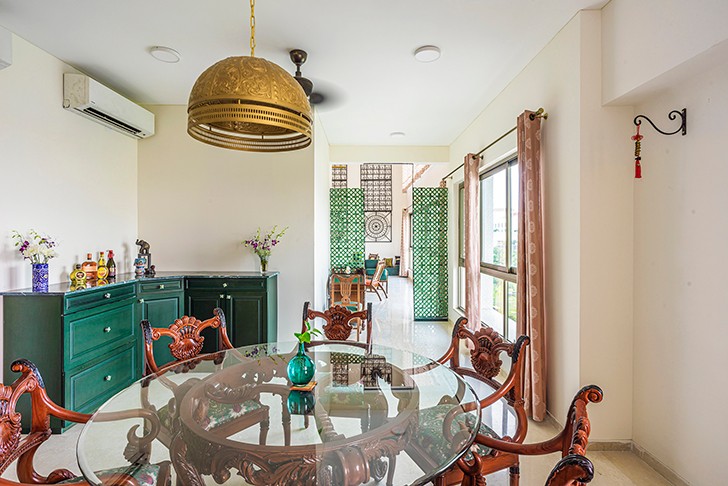 Just like an emerald symbolises royalty, eloquence, and foresight, the 'Markat' residence is a bouquet of distinguished local artisanal craftsmanship, viz., the wall across the entrance door is adorned in stunning Lippan and Sheesha artwork by a Gujarati artisan; visually striking Bastar artwork panels each detailing a mythological tale, adorn the stark white backdrop of the double height living room. In contrast to the neutral palette of the rest of the home, the kitchen is a vibrant space with each cabinet shutter panel handed out to a Jodhpur artist to hand-paint in a floral pattern, and since there was no restriction on colours, one sees peculiar tones of olive, fuschia and teal come together on the strangely comforting kitchen canvas.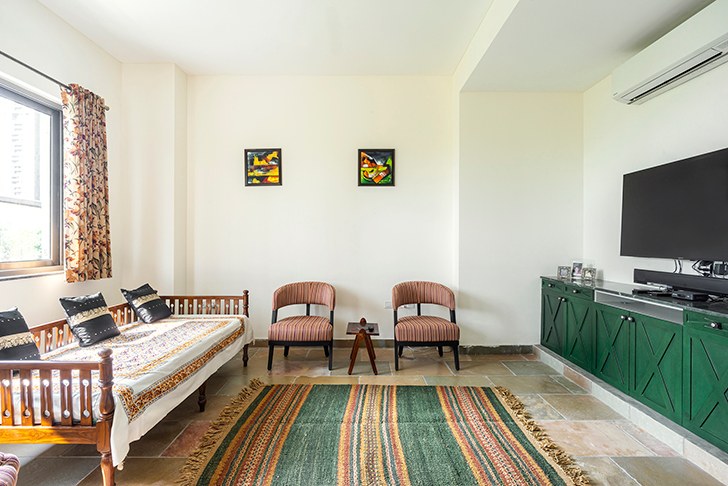 Carefully curated reclaimed and refurbished furniture ensures reuse of old, otherwise discarded pieces, like a regal Rani-mirror, a four-poster King-sized canopy bed, chaise lounges, intricately carved chairs and the like… Fusion furniture pieces add an element of curiosity: like a vintage lady's dresser unit is now equipped with electrical points to make for a compact workstation veiled with a glazed ceramic jaali partition. Similarly, the little temple tucked under the stairway has a metal door with stained glass inserts.
The aura is sublimated with hardy limestone and colour-stained IPS flooring, besides a discerning array of light fittings that exude dated appeal. An element of interest is reflected in the skirtings which are machine-cut 2D ceramic glazed tiles running in contrast to the colours of the floor.
All rooms are a celebration of scale and height devoid of false ceilings. With large glazing, and massive individual balconies letting in ample natural light, energy efficiency is ensured by using LED fixtures. The circulation galleries on both floors overlook an internal courtyard, highlighted with black metal French balconies, initially added for protection, that also double up to hold planters. The life-size openings allow the inhabitants to enjoy the exceptional green views on both, the east compound grounds and the west pool deck.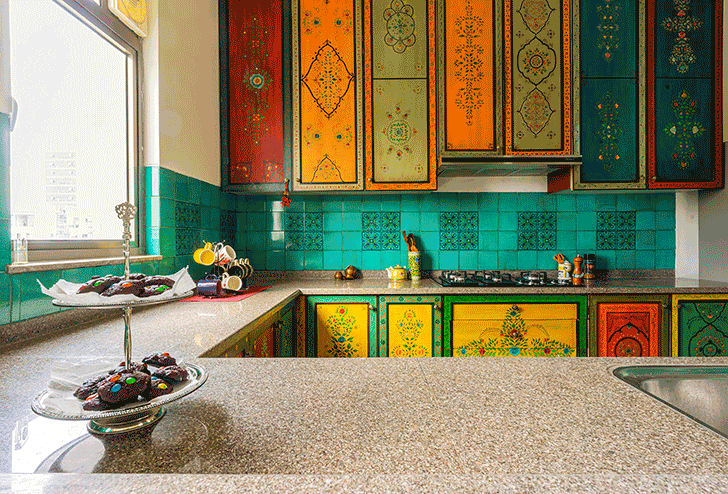 With its traditional design and visually stunning aesthetics, Markat dazzles and shines incessantly, just like the gem it is named after.
Fact File:
Name of the project: Markat
Design Firm: Studio Crypt
Design Team: Shivani Khanna & Debaditya Goswami
Area: 6000 sq. ft.
Location: Golf Course Extension Road, Gurgaon
Photography credits: Mandeep Singh Bains
Support India Art n Design
Thanks to wide-spread patronage, we have been sharing high-quality content related to the art, design, and architecture community, for the last 10 years. We have ensured that our content always remains free of charge.
To help us continue to share our resources for free, we seek your support.
You have always helped us push the envelope. Please continue to hold our hands.
Purpose of Payment: Supporting India Art n Design (a unit of Pink Daffodils)
Alternately, if you wish to share an amount of your choice,
click here