Intrigue Studio + Lab uses the dictum of 'minimum intervention: maximum impact' as the focus loci that creates the illusion of space and augments the close-to-nature feel of this home in Gurugram…
It is not everyday that one comes across a commodious home with attached terraces that blatantly hint at welcoming the outdoors inside. Quite natural then, the homeowners wanted to capitalise on this aspect and usher in as much natural light as possible, to visually extend their 3000 sq. ft. four-bedroom turned into three-bedroom home.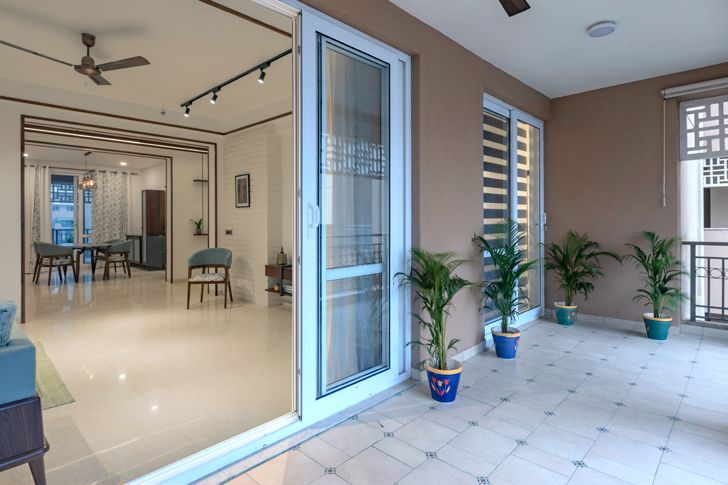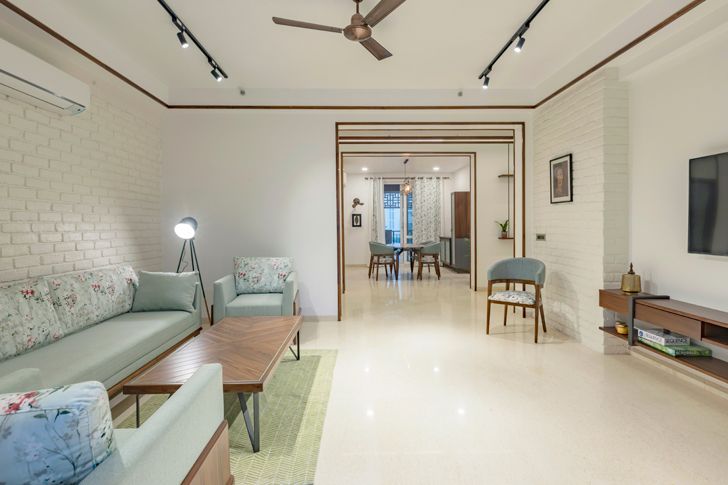 An all-white interior envelope sets off the minimalist theme in this refurbishment exercise. Limiting civil guidelines allow an open plan that facilitates the separate living and dining zones to connect visually, effectively dwarfing the linear passage that reveals the different areas one at a time; while in the bedrooms, ensuite washrooms and dressing areas combine to constitute roomy grooming spaces.
Bespoke utilitarian furniture high on geometric aesthetics anoints each corner, niche, and wall, unwittingly creating an element of silent awe. A pastel colour palette of mint green and grey tones cavorts with minimal prints amplifying spatial quality. Textures are introduced via exposed bricks (painted white to blend into the interior envelope; as are the sliding doors to the balconies), Teakwood (fire-polished to depict its grains), organic furnishings and potted plants, keeping the palette earthy, resilient and chic.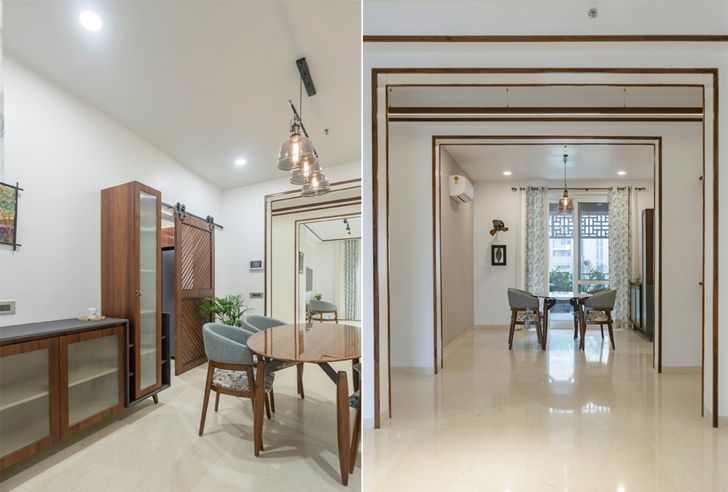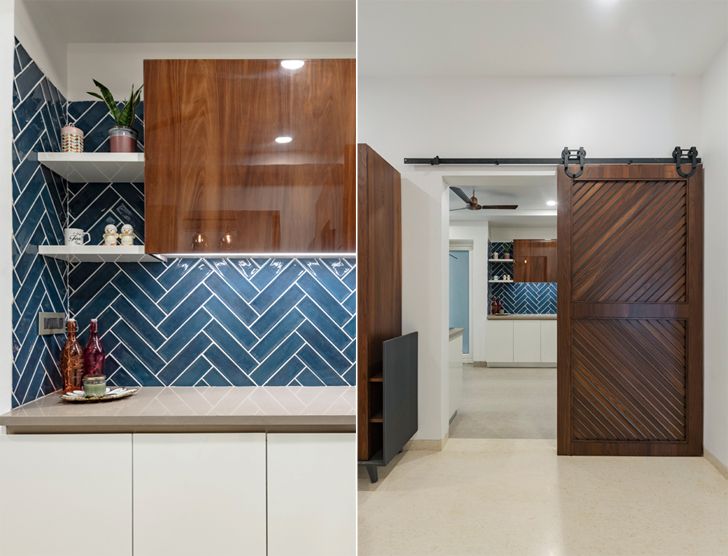 Symmetry is established in a repeat zig-zag pattern that finds place of pride on the coffee tabletop, underfoot rugs, kitchen and bathroom tiles, cabinet shutters… distinct yet harmonious, introducing lines as the playful element in a design approach that thrives on restraint. This playfulness is also mimicked in the shelving arrangement, the track lighting, and finer details like the minimalistic headboard design or even the continuous ribbon that conjoins the sideboard with the tall unit in the dining room.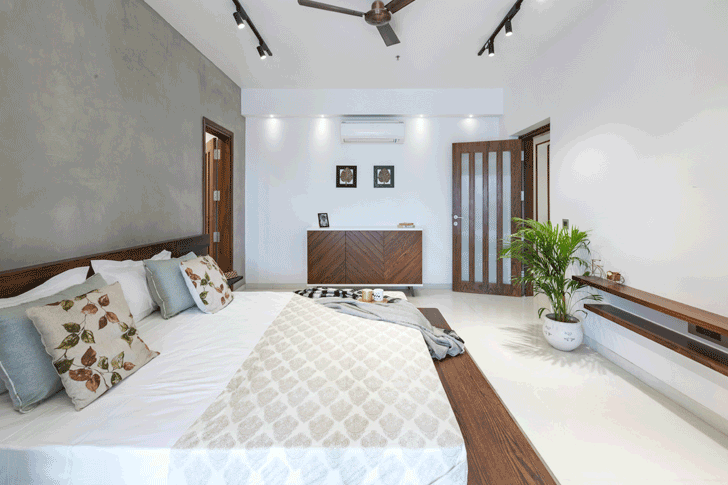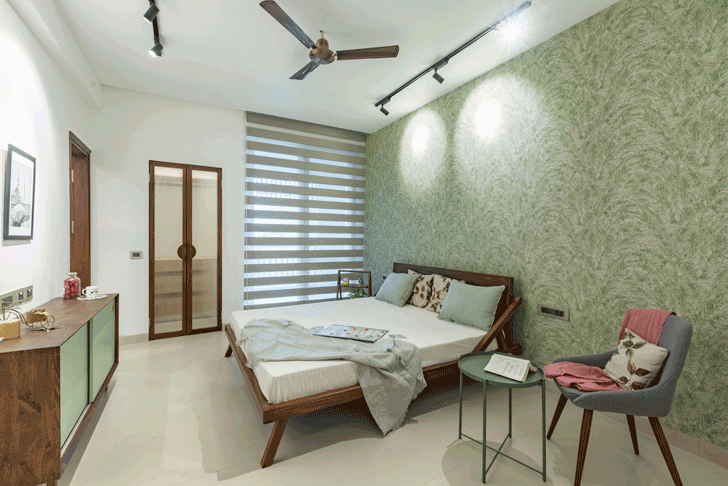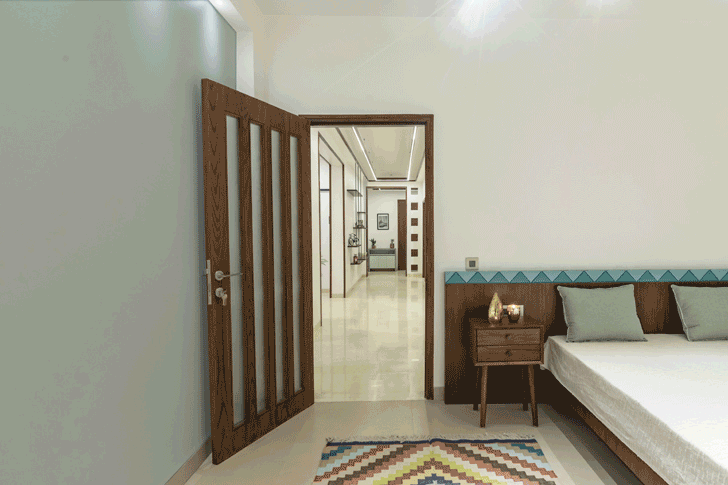 Intrigue is inculcated via strategic flourishes – the hardwood sliding door with its visible hardware that forms the centre-point of the dining area and the adjoining kitchen; fluted glass inserts in the bedroom doors interspersed with wooden verticals that augment the standard 7ft-by-3ft-six-inch doors making them appear voluminous – that also point to the underlying premeditated approach to enhance spatiality.
But the pièce de résistance of the entire design is the framing of views in each room, where a two-dimensional, two-inch-by-two-and-a-half-inch wooden cornice (at times single, and at others, in pairs) runs around the entire home, neatly framing the interior vistas, bordering ceilings and architraves, and creating the ultimate design and décor element that balances the classical and the contemporary in a singular simple flourish!
And that gives the project its name: The Framed Chimera, where the tangible acknowledgment of the intangible aura of illusory space underlines the essence of this interior design.
Fact File:
Project name: The framed chimera
Typology: Residential interior design
Design Firm: Intrigue Studio + Lab
Principal Designer/Architects: Nehit Vij & Devyani Gupta
Built-up Area of project: 4000 sq. ft.
Carpet Area of project: 3000 sq. ft.
Location: Gurugram, Haryana
Photography credits: Devyani Gupta