One year into the pandemic and we see ourselves in a new light. With mixed reviews that oscillate between 'what works' and 'what does not work' with respect to our workplaces, one universal thought emerges – it is time to look change in the eye and empower ourselves with newer sets of SoPs…
Team IndiaArtnDesign organised the PIN Board (Purposeful Ideation and Nailing Board) in association with its Knowledge Partners ADI-Mumbai Chapter and We School, Mumbai. The topic of research was one that is on everyone's mind – "The Future of the Office and the Consequent Industrial Impact".
Spread over two sessions on March 18, and 19, 2021, the PIN Board saw an unprecedented meet of domain experts from diverse backgrounds. This premeditated approach was focussed on garnering cross-disciplinary thought and insights amid a tangential approach to the subject.
The Board Members:
_Ar. Nandini Somaya Sampat – Director Somany & Kalappa Consultants, Mumbai
_Ar. Peter Ippolito, Managing Partner, Ippolito Fleitz Group, Stuttgart, Germany
_Amit Krishn Gulati, Industrial Designer and Co-Founder & Director of Incubis Consultants, Delhi
_Narendra Ghate, Chief Designer, Tata Elxsi, Bengaluru
_Ar. Venu. G – Head of Interior Design, Venkataraman Associates, Bengaluru
_Neha Misra, Prof. Business Design, We School, Mumbai
_Tushar Vaidya, GM-Talent Management, Leadership Development, Mahindra Finance, Mumbai
_Vaibhav Pant, Systems Engineering Manager – Collaboration, Cisco, Mumbai
_Prasanna B. N., Chief Interior Designer, Cowrks, Bengaluru
_Dr. Shefali Batra, Psychiatrist, Mindfulness Based Lifestyle Consultant & Founder -MindFrames, San Francisco
_Biju Dominic, Chairman, FinalMile Consulting, Mumbai
There is an old understanding in India that time is cyclical, whereas in the western world it is linear. Similarly, the evolution of the workplace design seems to travel in a cyclical pattern as it adapts to constantly changing conditions and environments… Ar. Nandini Somaya Sampat, Director SNK Consultants, Mumbai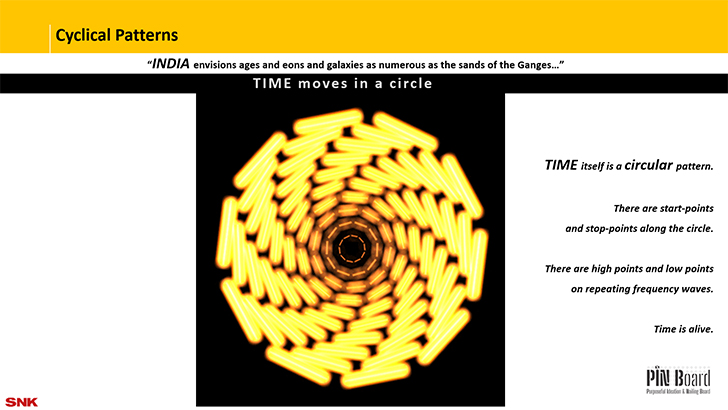 The Premise: The last 12 months have seen a sea change. With the pandemic has come a new normal that has broken the myth about the "office" being essential as it has significantly separated the two terms – 'work' and 'workplace'. Because, irrespective of the highs and lows of the pandemic, work has not come to a standstill. In fact, largely, productivity has increased with people striking a new work-home-life balance. This shift in mindset has paved the way for 28-29 global outfits now announcing a permanent work-from-home/ remote-working strategy for most of their employees.
Yet, questions like these continue to bog us – Are we making way for a new work-life idiom? How differently will companies design their physical workspaces? What will happen to real estate investments? How will HR function? How will the psyche be impacted? What about productivity and emotional intelligence? And on … and on…
In this scenario, as part of our research initiatives, Team IndiaArtnDesign set out to discover and decode the construct of "the future of the office and its consequent industrial impact!"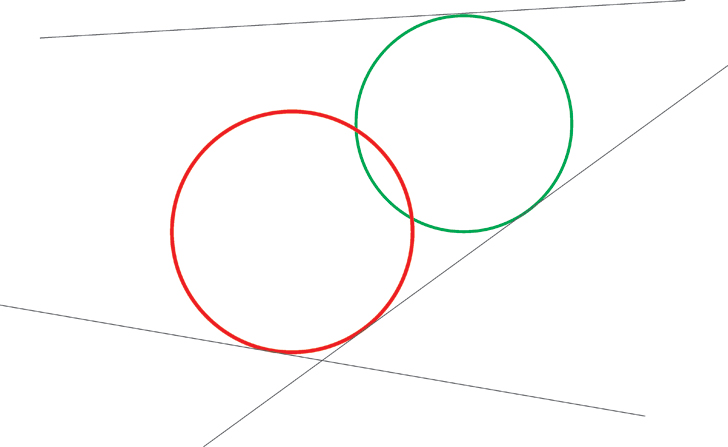 The Tangents:
• Hybrid Office: A lot of professionals are becoming self-sufficient from working in isolation, bereft as they are of the task division and teamwork one is accustomed to in a large corporate. Parallel in thought is the fact that efficacy and punctuality are two pluses resultant from the WFH strategy. The comfort of not commuting to office in the rush hour, of spending quality time with family, time to inculcate a hobby perhaps, and still optimise work output has put the onus on a more contented balance of both worlds. Perhaps, offices will now operate on partial work force attending the office and partial working from home. Also, perhaps an alternating scenario, when people feel privileged to work from office as against a normalcy being established via working from home.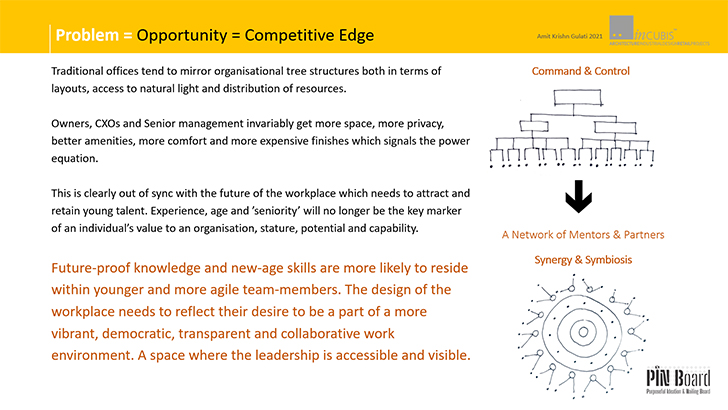 • Neural Network: While there is no doubt that the office will be operational again, the design of the workspace proposes to be more organic, radial, where hitherto hierarchical frameworks will give way to a newer, more open, and progressive learning curve between the young employee and the executive cadre. Approachability will define a happier, more productive workforce with significant privacy afforded to the employees without compromising on visual connectivity and social connectedness. Inherent attitudinal changes will create a quantum shift in the organisational set up of an office.
Collaborative working is the key to dissipating hierarchy and accentuating the learning curve… Amit Krishn Gulati, Industrial Designer and Co-Founder & Director of Incubis Consultants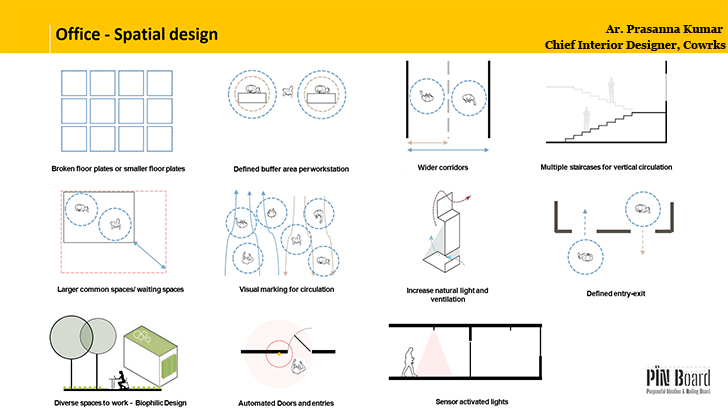 • Biophilia: Health is a new concern that has been consciously added on to the list of essentials in workplace design. Besides maintaining the statutory hallmarks of hygiene and wellbeing design, nature as a healer will take centre stage. The inclusion of plants to enhance aesthetics and to increase the improved oxygen levels in a room will be welcomed in different ways – green walls, plants as zone markers, as workstation dividers, and the like.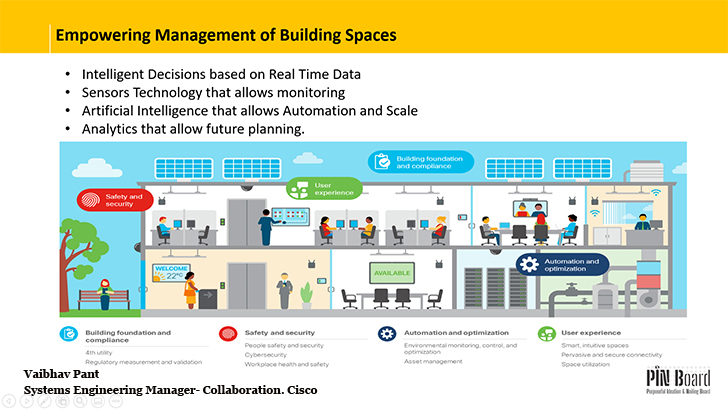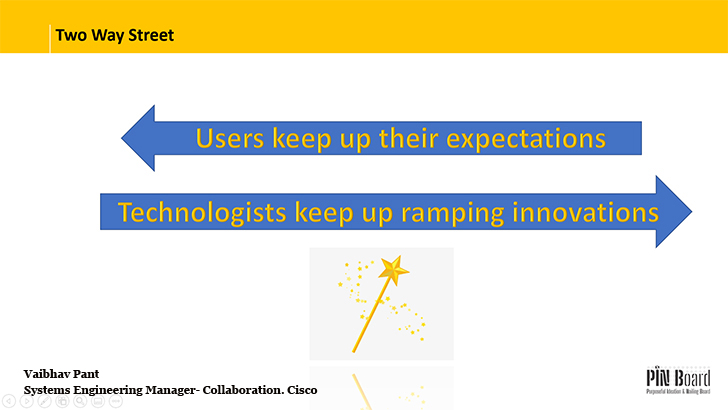 • Technology: Internet of things, Artificial Intelligence, Real Time Data, Sensor Technology, Automation and Personalisation and, Data Analytics… are just some of the tools that are and will continue to empower companies on the work front. Basically, for as long as the user will aspire for automation and enhanced tech support, technologists will keep pace by ramping up innovations. So, irrespective of whether we will return to a 'newly-different' workplace, we are currently amid an IT revolution and will emerge from it much more responsive, and empowered. While the flip side is that there are limitations, the strength lies in working within the limitations to accomplish the ultimate.
Responsible and mindful use of technology is key to the future of the office… Ar. Venu G., Venkataraman Associates, Bengaluru.
• Co-working advantage: A pre-managed, flexible one-stop solution to a workplace that caters to different budgetary options is a modern convenience that is here to stay. Mobility and accessibility are its two prime assets. And added to this, is the human-centric collaborative approach that balances concerns of society, culture, and economics.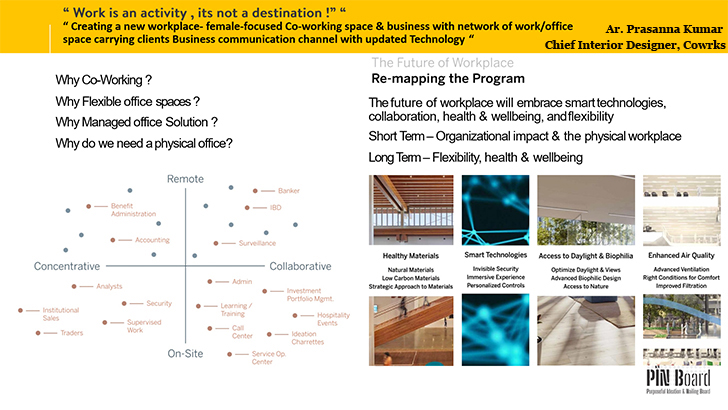 • GIG Economy: A strong reference to values of independence, equal opportunities, enhanced levels of confidence, respect for time and labour, and an inclusive environment will slowly but surely gain ground. At the centre of this approach is the human as a valuable resource, effectively mitigating all other factors that govern the physicality of an organisation.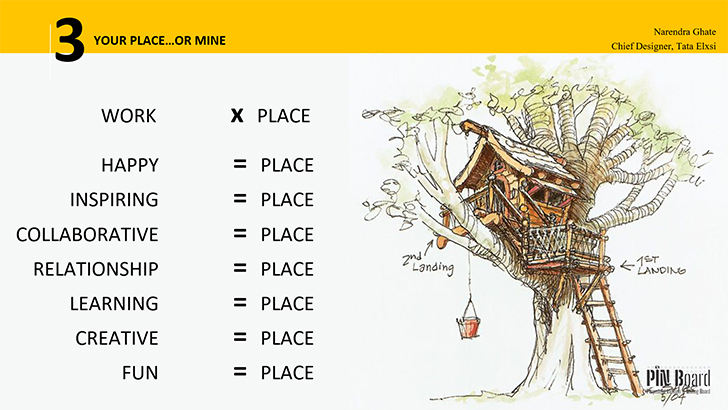 • Agility & Flexibility: This is the need of the day. Spaces need to be flexible, convertible, interchangeable. This will ace efficiency of space and promote culture. The office is no longer about productivity and disciplinism. It is more about culture, collaboration, co-creation, and camaraderie. Work thus becomes a by-product of a happy state of mind, emotional wellbeing, and dynamic interaction. Factors that are naturally contributing and progressive by nature.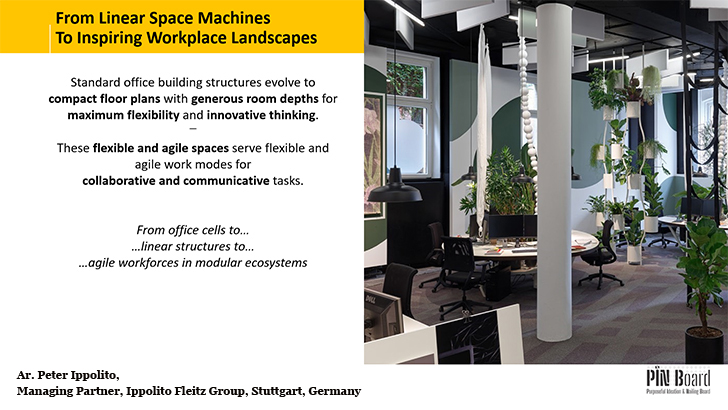 • Re-establishing Identity: The onus shifts from the office desk and the concept of individual belonging – my desk, my cubicle – to a wider, more informed sense of identification with brand values and the office culture. Onus also shifts from departmental hierarchy to collaborative, matrix organisations with project-based work. Acceptance has opened the mind to the 'office' being anywhere – from a study table at home, to the kitchen counter, to a vacation in a scenic locale, to the physical office lounge… work will get done as the identity of the person is moulded not by the physical space that he occupies but via his emotional and physiological connect.
You are complete in yourself. Office does not complete you… Narendra Ghate, Chief Designer, Tata Elxsi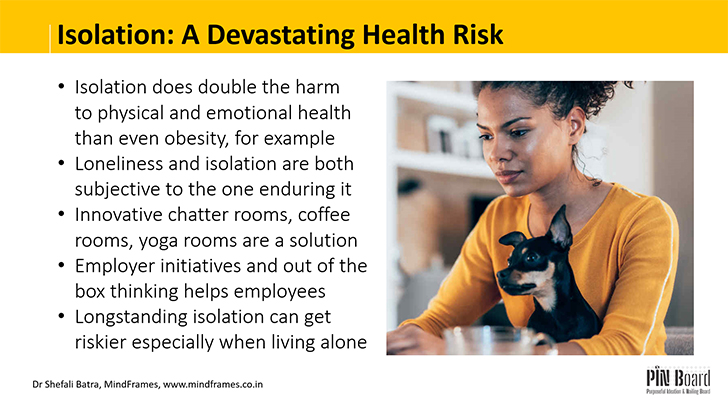 • Mindfulness: The boundaries between work and home have become obscured. Whilst this is not very encouraging as the process is ill-defined, unrestricted and one is expected to work 24/7, an important human approach that is conveniently neglected is that towards the homemaker. The homemaker has been displaced with the WFH syndrome. On the other hand, with working in isolation have come burn-out and depression; and the latter emotional state of mind is known to do much more harm than diabetes, hypertension etc. It can therefore be alleviated via establishing social engagement that is so integral to "going to office". To assure wellness at 'work' – both, physical and psychological – one needs to be mindful about how much we can change on the inside purely by changing the outside.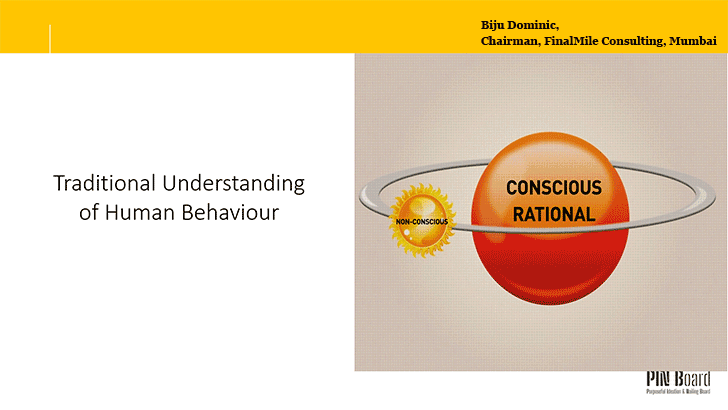 • Behavioural Economics: Studies have shown that 99.9999% of human processing happens at the non-conscious level. This simply means that we do not really know why we behave the way we do. And we have absolutely no understanding of our non-conscious level. From the lens of neuroscience, it is necessary to understand the nonconscious triggers to effectively design the places we use to live in, work in and play in. This will help us respond on a more stable emotional plane.
Beginning anew:
So, on the one hand, while one fraction of us is happy to work from home and have found the mid-landing that balances this new work-life idiom, there is the other fraction that finds it chaotic and disturbing. One extreme end also suggests deep loneliness setting in as a severe repercussion of working in isolation. This then inferences that while we do not need to get back to the office, we want to – not necessarily to work but to stay socially connected and sane.
Looking at the taken-for-granted in a new light, we thus see the office as a temple of value and purpose. As a more fluid space, it becomes a place of the culture of the company. You go there because you want to be there, to mix and mingle and rejuvenate your creative self. It becomes a hub of communication and collaboration; of options and opportunities; of analysing one's capabilities and translating them into possibilities.
Work is independent of 'where' we work from. We are in a constant state of flux, in a beta mode. What is a new-normal today will be a new new-normal tomorrow and we will adapt with still newer resolutions… Ar. Peter Ippolito, Managing Partner, Ippolito Fleitz Group, Germany
But no one really knows where we will be five years from now. As our work transitions at a rapid pace, so do our tools. Change by nature is scary. But we have the means to implement an environment of change that can be viewed more positively, encouragingly. This will make adapting to change much easier. Yet, from the perspective of being Indian, a lot is about what we can adopt, what we can adapt to, and what we can afford. And how we can internalise these three facets of our personalities into our economic wellbeing. With a strong belief in the cyclical pattern of nature, of what goes around, comes around, we see that each tangent to the 'office' is well connected. The web of diverse ecosystems moves like a well-oiled wheel. Collaboration is vital. Communication is fundamental. Beginning our education from the macro angle of the subject, and moving on to micro- detailing, we need to understand how these different aspects percolate through our non-conscious level to impact our psyche through responsible and fertile layers of acceptance and sharing. The world is more complex than we think. Being conscious, conscientious, and proactive is the need of the hour.