Old Jalandhar in Punjab, India is known for its narrow by-lanes that open out into chowk-like courtyards. This home by Space Race Architects is one such structure abutting a chowk, hidden away in a typical old Jalandhar gully.
Amidst colonial architecture, the house establishes a vocabulary of its own, energizing the idea of nuclear families. Designed for a young couple with three children, the style is flamboyant, yet grounded and responsive to old town morphology.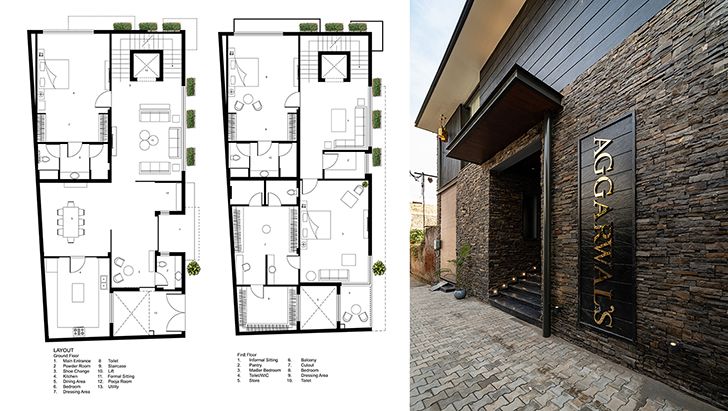 The two-storied structure with traditional stone masonry, sleek pitched roof, and dark slate exterior cladding adds to the humbleness of the façade, completely belying the luxury within. The skillful use of glass in the facade not only enriches the face of the house but serves to permeate the interiors with natural light.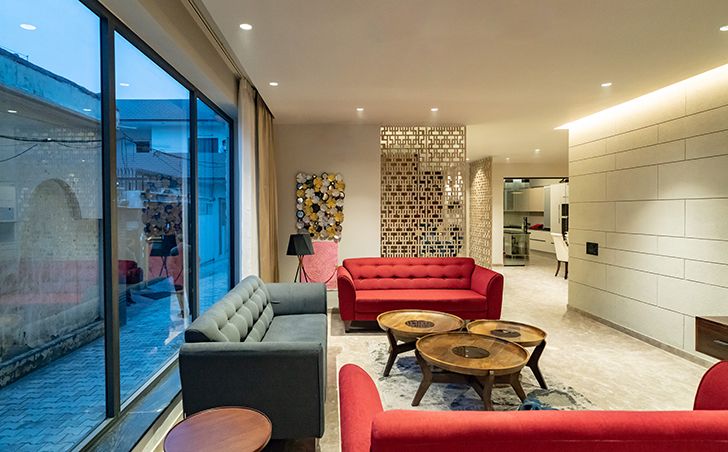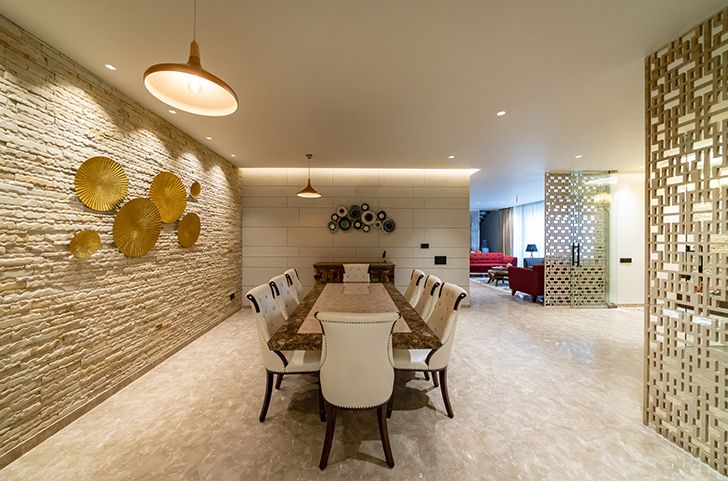 The interior is a perfect blend of luxury and simplicity. Seamless Italian marble, minimal furniture, rich fabrics, and exquisite wooden grains keep the interiors classy yet subtle. The walls are mostly kept bare, except for the occasional paintings or an iconic wall piece that tends to repeat in different hues. Discerning ambient lighting enhances the natural finishes, completing the chic picturesque spaces. Traditional jaalis are interpreted in a contemporary style, effectively demarcating spaces and hinting at privacy in the open plan.
Judicious spatial planning between public and private spaces anoints the ground floor with the informal lounge, dining, kitchen, pooja, and a bedroom; whilst two master bedrooms occupy equal areas on the floor above. The bedrooms are warm personal domains, augmented with wooden floors and wood polished furniture. The fact that each bedroom has a unique theme conveys a flair for vibrancy and identity throughout.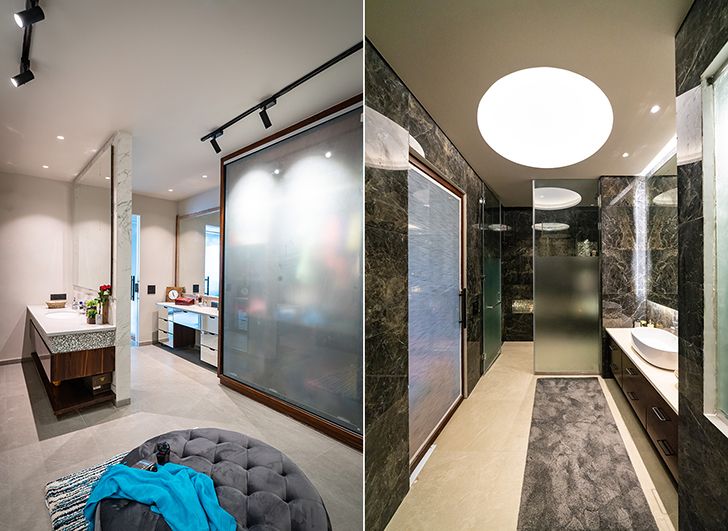 In a time when tech-infused spaces are the rule rather than a luxury, this abode is no exception. From the kitchen to the master bedroom, the house is equipped with smart controls. Yet, simple pleasures of life, viz., a morning cuppa or enjoying the rain are sensitively catered for via balconies and terraces.
The welcoming character of the home is fostered by the hybrid floor plan, between open and closed spaces, which readily allow for views from one space to another. At the same time, well positioned visual and physical barriers uphold privacy.
The house stands testimony to an empathetic design that responds to the complex and sensitive nature of the site.
Fact File
Typology: Residential Architecture
Client: Agarwals
Design Firm: Space Race Architects 
Principal Architect: Ar. Thakur Udayveer Singh
Specialist Design Team: Ritika Singh
Built-Up Area: 4811 Sq. Feet = 446.95 Sq. m
Location: Jalandhar, Punjab, India
Photography Credits: Nakul Jain 
Pappal Suneja is a Design Researcher and an architect based in Germany. He is the Country Editor for World Architecture Community as well as an international correspondent for ADA Magazine. Pappal is the founder & Curator of Architectural Journalism & Criticism Organisation and currently pursuing his research at Stiftung Bauhaus, Germany.