This Kolkata home by Beyond Designs recalls shades of US of A's top interior designer, the late Albert Hadley's maximalist approach…
As an interior decor exercise directed at imparting a fresh look to a two-storey home, one sees a plethora of patterns, textures and colours married together in a grand alliance. Meticulous layering of materials and details leads to rich environments replete with a unique character and an invigorating vibe.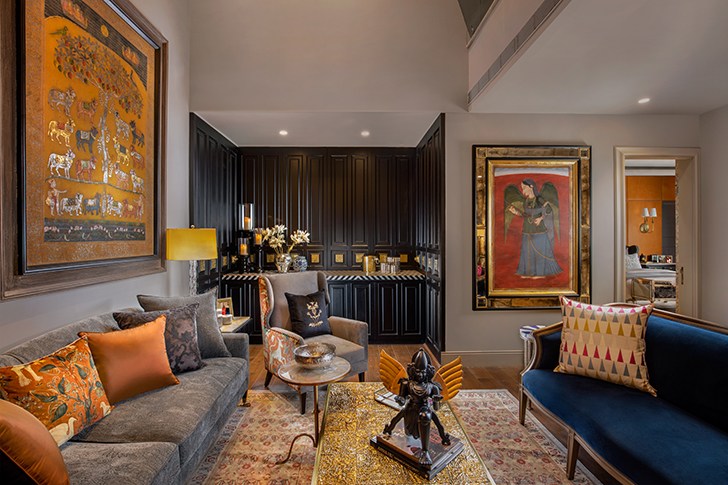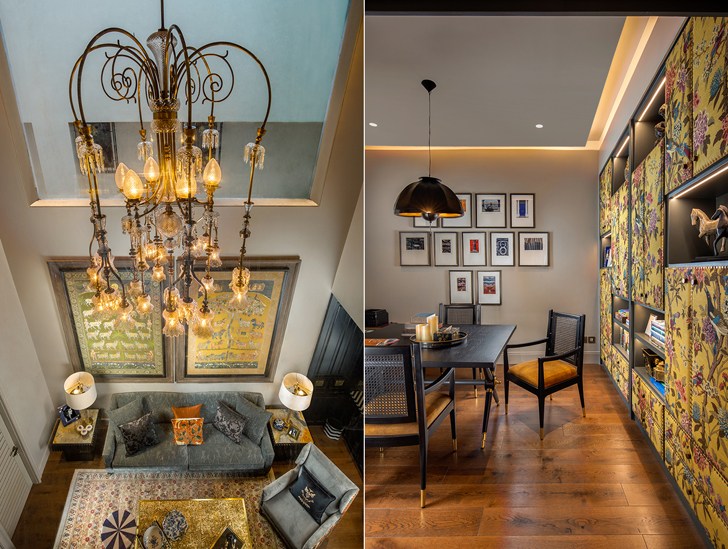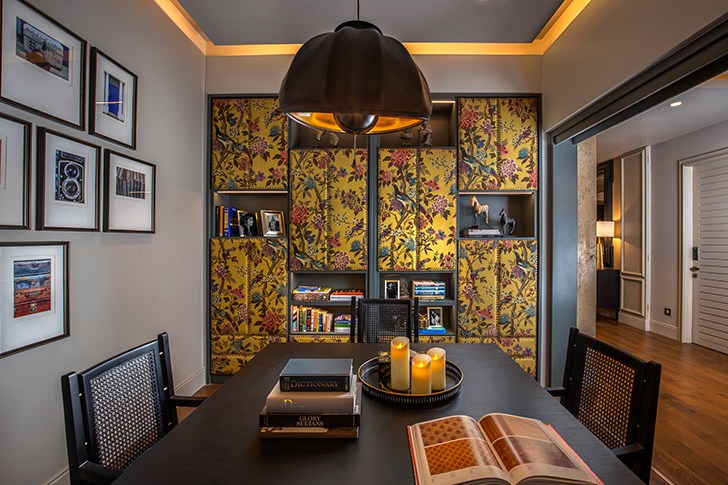 On the first floor, the long corridor, an L-shaped bar area, parents' room, daughter's room, and her study room are designed from scratch, while on the second floor, the master bedroom is refurbished.
One feels the dynamic vibe right from the entrance, where a signature console with upholstered vintage chairs on either side pronounce an interior to-look-forward-to.  Everywhere, one sees a fusion of the contemporary and the classic. Every piece of furniture is treated as if it were a canvas or an artwork by embellishing it with details and accents.
Straight lines paired with sweeping contours, faceted surfaces amid an array of floral patterns, heavy-framed mirrors, works of art in luxurious frames, accents of brass and antique gold in furniture and frames, as polish and as upholstery rivets adding a classical touch; wall scones, table and floor lamps and exquisite chandeliers catering to the lighting requirements… and the like come together to create tasteful, elitist settings amidst the warmth of home and hearth.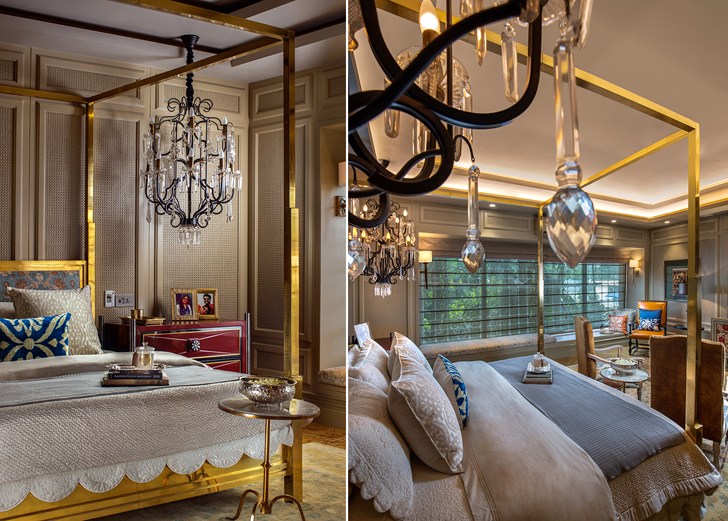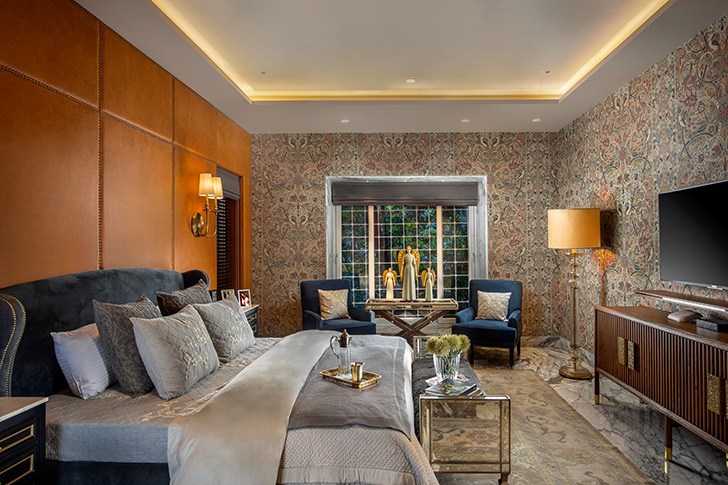 But although the approach is maximalist, the treatment is guarded. Rich materials are balanced with natural ones. Wainscotting panels delineate a penchant for precision. Neutral painted walls contrast with wood panelling, whilst a beautiful collection of art dots each space.
While the ethos is somewhat sensitive and classically oriented, the overall ambience is modern. An air of opulence prevails. A mirror-clad four-post bed touched up with gold polish, a headboard in a shimmery white fabric, powder room done up in red and natural stone with heavy framed mirrors covering the vanity, upholstery in rust orange velvet fabric, grand chandeliers in MS with black matt powder coating and crystal hangings on either side…  create an assemblage that is texture and pattern rich.
A walk through these spaces is like experiencing an elegant contemporary palace brimming with design details – with special attention to scale and style. The home is flamboyant; yet the grandiosity is integrated to reflect a natural flair for the good life!
Fact File:
Design Firm: Beyond Designs
Principal Designers: Sachin & Neha Gupta
Area of project: 6000 sq. ft.
Location: Kolkata
Photography credits: Atul Pratap Chauhan
Support India Art n Design
Thanks to wide-spread patronage, we have been sharing high-quality content related to the art, design, and architecture community, for the last 10 years. We have ensured that our content always remains free of charge.
To help us continue to share our resources for free, we seek your support.
You have always helped us push the envelope. Please continue to hold our hands.
Purpose of Payment: Supporting India Art n Design (a unit of Pink Daffodils)
Alternately, if you wish to share an amount of your choice,
click here