Cityspace' 82 Architects prioritize a balance between functionality and form, using a 'to and fro' methodology to rationalize aesthetics and functional regimes, demonstrated in their office in Gurugram.
Breaking away from a conventional office with rudimentary cubicles, Ar. Sumit Dhawan opts for an open-plan concept, maintaining varied work settings and visual connectivity through the space. A universal palette of black and white complements tasteful and minimal decor, exposed services, and rustic wall and floor finishes.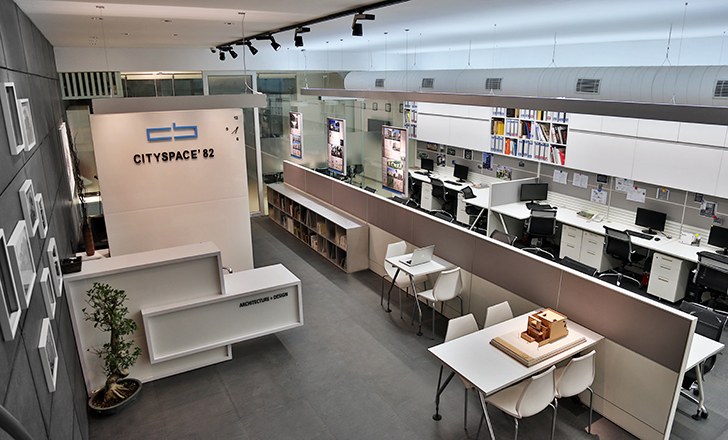 The visual grammar emphasizes the rather linear space with distinct, orthogonal lines that are tactfully balanced with the softer lines of cosy nooks, distinguished further by incorporating pops of colour and warmth, thus setting a perceptible difference in the design language of the visiting, and working areas.
The lighting temperatures are specifically designed for the two zones to create a calm and efficient atmosphere: warm, white lights of 3000 K temperature in the guest area, conference area, and the Director's room, make them kindle aesthetically while the workstations are situated under 4000 K temperature lighting, resembling natural light.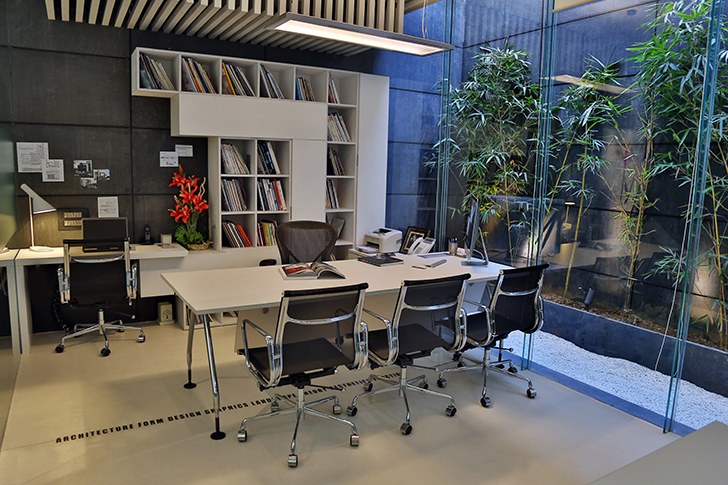 A lush green sunken garden behind a glass partition adjacent to the conference room and Director's cabin creates a close connection with the outdoors and mitigates the feeling of working in a basement.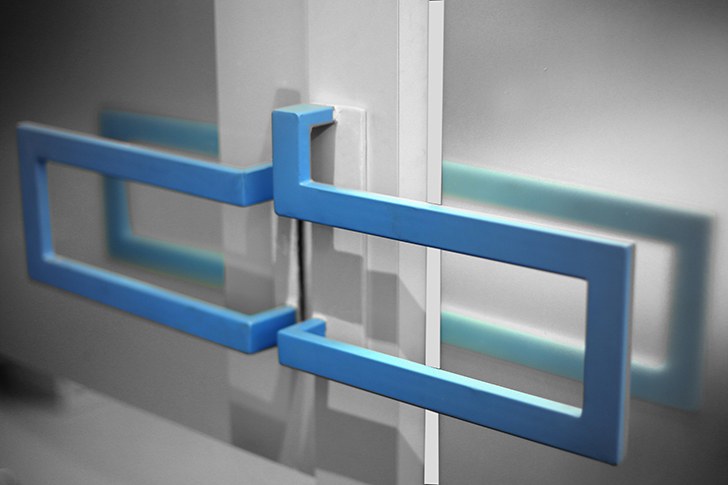 A keen eye for detail adds character to the space, from the logo of the firm being thoughtfully incorporated into door handle designs and etched on the ground in concentric patterns, to the framed abstract composition created by the team forming a backdrop for the lounge. Also, strategic words from the design vocabulary anoint the floor creating demarcating lines. Presentation boards hang from the ceiling and add an element of intrigue, leaving the walls uncluttered.
The firm aims to subsume the lifestyle of its clients while designing, and in this case, the design resonates perfectly with the close-knit team at Cityspace' 82 Architects.
Fact File:
Design Firm: Cityspace' 82 Architects
Principal Architect: Ar. Sumit Dhawan
Area of project: 1800 sq. ft.
Location: Gurugram
Photography: Courtesy Cityspace' 82 Architects