The KariGhars orchestrate the architecture and interiors of a luxurious 8000 sq. ft. villa in Bengaluru as a perfect mélange of contemporary and traditional styles…
The Villa 32, Prestige Lakeside Habitat in Bengaluru stretches languorously over 8,000-square-feet and is the epitome of luxury and comfort. This three-storeyed residence is reminiscent of the vernacular building styles that existed in the 1930s, pre-independence era India. Right from its brick-clad and white-highlighted exteriors to its nature-filled interiors, all the three floors blend seamlessly with each other whilst retaining their distinct individuality.
The public spaces with a large kitchen and utilities along with the parents' bedroom grace the ground floor; whilst the master suite and childrens' bedroom find privacy on the first floor. The topmost floor hosts the guest bedroom and two large, open-to-sky terraces – ideal for morning and late evening sit-outs.
The highlight of the plan is the expansive, landscaped garden on the ground floor, with its gazebo, koi-fish pond with lotus leaves and water fountains that create an aura of a home away from home.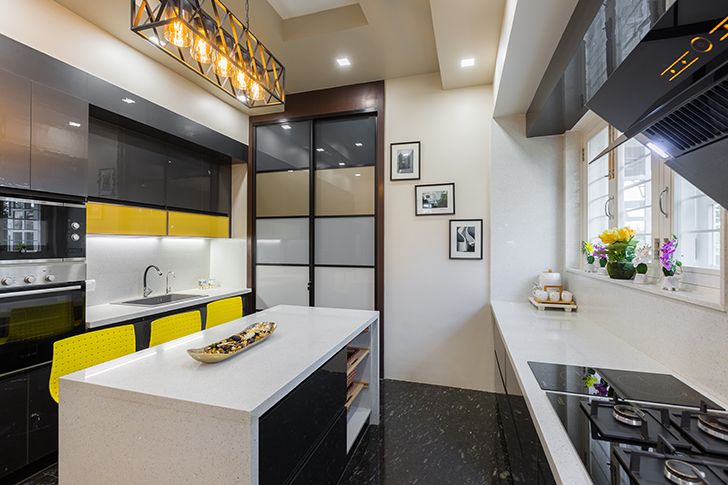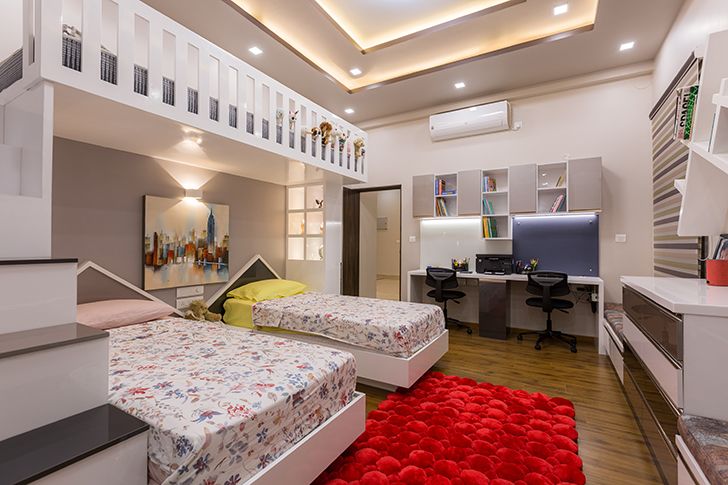 Inside, modern amenities take centrestage along with an elevator and complete home automation. Complementing highly technical functions is the rich but understated palette of sophisticated colours and materials that cater to its luxurious appeal. Mirror clad walls and columns, wood and marble flooring, bespoke floor rugs, two-storeyed curtains and geometric chandeliers, and a play of angular compartmentalisation – of shelving units, draws, wardrobes, and a labyrinth of panels on the ceiling… aver to a feeling of expansiveness, comfort, and cosiness. The double-height living room visible from the first floor as well, the home-theatre-like lounge, the black and white island kitchen with its pop of refreshing ochre, the colourful soft furnishings, patterned wallpaper with a hint of gold… augment the textural quotient, adding to the luxe appeal. Bespoke light fixtures, panel, cove, and accent lighting completes the overall schematic.
Harmonious lines, sinuous elegance, balance, and sophistication define the timeless appeal of this villa that is tailored to the homeowners' tastes and personalities.
Fact File:
Project: Villa 32, Prestige Lakeside Habitat
Typology: Residential architecture and interior design
Design Firm: The KariGhars
Principal Designer: Abhishek Chadha
Built-up Area: 8000 sq. ft.
Carpet area: 5000 sq. ft.
Location:  Devasthanagalu, Gunjur Village, Bengaluru, Karnataka
Photography credits: Dark Studio
Support India Art n Design
Thanks to wide-spread patronage, we have been sharing high-quality content related to the art, design, and architecture community, for the last 10 years. We have ensured that our content always remains free of charge.
To help us continue to share our resources for free, we seek your support.
You have always helped us push the envelope. Please continue to hold our hands.
Purpose of Payment: Supporting India Art n Design (a unit of Pink Daffodils)
Alternately, if you wish to share an amount of your choice,
click here