I'm D'sign takes us for a walk down the cultural lane as their Heritage bridal boutique celebrates the artist, the craft and the traditions that bind them all.
The New Delhi store draws from the culturally vibrant weddings of India, offering an exquisite shopping experience. The design manifests the luxe and magnetism of Indian heritage through contemporary chic interiors, applauding the meticulous craftsmanship behind wedding garments. At the heart of its authentic, artisanal makeup lies careful research and innovative experimentation.
The 200 sq. m. rectangular layout composes four unenclosed zones, each section embodying a unique character dictated exclusively by the product, offering a highly personal experience. United by a central theme, the spaces come alive through theatrical details.
The soulful combination of concrete and wood meets the sheen and glory of brass, the metallic glamour embellishing the base texture, much like bespoke fabrics. Organically treated wooden beams span laterally, decorated with ornate Hindu symbols while the ochre yellow flooring recalls the auspiciousness of Indian ceremonies – a colour synonymous with happiness and widely used in heritage monuments.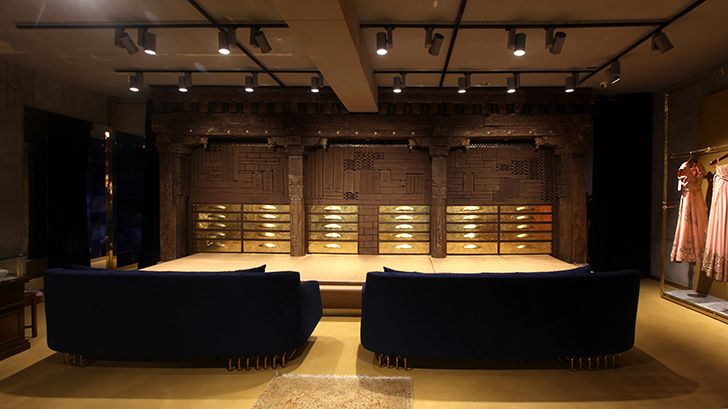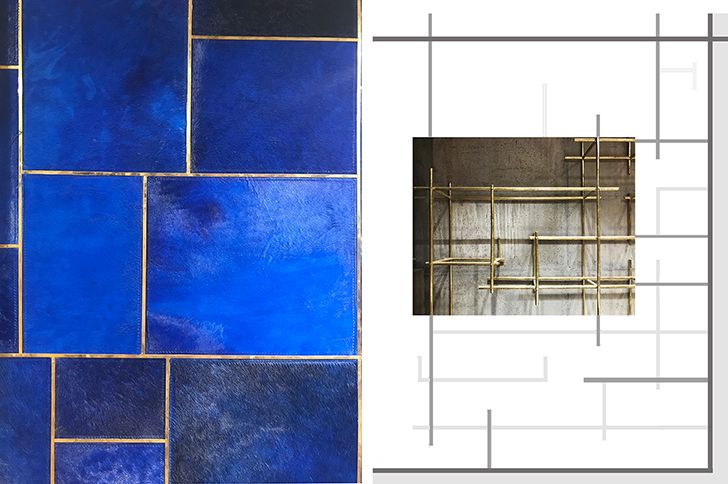 Adding to the raw essence and sculptural quality of the space, engraved hand-cast concrete panels and metal screens spell out the letters of the word 'Heritage' as they layer over one another, creating a pattern through an interesting play of shadows. A grid of angular floating glass shelves lines the adjacent wall, the arrangement delicately fitted with serpent and brass chain joinery.
Coupled with geometric flooring, mirrored ceiling and strategic lighting, the space heightens drama. Across, counters draped in natural textures make a strong statement while the farthest end beautifully duplicates the setting of a traditional wedding altar, complete with low floor seating. Framed by a vintage 150-year-old wooden arch and a wall made of salvaged roofing tiles, the space creates a nostalgic, memorable setting.
Elevating the artistic appeal, these well-thought details, indulgent materials, and nuanced textures craft an immersive environment through visual harmony, their elaborate choreography a toast to wedding traditions.
Fact File:
Typology: Retail Design
Client: Sunit Nanda
Design Firm: I'm D'sign
Principal Designers/Architects: Deepak Kalra, Shifaa Kalra, Aarushi Kalra
Design Team: Deepak Kalra, Shifaa Kalra, Aarushi Kalra, Preeti Negi
Furniture: I'm the Center for Applied Arts
Carpet Area: 200 sq. m.
Location: New Delhi, India
Photography credits: Arunima Agarwal