Architect Alvaro Moragrega lives up to the challenge of building a home adjacent to a golf course, successfully achieving an equilibrium between the panoramic views and the much-needed privacy of a household…
Seeking balance between inspirational views and client privacy, the architect designs an L-shaped scheme, with the residence's main volume, encased in steel and glass, serving as a barrier between the private areas of the residence and the adjacent golf course. The volume, featuring a pitched roof with flat black tiles, is designed in the image of a 'shotgun shack', or an elongated distribution of spaces progressing from public to private.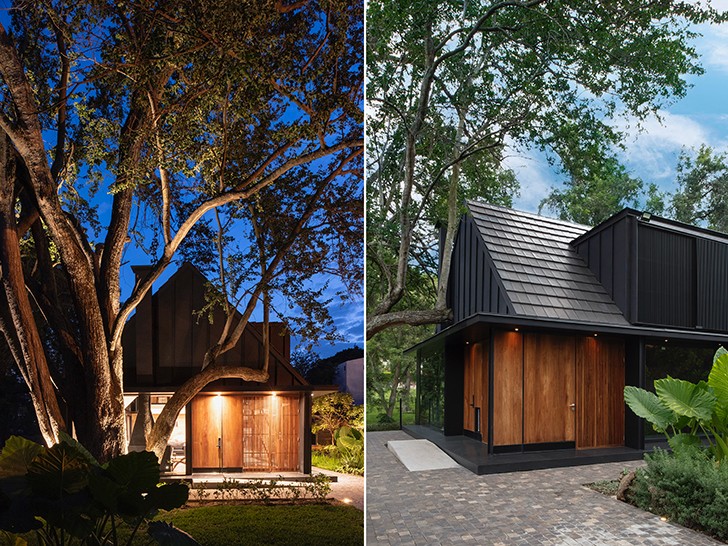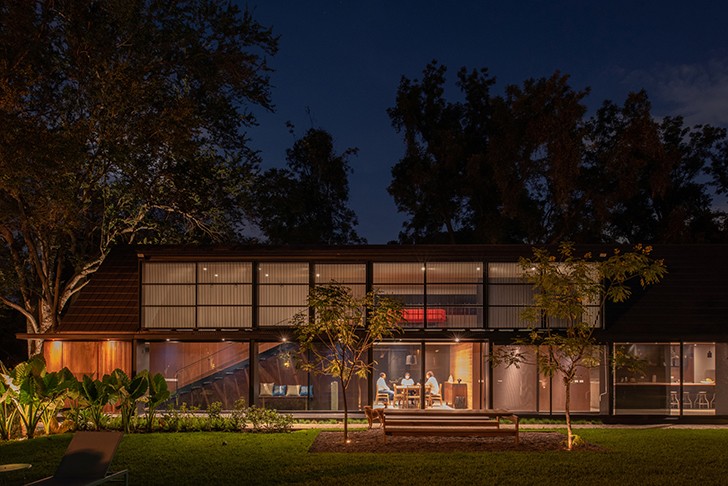 At one end of the volume, the main entrance opens into a spacious living room featuring a fireplace, piano, and dining area. A wooden enclosure houses a bar and storage area, dually serving to deflect views from the garden area. Adjacent to the dining area, a rammed earth volume, or tapia, frames a pantry, laundry room, and guest bathroom, segregating the main living room from the kitchen and family room. A custom-built structure houses part of the kitchen, as well as a bookcase with TV, and a small stove, thus blocking views from the golf course and reorienting them to the garden and pool areas.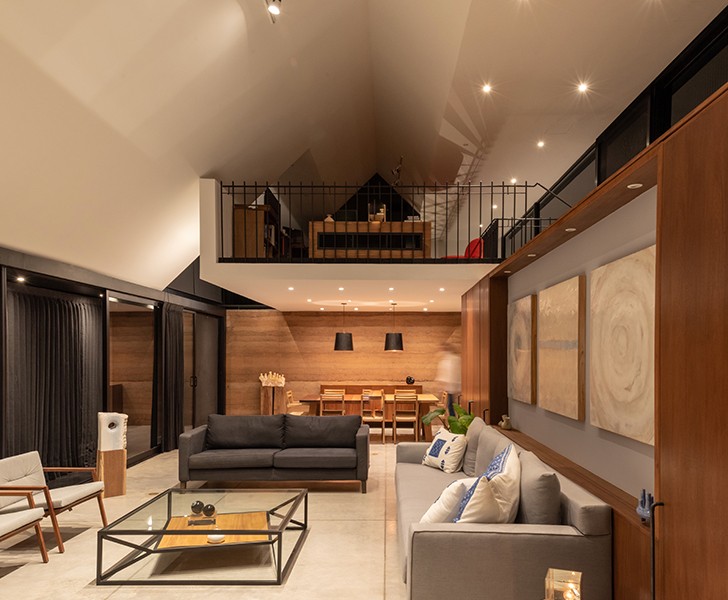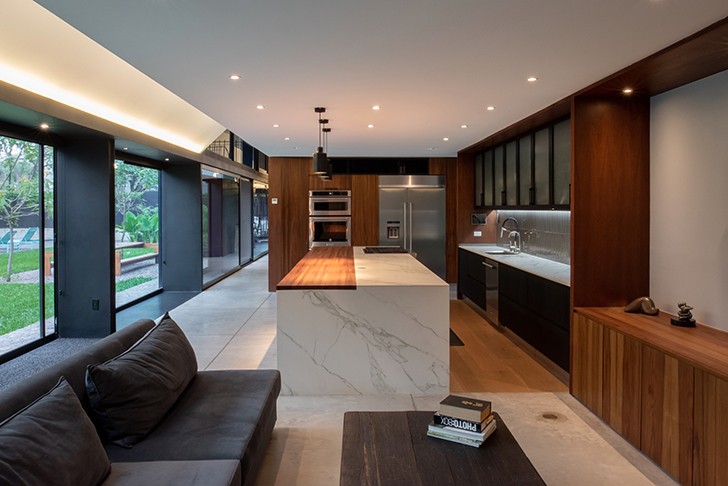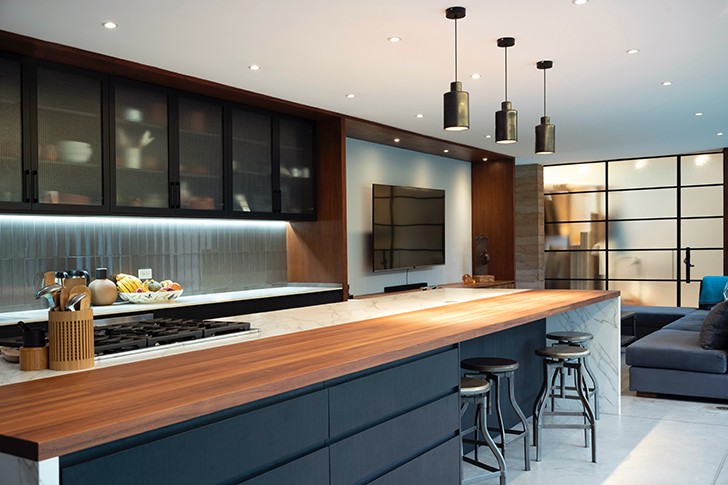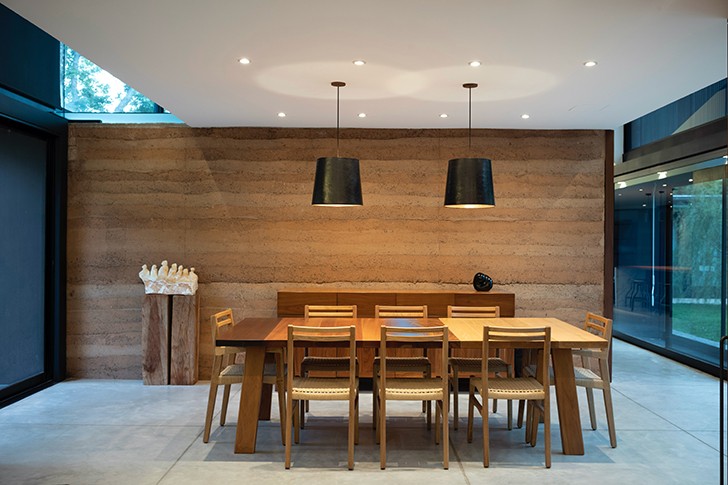 At the opposite end of the volume, adjacent to the family room, a double-height art studio connects to its own patio workstation on one side, and to a hallway connecting the home's bedroom wing on the other side. The bedroom wing is constructed entirely with rammed earth and rests 70cm below the exterior, providing garden and pool views from each bedroom. The walls are composed of a lateral rhythm of rammed earth columns on one side, and wooden walls and doors on the other, separating the volumes that house the bathrooms and dressing rooms.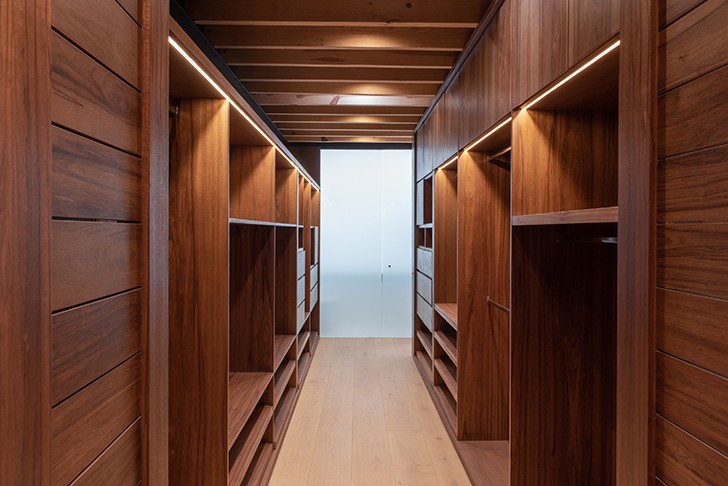 Consequently, almost all areas – living, dining, kitchen, bedrooms are accentuated with the best views of the surrounds without compromising on privacy.
Fact File:
Project name: Casa L&J
Typology: Residential Architecture and Interior Design
Architect: Alvaro Moragrega / arquitecto 
Design Team: Carlos Ruiz Palomino, Emanuel Goñi, Karen Camacho, María José Galindo, Arthur Dalloni
Plot: 1,890 sq. m.
Project Area: 740 sq. m.
Location: Zapopan, México
Photography credits: Fernanda Leonel
Text credits: v2com newswire