Sujata Chitalwala conceives an ultra-luxurious second home, weaving the underlying cultural ethos and value system of the homeowners into the design approach…
Luxe appeal oozes out of every corner of this palatial home that is endowed with the perfect fusion of regal flair and contemporary style. Designed for an intergenerational family with an active social circle, this second home proposes to be the 'lair' that the family would want to escape to, to build on their entertainment quotient and sweet memories… to host guests for extended stays on occasions and celebrations.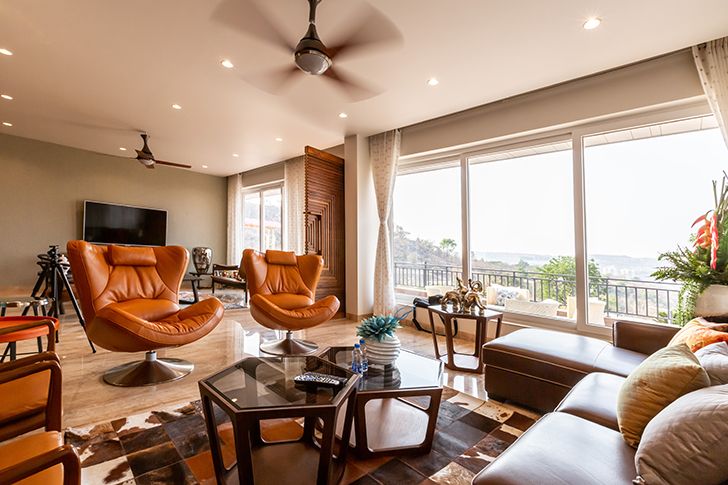 So, we have myriad luxurious pockets of seating, catering to both share-able spaces and privy camaraderie. The open plan of this two-storeyed bungalow is largely L-shaped; one end opening out into a double-heighted volume. The formal dining is strategically positioned in this area, highlighted by a skylight, and flanked by an open kitchen on one side and an imposing staircase on the other.
Whilst the public spaces and one-bedroom suite occupies the ground floor, the first floor houses the other bedrooms and a home theatre cum family lounge, where one can endure a complete theatre experience with recliners or enjoy intimate family time. Here, a 50-feet long balcony is designed to rejuvenate, as it displays the picture-perfect scenic view of the sunset beyond the lush greens of the backyard.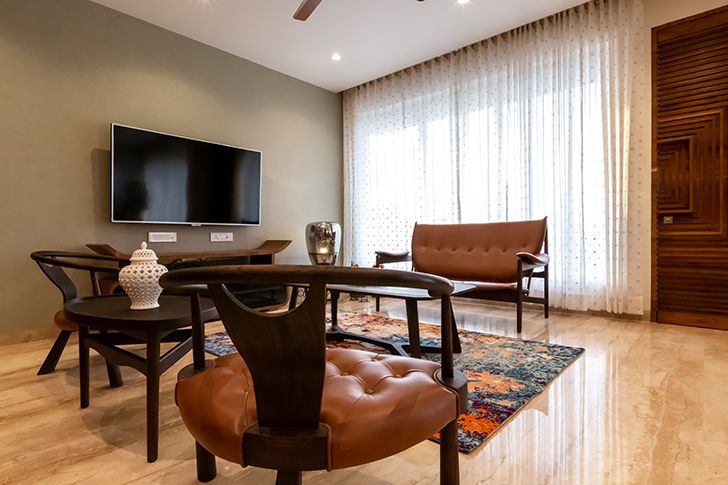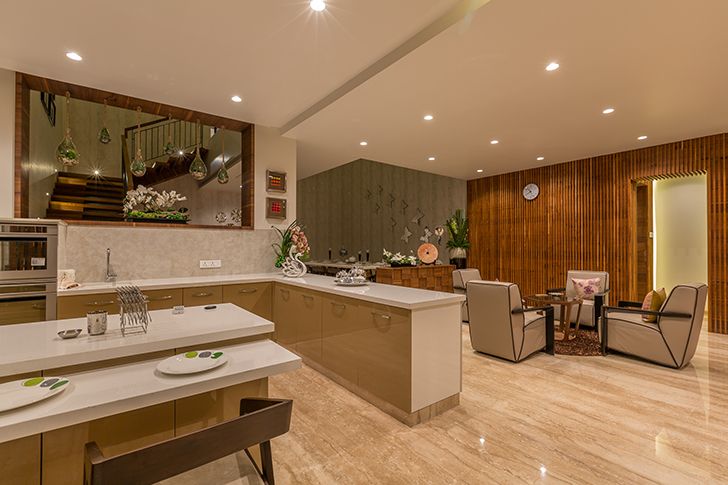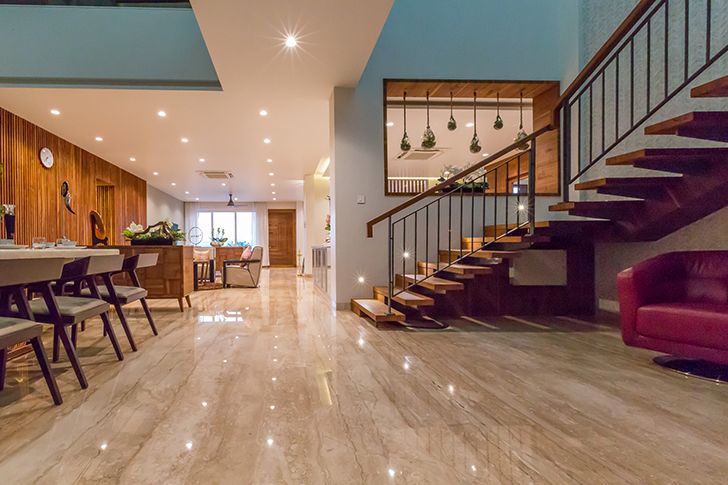 The design approach is encrusted in the contemporary sophistication, high living standards, grounded character and strong values that resonate with the homeowners' personal choices and desires. Consequently, the home communicates the feel of opulence and grace at the same time. Its curated, picture-perfect settings make for an interesting and charismatic ambience; but also vouch for the warmth that is home and hearth.
The use of wood and less veneer combined with leather and faux leather define the overall material palette – easy on maintenance and rich on aesthetic appeal. Gleaming lights, rich carpets, well-anointed furniture, and select artefacts constitute the binding thread of the entire décor. In the living room, wooden rafters serve as the backdrop, brilliantly installed at an angle allowing fluidity of the space, visually demarcating zones. A wall treatment fabricated using wooden louvres lends an elegant vibe while conceding entry to a magnificent bedroom and powder toilet. Brick wallpaper, wooden flooring, state-of-the-art material and a transitional colour palette… all work in tandem to complete this one-of a kind home.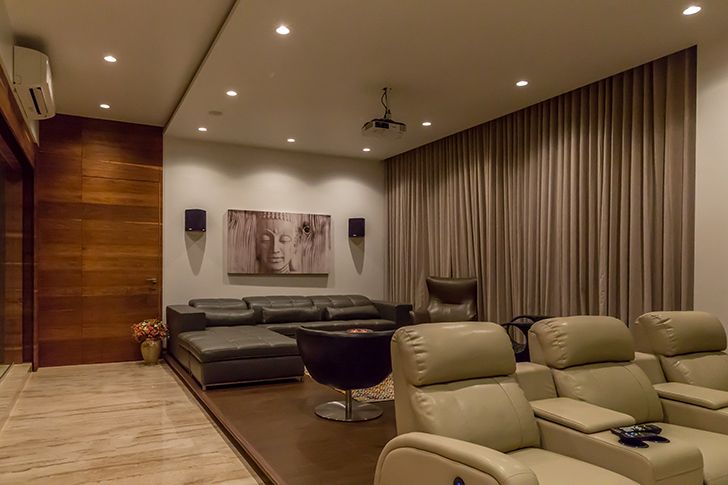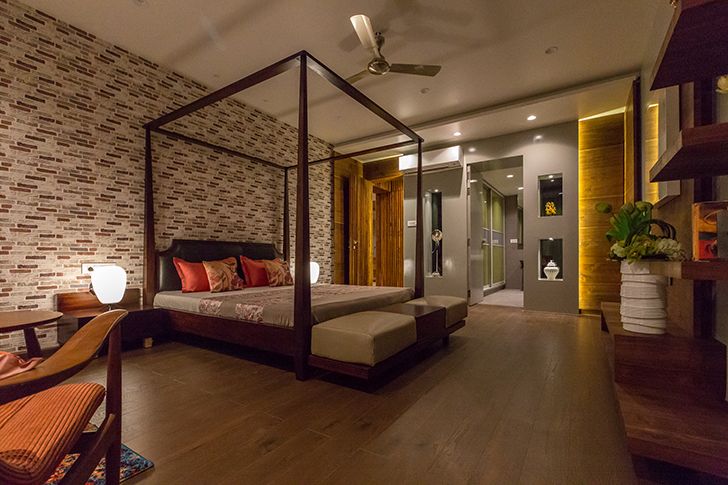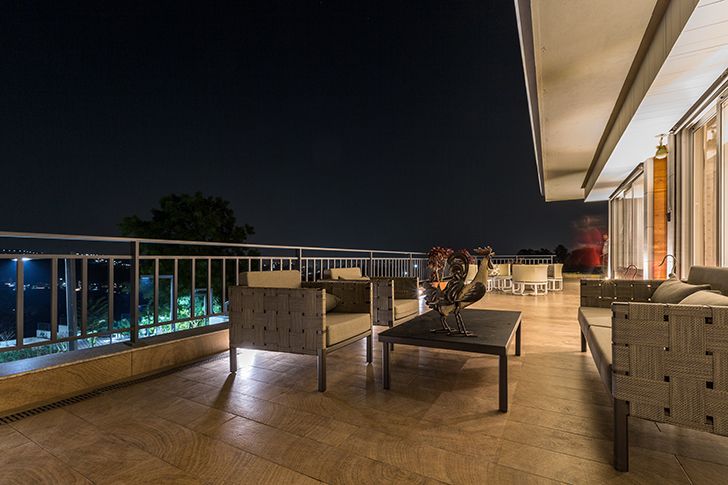 Adding the fine nuance of seamless indoors-outdoors, the bedrooms at the upper level are designed to encompass enormous projections creating a dialogue with the outdoors. The house exhibits immense character but with a reassuring sense of comfort and warmth.
FACT FILE
Project: Jagtap Residence
Typology: Residential Design
Design Firm: Designers Group
Principal Architects/ Designers: Sujata and Ar. Khozema Chitalwala
Design Team: Sujata Chitalwala, Ar. Husain Jariwala
Area:  1000 sq. m.
Location: Bhugaon, Pune
Photography credits: Ar. Khozema Chitalwala