HS Desiigns refurbishes this home with a lavish interior that accounts for a keen sense of style, upping the lifestyle quotient of the inmates…
The home stands out with picturesque pockets of charisma as palatial spaces cater to the varying functions of living, dining, informal living, family lounge, the many bedroom suites etc.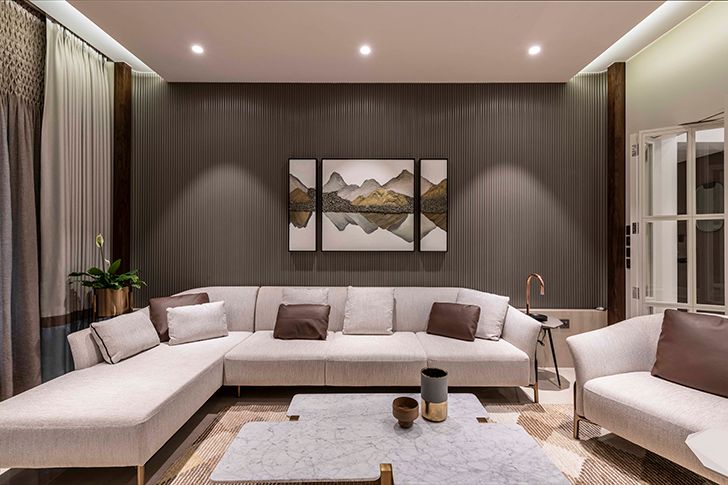 Each space is chiselled with a highlight feature: the formal expansive living room has a feature library wall clad in multicoloured wooden shelving instantly arresting one's gaze and highlighting the deeply upholstered furniture. The dining comes alive with its large chandelier in the coved ceiling. Each of the private areas – the bedrooms are distinctly treated with padded bed backs, panelling, and different hues – each personalised to its occupant. Like the daughter's room is anointed in a blush pink colour and the master bedroom is decorated in blue and gold with a bespoke wall art to match.
Bespoke elements abound and constitute the heart of the design as attention-to-detail underlies the stylised ethos of this abode. Human faces in an artwork at the entrance, wall art in the bedroom and the staircase lobby on the first floor add an element of unexpected intrigue.
The two-level bungalow is connected via a curvilinear staircase that is flanked by a green body lending the interiors an outdoorsy feel.  Wood and glass panelled sliding-folding doors demarcate the informal living area at will, opening the dining and extending the public zone, when needed.
A predominantly neutral palette constitutes the backdrop of mushroom, champagne and beige hues mixed with greys to impart a rich and highly sophisticated aura to the home. Strategic dollops of colour complement the dark wood, accentuating the spaces, adding that extra spark that borders on magnificence.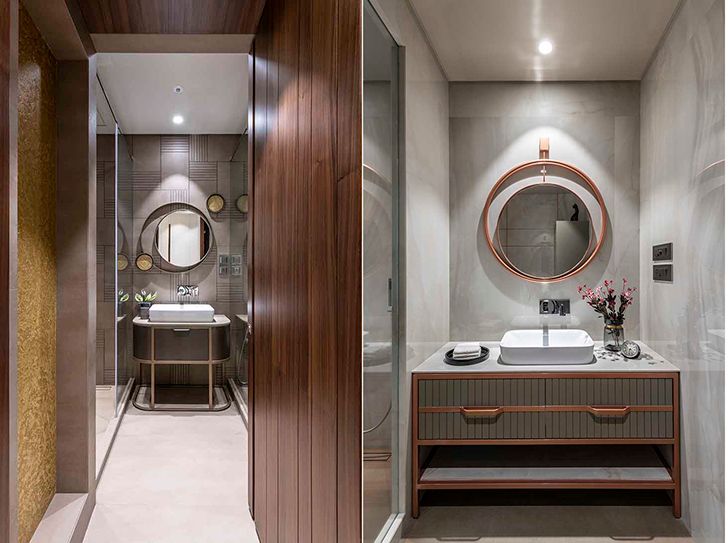 Wooden panelling, harmonious mix of fabrics, decorative lighting, use of metal, marble, leather, and glass among other materials… all play to the house, making for an artistic and exquisite ambience. Looking beyond this, one finds pertinent details attended to – ease of maintenance, optimum functionality, and respect for positive space – that make luxury ingrained and matter of fact, and enjoyable.
Fact File:
Design Firm: HS Desiigns
Principal Designer/Architect:  Mr. Hitesh Shahanand
Associate Designer: Mr. Malay Shah
Built-up Area of project: 7000 sq. ft.
Carpet Area of project: 5750 sq. ft.
Location: Chennai
Photography credits: Photographix India