Ant Studio champions the cause against animal abuse, articulating their stance through a parametric installation derived from biomimicry.Natural materials, low carbon fabrication techniques and innovative form finding are the cornerstone of sustainable computational design. The Pangolin Pavilion, designed as a part of the 'OneistoX' workshop, reconciles these aspects with art, nature, and technology to address the pertinent global issue of animal abuse. With an aim to educate architecture students with the nuances and processes involved in parametric design, the pavilion takes on the case of the Pangolin – an exotic animal, one of the most trafficked in the world and traded for its scales, meat and blood.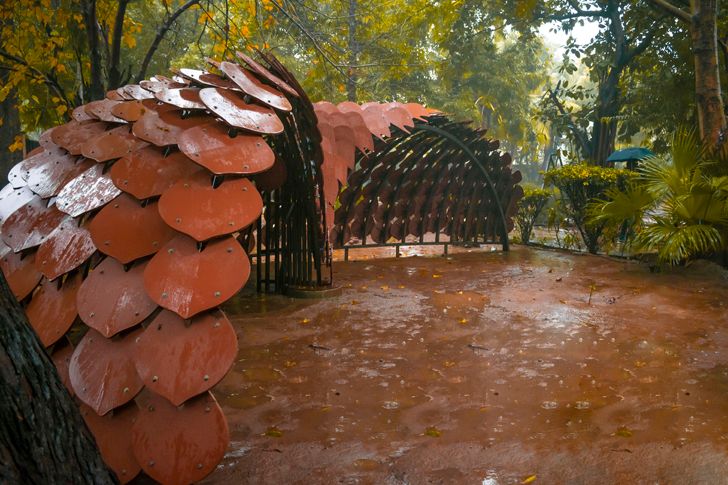 The contemporary structure exhibits an organic form, an abstraction of the mammal's silhouette. The base skeletal framework comprises of steel ribs of unifying radii, cut into varying arc lengths. Supported at the top on primary arcs that construct the edge reinforcement, the ribs map different angles and meet a horizontal rigid element at the other end. Anchored to the ground, the entire steel backbone stabilizes the structure. Another unmistakable and defining feature is the overlapping tiles, representative of the scales of the Pangolin. Clamped to the ribs, the customised terracotta tiles also fan outwards, the curvature and directionality of the ribs guiding the overlap of each individual tile. Despite the planarity of the tiles, the differential overlapping reflects the global curvature of the ribs. Imparting a rich red colour, the tiles add a 'sustainable' layer to the design.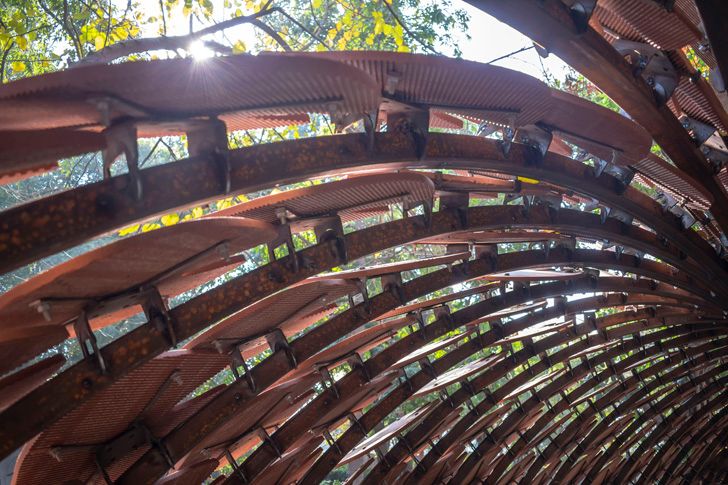 Completed in a record 10 days, the design allowed for easy assembly while the mass-produced components solved issues of procurement. Transgressing the conventional norms of design, the pavilion reinvents the outlook on 'parametricism' while establishing social relevance. Encouraging the conflux of diverse disciplines, Ant Studio explores the recreation of the natural world into the built.
Fact File:
Installation Name: Pangolin Pavilion
Design Firm: Ant Studio
Principal Architect: Ar. Monish Siripurapu
Location: School of Planning and Architecture, Delhi
Photography credits: Jaidev Velicheti; courtesy the architect