OHA Studios designs a large apartment in suburban Mumbai working on a simple yet sophisticated aesthetic…
Two 2-BHK apartments merge to constitute a large home for a family of three. Well-travelled and design-aware, the homeowners wanted a simple, easily maintained home that they could use when in Mumbai.
Keeping in mind the social status and the tastes of the family (avid travellers and collectors with a voracious appetite for reading and social work), a neutral colour palette of browns, greys and ivory carves out the interior shell, retaining the openness of the space which has full-height doors and balconies along the entire south wall. Balancing this are the tonal blues of the soft furnishings, contrasts of which echo in the colours on the wardrobe, the bedcovers and throw cushions in other areas. Further, a combination of materials like cork-sheet, veneer, mirror, marble flooring, Kota-Jaisalmer stone inlay all add to the charm of the space.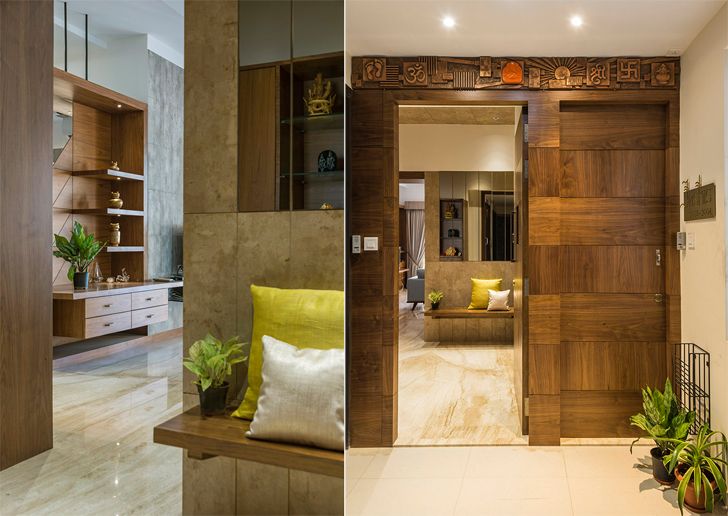 Nuanced subtlety stands out as premeditated geometric grains take on the onus of creating pattern and interest in the veneer finish – different for every room. The geometric patterns not only constitute the highlighting element, but also the binding element of the spaces setting the tone of the overall design vocabulary of refined chic as they also catch one's attention on the living room ceiling with a play on visual zoning.
Bespoke furniture including a custom-designed swing anoints the large open plan living-dining area that is bifurcated into – one, more formal, and the other, a low-height seating designed for intimate conversations, with a swing that can be accessed both-ways. The flooring pattern also changes here, subtly demarcating a change in space usage.
Bound by large balconies on one side and two veneer-finished partitions that serve as an artistic backdrop on the other two, the living room is defined by the 27-feet long wooden panelling that camouflages within it the entrance foyer and kitchen doors, a connecting window to the kitchen and a multi-purpose shelving unit for the family's books and memorabilia, a puja space and TV display…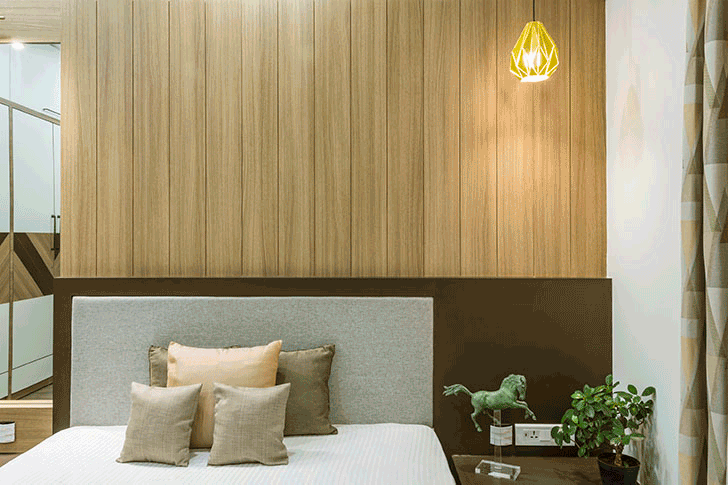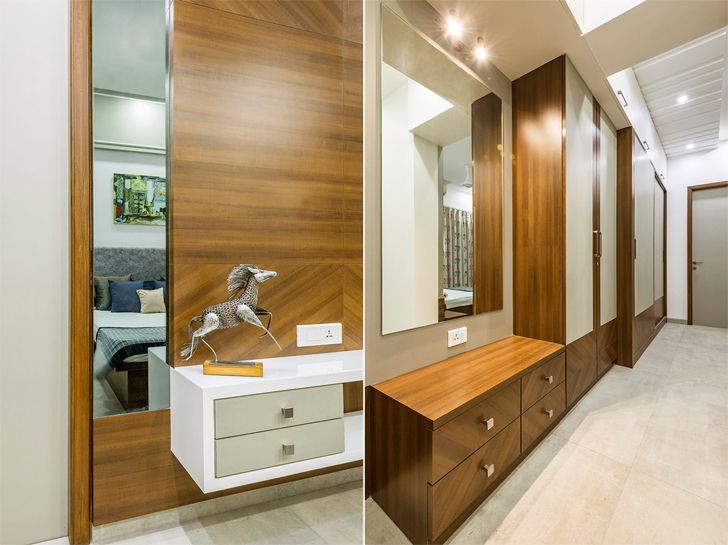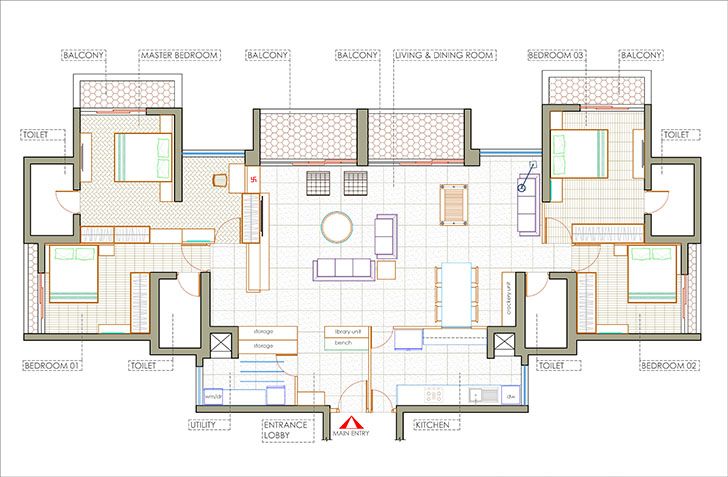 Attention to detail is ingrained as subtle discerning elements like the little mirror and floating detail in the second living room partition leading to the bedrooms; or the wainscotting panels in the master bedroom that add a veiled charm of classic regality to the décor; or the chic pre-emptive space at the entrance before one enters the living area… all point to the fact that the homemakers' lifestyle in closely integrated into the design.
With interiors that are functional, not over-bearing and beautifully minimum, the apartment is designed to be a calming oasis that one returns to after a hard day at work.
Fact File:
Client: Shri. Sudhir Joshi
Design Firm: OHA Studios
Principal Designer/Architect: Poonam Sardesai & Omkar Agashe
Carpet Area of project: 1700sq.ft. (excluding balconies)
Location: Mulund, Mumbai
Photography credits: Atul Kanetkar