MuseLAB designs a 3000 sq. ft. architectural intervention inside an operational factory shed, a project surprisingly offering innumerable opportunities for innovation…
Rising to the pleasant challenge of creating a full-fledged office inside a factory shed – a container lacking an open-to-sky element, MuseLAB design studio started by ticking off the positives of the corner identified for the office. Besides being a natural vantage point, clear of operations and movement of machines, the site's orientation along two faces of the shed enabled tapping into existing essential services.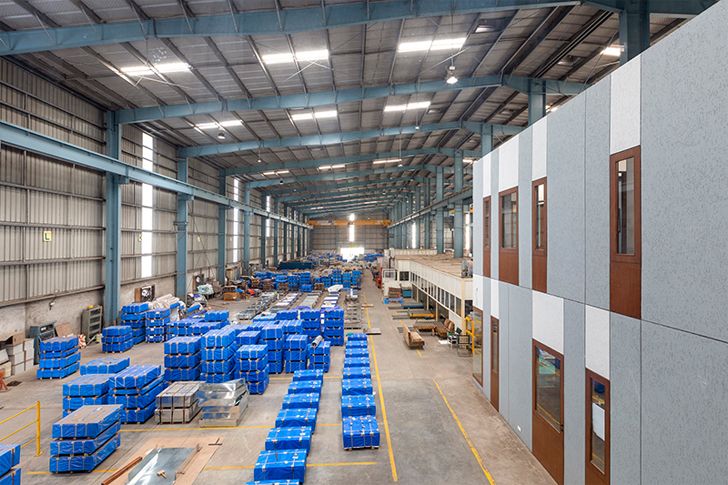 The minimal form plots an L-shaped layout, sporting one flange narrower than the other, softening at the bend with a curve. The two floors incorporate three cabins overlooking the factory space, a conference room, seating for 10 people and ancillary utility spaces. Interspersed fenestrations, uninterrupted grooves and textured panels in muted tones characterise the façade, the interior mirroring the same banding. The doubly glazed glass panels, even the curvilinear one at the bend, provide insulation from sound pollution and reveal elements on the inside, marking visual connections while maintaining both, transparency, and privacy.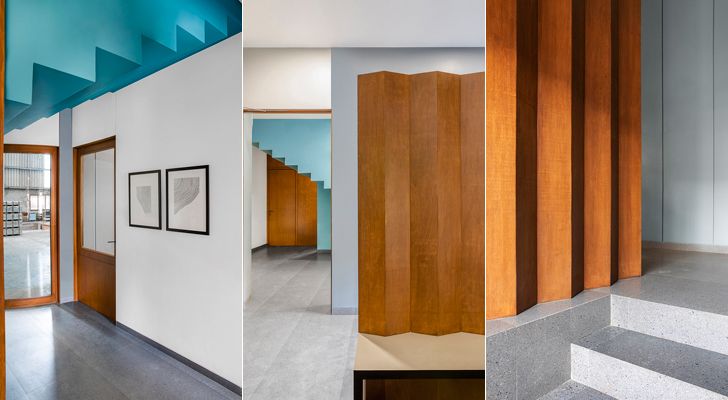 It is the simple details that are the most difficult to design
The structure harnesses a new age eco-friendly system of pre-fabricated structural panels that reduce construction time, provide thermal insulation and are aesthetically superior to RCC construction. Its 5" thick walls, ceiling and floor slabs comprise of thermacol and steel mesh, finished with an interior and exterior plaster. The walls carry services, dispensing the spaces of unnecessary false ceilings; even maintaining a clean environment devoid of an overt industrial aesthetic.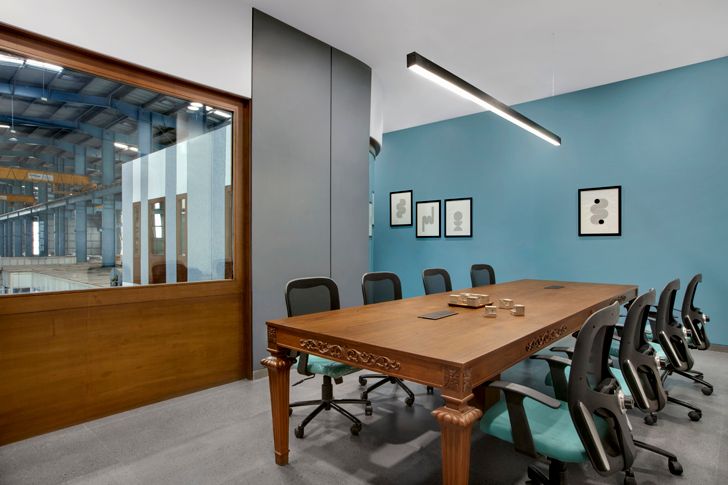 Maintenance-free, the interiors employ a palette of grey, ivory, beige with bursts of electric teal and buffed teakwood. Minimal accessories and geometrical wall art add an artsy touch, humanising the mechanical nature of the work office. The teal staircase dominates the interiors, simple yet dynamic. Sitting at the heart of the project, it anchors the design in terms of function and colour palette.
From functional space planning and practical interiors to detailing and novel construction methods, the design for this office is not one for stereotypes.
Fact File:
Project Name: Office in a shed
Client: Zarhak Steels
Design Firm: MuseLAB
Design Team: Huzefa Rangwala, Jasem Pirani, Jeet Soneji
Area: 3000 sq. ft.
Location: Taloja, Maharashtra
Photography credits: Talib Chitalwala