Designist takes us through a time tunnel, retelling the history of Turkey's Hatay Province through the interior design of the Museum Hotel Antakya.
Home to the largest, single-piece, ancient floor mosaic in the world, the Museum Hotel puts on display archaeological excavations from different periods in history. Its interiors take inspiration from characteristics of the ancient city of Antakya and the colour compositions of the mosaic itself, creating an orange and green toned signature style that embraces the historical richness of the country.
The spa, restaurant, nightclub, and rooftop residence especially articulate the nuances of the ancient city. The region's unique yellowish-white limestone lends a soft aesthetic, crafting the spa into a tranquil space, while a hexagonal pattern, derived from the water molecule, harkens back to the quintessence of water in spa rituals. The pattern, through different forms, repeats throughout the wellness area, complemented by the large bath that echoes the sound of water splashing in the fountain, a representation of water channels lining the streets of Antakya.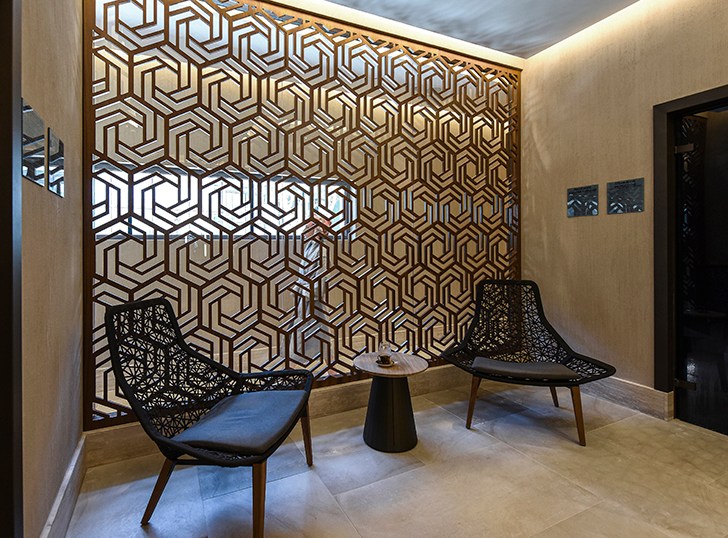 The restaurant, placed in the heart of the museum like a flying carpet, looks over the archaeological site from three faces. Its spatial concept draws on the appetizers of Antakya, the spices that catalyse their unforgettable flavours and Hatay's very own UNESCO Centre of Gastronomy. Spice collages, unique floor tiles, wall embellishments and grape and vine leaf mosaic all relay their own story of the old city.
Alternately, the nightclub reflects the rhythm of the music through the interiors, the concrete wall tiles and polygonal forms recreating an energetic atmosphere.
Located on the roof of the hotel, a penthouse apartment overlooks the city. A large bonsai tree sits under the skylight of its entrance hall, representing the story of the museum and the hotel, which will live with Asfuroğlu family, who enrich the value of Turkey, from generation to generation.
While indulging the guests though contemporary spaces, Designist imprints on them the potency of history.
Fact File:
Client: ASF Otelcilik ve Turizm
Architectural Design: Emre Arolat Architects
Interior Design: Designist
Interior Design Team: Aslı Arıkan Dayıoğlu, Reyhan Uras, Ogün Aydoğu, Julide Çömlekçiler, Osman Yılmaz, Zafer Akyüz
Landscape Design: DS Mimarlık
Project Area: 17.132 sq. m.
Project Location: Antakya/Türkiye
Photography: Courtesy Designist