Designer duo, Bhadri and Snehal Suthar reflect their affinity for nature in their inviting design for this home in Gandhinagar…
Umbers and greys make a striking timeless combination. The colour palette has been used endlessly by designers especially as the two relative neutrals offer the perfect backdrop for interplay of accents – whether through hue, texture, or pattern. And this interior scenario is a case in point of a chic, symmetrically balanced, judiciously fresh treatment of the colour duo, ably complemented by strategic use of the colour black.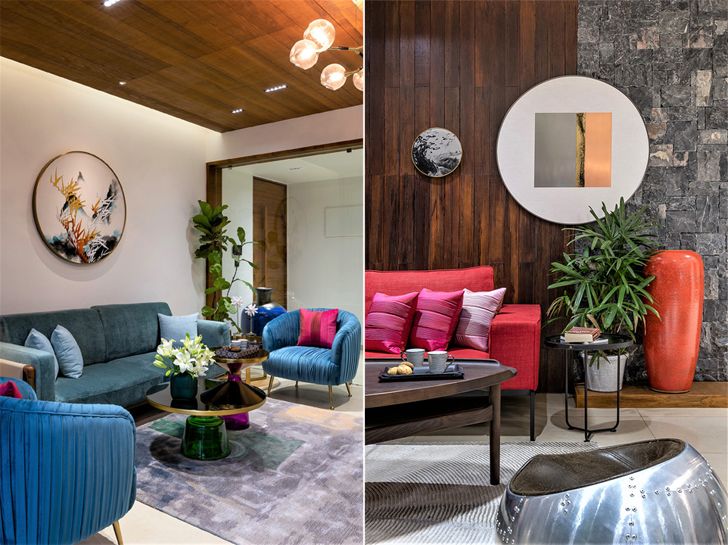 The spatial qualities of this home are an outcome of organic materiality and colour. The design explores innate characteristics of colour and texture. It also explores a material's natural reaction to the atmosphere and combines it with colour to create elegant compositions that are liveable, exuberant, and comfortable.
Picturesque settings seem to tie together to create an aura of sophisticated warmth. Like the two symmetrically dissimilar backdrops across the opposite sofas in the family room enclosed in a glass box. The juxtaposition of natural stone (chiselled kadappa) and timber (teak); or the enlivening accents of a red sofa against the chocolate beauty of wood; steel seats that contrast and complement the gravitas of the stone, and the like… create spatial pauses that arrest attention.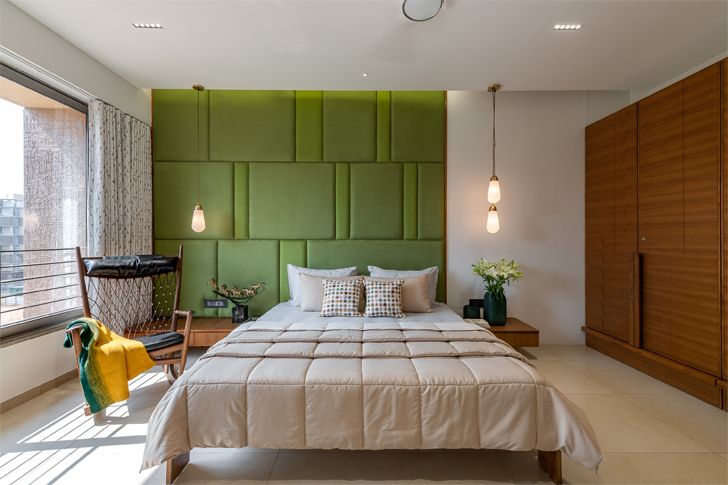 The large four-bedroom apartment is orchestrated into a public area comprising a combined living-dining space and a glass-walled family room in one corner that opens out onto a cosy deck.   Whilst the public spaces flow freely in the open plan layout, creating warm zones of congregation, the bedrooms are havens of serenity and restfulness, and leverage materiality (on headboard walls) to create distinct experiences. While one features a wall upholstered in a quietly elegant green fabric and the second derives its organic beauty from an expanse of exposed antique-finish brick, the third showcases the weathered magnetism of metal mosaic which has been allowed to acquire a patina naturally.
Furniture pieces are either bespoke or carefully curated and use an eclectic palette of metal and wood (as solid timber and veneers). Art and accessories add a softer layer over an already well-appointed base, strengthening the narrative and weaving in conversation points. Plants and sunlight add that important animating element, a life force that energises the tasteful compositions of materials and objects.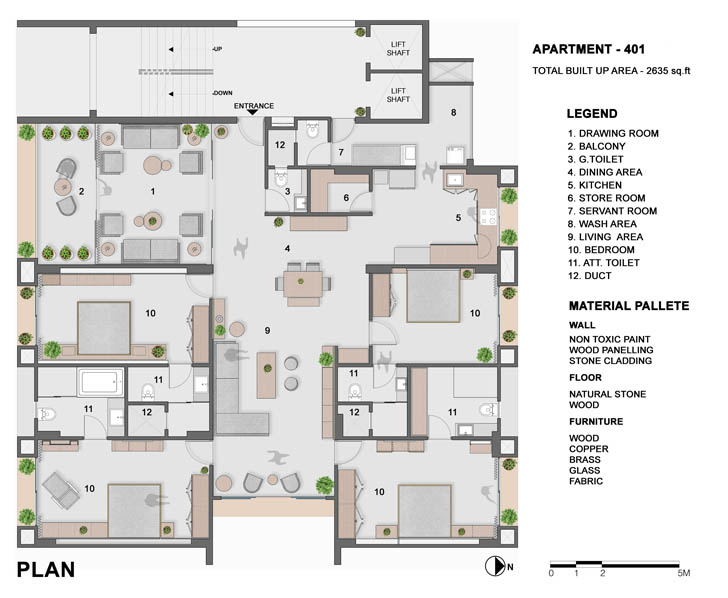 This home is illustrative of the architects' respect and fondness for nature and their quest for rootedness by capitalising on the innate beauty of an element, without resorting to cosmetic overlays.
Fact file
Project: Apartment 401
Typology: Residential interior design
Design Firm: tHE gRID Architects
Principals: Snehal Suthar and Bhadri Suthar
Design team: Snehal Suthar, Bhadri Suthar, Hetal Hada
Area: 2635 sq. ft.
Location: Gandhinagar/ Ahmedabad
Photography credits: Photographix India
Text credits: tHE gRID Architects