Showcasing the dynamics of the brand via its interiors, ANA Designs crafts a large state-of-the-art contemporary office for Fino Payments Bank in Navi Mumbai…
The office's high-value location plays a key role in cultivating the project's three main design goals: to establish a strong brand presence, to cater to employee well-being and to accommodate future growth and recruitment.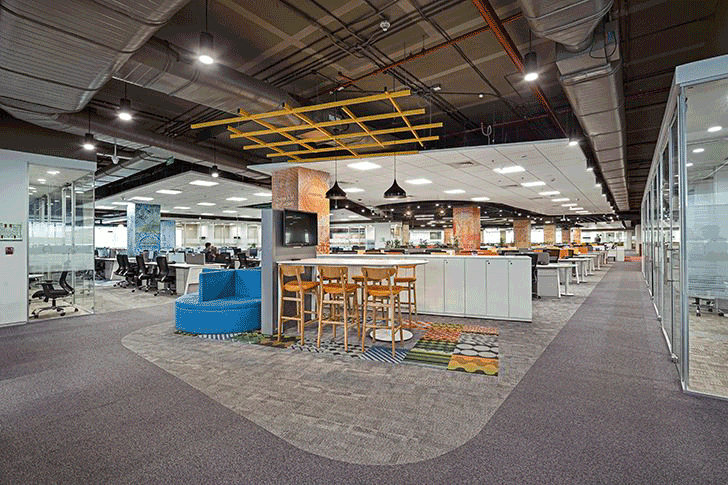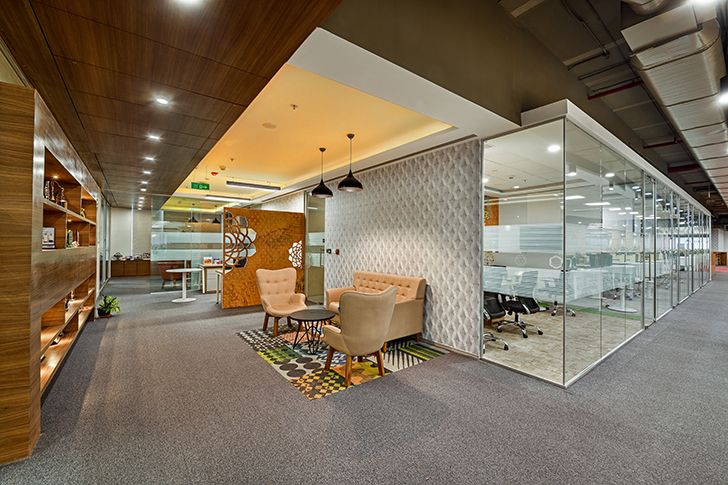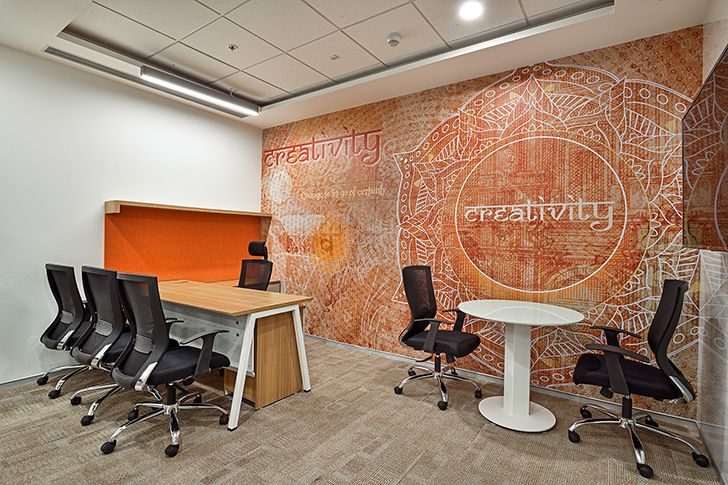 The mammoth 60,000 sq. ft. floorplate supports an open-plan layout, featuring multifunctional and versatile spaces. Maximized seating and clusters of workstations for 600 employees, along with mindfully appointed activity zones strengthen workflow, circulation, functionality, and comfort – making every square foot count!
The company's 'Star' logo takes on a geometric, abstract form – signifying excellence, and translates to patterns in the carpet, ceiling and even the layout of workstation clusters! Well-lit nooks house the work areas, encouraging productivity and well-being, while secondary areas host essential services. The tertiary spaces promote teamwork through collaborative zones and meeting areas.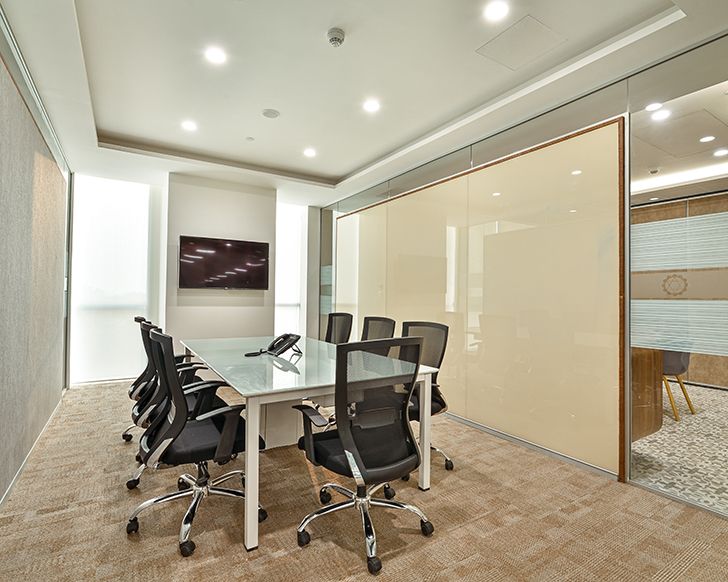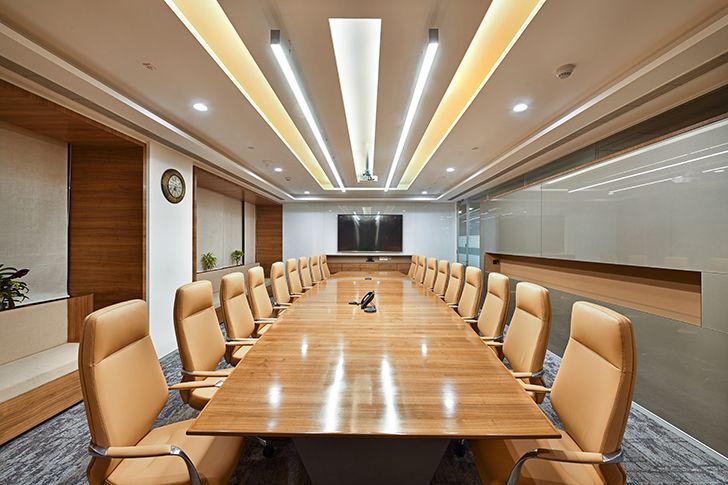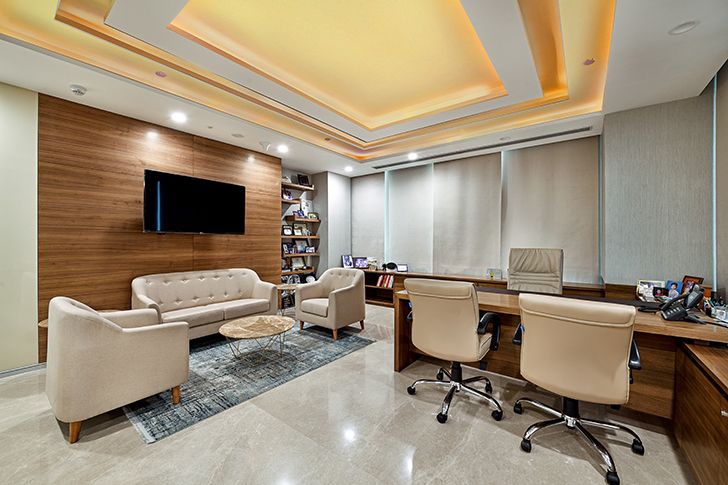 The interiors add to the user experience through a lively and cohesive design palette. Vertical surfaces display the seven-chakras, reiterating the organization's seven foundational values – Trust, Reliability, Creativity, Communication, Wisdom, Frugality and Empathy. Represented in seven corresponding hues that resonate with specific frequencies, the chakras enable centeredness.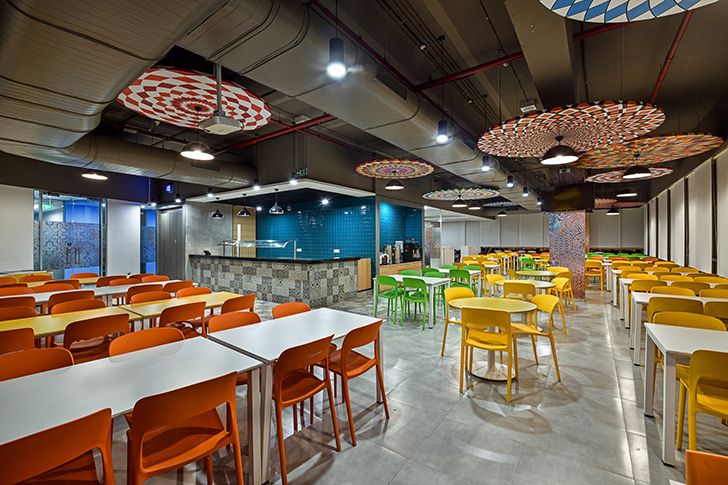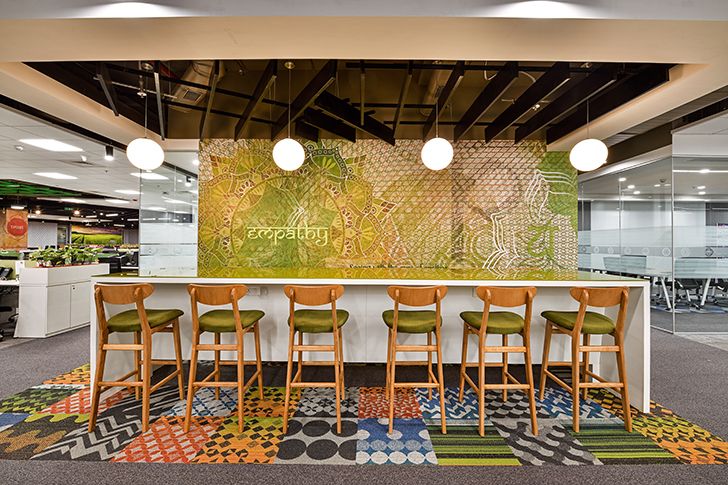 Works of local artists in vivid colours and patterns cover the floors and columns while high-end technology blends in, adding a 'glocal and futuristic' layer to the interiors. Against the colourful backdrop, neutral-toned furniture brings in balance.
The partially exposed ceiling lends a modern industrial touch without being too overwhelming while the lighting scheme responds to a wide spectrum of functions below. Stretched printed fabric with a 'fingerprint' design creates a unique central lighting element, the centrepiece of the workspace – inspired from and alluding to the biometric systems that are integral to the firm's operational systems.
The project has powered through many challenges; the covid-19 pandemic disrupted the execution stage, the shortage of labour and renewed design needs extending the timeline… However, the addition of minimal contact elements, sanitization stations and temperature scanners have added a layer of 'health' security to the banking establishment.
Fact File:
Typology: Commercial Design (Banking)
Name of Project: Fino Payments Bank
Client: Rishi Gupta
Design Firm: ANA Designs Pvt. Ltd.
Principal Architects/ Designers: Ankura & Ankit Patel
Site Area: 50,000 sq. ft.
Built-Up Area: 60,000 sq. ft.
Location: Juhi Nagar, Navi Mumbai
Photography credits: Ravi Kanade